Did you know that the difference between a bike ride and a car ride over a 4 mile commute is 15 pounds of pollutants? That's right, according to the League of American Bicyclists, a single person can make this kind of impact on the environment. And a realization of this kind of environmental influence has been spreading to more people through the years. According to the Seattle Department of Transportation, the number of U.S. bicyclists has increased by 100% since 1985. As it continues to rise, the need for more bike lines, trails, and facilities also rise.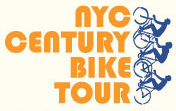 And Morris is at it again! Well, it's more like one more charity before the ALYN Hospital Wheels of Love Bike Ride. If we could integrate our time tracking software with his bike, I'm sure he'd be riding 24/7. This time, the charity was to help Transportation Alternatives in New York City, a bicycling advocacy group. Last Sunday, September 13th, the NYC Century Bike Tour held its annual event. Proceeds from it will go to improve and develop new bike lanes and greenways in the city. New York City is notorious for bumper to bumper traffic so every cyclist counts!
We at Bill4Time encourage you to do your part in helping your community – whether it be taking alternative means of transportation, volunteering or donating to a nonprofit organization. Every effort counts.
Track time. Give time.