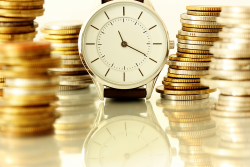 Freelancers have a lot of information, tasks and responsibilities to manage day-to-day, hour-by-hour and minute-by-minute. Whether you work with one client at a time or manage multiple client engagements and projects simultaneously, keeping track of time, project deadlines, contacts and tasks, in addition to all of the other daily issues is not easy. Most successful freelance consultants will tell you that organization is paramount to staying productive, motivated and in business. Staying organized helps you get more done and make more money. And managing time is a vital component of staying organized.
Classic time management techniques and eliminating distractions are essential for freelancers. Freelancing is like having multiple jobs with different bosses, priorities and schedules. It makes time management a bit more difficult since every day—albeit, every minute—can change from the next. Getting into a consistent work rhythm may be hard, but it's not impossible.
Below are time management tips that freelancers can leverage to create a rhythm and be more productive:
Set Goals. Goals provide focus, a destination. Goals help provide clarity as to where you are headed and how to best manage your time and resources to get there. By setting goals, you are able to identify what is worth spending your time on and what is a distraction to avoid.
Prioritize. This can be difficult as to determining which tasks to conquer first, especially when a flood of tasks all seem equally urgent. As yourself: a) why are you doing this task and b) how does this task help achieve your goals. Answering these questions should help you in prioritizing tasks so you do the most important tasks first.
Create Lists. A "to-do" or task list is an easy way to break down tasks into smaller, more manageable steps. Trying to remember everything will inevitably lead to disaster. Just keep a simple daily, weekly or monthly list of tasks that are prioritized so you stay on track.
Schedule. A schedule helps prevent the misdirection of time and tasks. Also decide if you are more productive early in the day or later. If you are a morning person, schedule the high value tasks at that time. If your creativity picks up as the sun sets, schedule those tasks then. Your "down" time can be scheduled for less important items such as email or returning calls. Understand your rhythm and schedule accordingly.
One by One. According to a published study by the American Psychological Association, most people actually spend 20% to 40% more time when multi-tasking. Multi-tasking can also reduce work quality as well. Focus on one tasks at a time. Complete tasks in sequence which leads to better time management.
Stop Procrastinating. Don't put off tasks. Remind yourself that the best time to do something is usually now, not later. Push yourself a little harder to overcome procrastination so what needs to get done is done in a timely manner.
Eliminate Distractions. Distractions break concentration, lower productivity and create a barrier to completing important tasks. And, distractions add to stress levels so identify what is distracting you from accomplishing core tasks and eliminate these distractions. Turn off the television or Facebook private messaging. Take control of these intrusions and you will maximize efficiencies.
Take Breaks. If you don't take breaks, you will burn out. Taking breaks gives your brain valuable time to rest and recharge. Breaks are an essential component to effective time management. Squeeze in short breaks in between work by taking a five minute break every hour or so to rest. Give yourself ample time for lunch to refuel both mind and body.
Learn to say "No." Every high achiever will tell you that you must master the art of saying "no" to things that are not a priority. If you don't learn to say "no" then other peoples' properties will supersede your priorities and eventually, you will be managing the priorities of others rather than your own.
Delegate. Sometimes it makes sense to delegate to others to help in accomplishing tasks. You can save time, reduce stress and accomplish more when you assign tasks to the right people. Let go of control and grant authority and responsibility to qualified people. Promote accountability and ensure deadlines are satisfied.
Leveraging these time management tips will help you make the most out of every hour, every minute. Once you begin to better manage your time, then it's time to better track your time. Tracking your time is easier with Bill4Time time billing software—with an easy to use timer to on-the-go time entry. Enter time through your laptop or mobile phone so every billable minute is accounted for. Knowing how much time a task takes is not only critical to getting paid, but also estimating future projects. Tracking time also provides documentation should a client inquire. And, time tracking ensures transparency with a client so they know how much you did when they receive the invoice.
Couple time tracking with invoicing for strong and efficient business operations. Then pair that with convenient online payment options. (Did you know that businesses that offer credit card options get paid on average 30% faster than by traditional methods?)
Better manage time and account for every minute with Bill4Time. Try Bill4Time Time Billing Software for Freelancers today with a 30-day trial. Every minute you wait, you're losing time…and money.