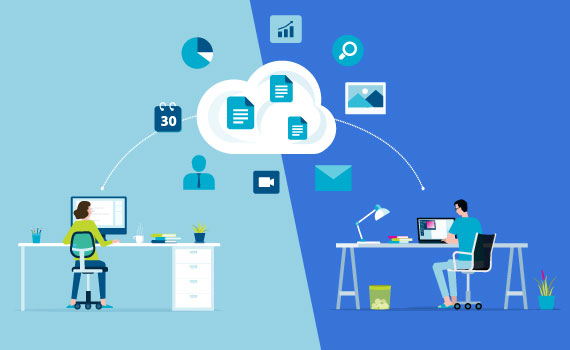 The fear spread faster than the virus.
International law firm Quinn Emanuel Urquhart & Sullivan shut their New York office down after a partner tested positive for Coronavirus. An attorney at Lewis and Garbuz also tested positive.
Partners across the country were concerned.
Then Faegre Drinker closed 22 offices after a potential outbreak; once this happened, the industry began to follow suit. By the end of the week, firms were rushing to implement remote work protocols. They did their best to build a virtual law firm on short notice.
Why your law firm needs to rely on remote work
Way back in December 2018, Bloomberg predicted that a smaller recession was on the horizon. A Duke University survey stated experts were preparing their worst-case projections.
"Nearly half (48.6 percent) of U.S. CFOs believe that the nation's economy will be in recession by the end of 2019, and 82 percent believe that a recession will have begun by the end of 2020."
This prediction was pre-COVID.
In the last decade, the legal industry experienced rapid growth — encouraging until you realize industry growth never really returned to the levels of prosperity we experienced before the Great Recession. The Great Recession was devastating; on Bloody Thursday, six big law firms announced layoffs, cutting almost 1,000 employees.
This is why firms need remote work.
Thanks to the COVID-19 pandemic, the US saw a 40 percent drop in the number of new legal matters opened each week.
"Almost 50% of the more than 1,000 consumers surveyed in April said they would likely delay seeking legal help until after the COVID-19 crisis has relented."
Your office is a large expense that includes:
Your rent or mortgage
Insurance payments
Equipment and supplies
Network administration and security
Utilities and upkeep
Carrying this expense makes it harder to remain competitive. Competing firms that choose to go remote will find it easier to generate more profit from less revenue. Does this mean you have to shutter your offices completely?
Not at all.
You can choose how you'd like to apply your cost-cutting measures. You can close all or some of your locations. You can relocate to a less expensive locale. You can create a fully virtual law firm. Whatever your approach, you have options.
What this means for law firms
This downturn means many law firms have begun to seek credit as a safety net to carry their firm through this period of uncertainty. Other firms have been devastated by the pandemic, beginning to enter survival mode as they fight to keep their doors open.
Competition has always been intense.
This crisis means many firms will be acting out of desperation, doing anything they can to stay afloat. The firms that survive this ordeal are the firms that understand their win conditions.
You need to define your win conditions.
Your win condition is any condition that leads you to victory; it's something you'll need to define for yourself. Your win condition could be:
Survival, keeping your current staff employed and salaries intact
Laying off the necessary staff to stay out of the red
Decreasing billable rates or choosing alternative fee arrangements to attract new clients
Increasing billables by making remote work permanent via the virtual law firm model
Creating a discount brand that productizes your services, enabling your firm to generate revenue through volume
You'll Need to Outline Your Win Conditions.
You'll need to take your firm's culture and compensation models into consideration. You'll also need to consider the long-term goals you have for your firm. Do you need to become a skilled generalist to take on any available work? Or do you need to dump unprofitable practice groups to focus on the 20 percent of work that produces 80 percent of your revenue?
You have some tough decisions to make.
That's the thing about remote work; it buys you the time you need to come up with a plan for the future. It gives you a chance to retain your top talent, loyal clients, and maintain some semblance of financial stability.
If survival is your goal, remote work can help you get there.
Fear continues to outpace the pandemic
"A second round of Covid-19 cases is 'inevitable' come fall, I'm almost certain it will come back, because the virus is so transmissible and it's globally spread," Dr. Anthony Fauci stated in a May 2nd webinar. Combined with the flu, Coronavirus could be a devastating hit to our economy.
The time to act is now.
Dr. Fauci may be wrong; in fact I hope he's wrong — but he could also be right. This could be a phase that blows over, but it could also be the start of our new normal. None of us know the future, but we're allowed to choose how we'd like to respond.
Believe it or not, your law firm can thrive during this pandemic. You can grow by leaps and bounds, during a global recession. But it starts with careful preparation. In my next post, I'll show you how build a virtual law firm that outperforms traditional firms by 1.5x or more.
Try Bill4Time for FREE