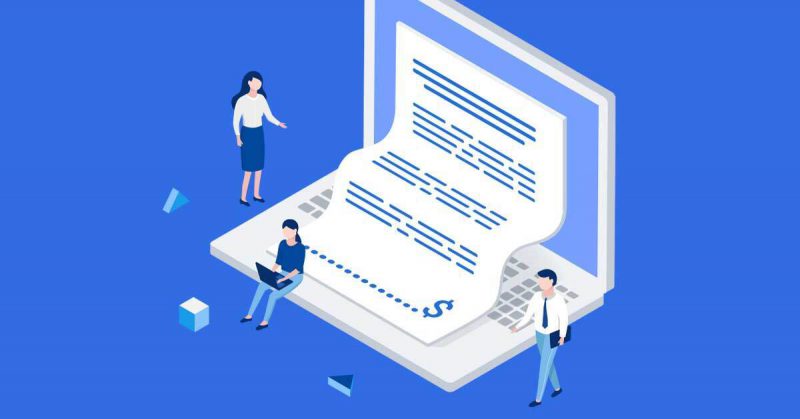 If you want to take on big clients, you need to be able to produce your billing in LEDES format. The Legal Electronic Data Exchange Standard (abbreviated as LEDES and pronounced as "leeds") format for billing helps corporate clients clearly see what their lawyer is billing them for. Billing departments of medium-to-large corporations require lawyers to bill with LEDES.
LEDES uses a specific configuration of data so clients can universally audit the billing data and make sure they're only paying for what they need. The concept is simple, but the formatting itself can be intimidating — especially if you're stuck doing it manually.
The Basics: What Is LEDES?
LEDES is a standardized system for the legal industry that helps firms categorize the tasks, expenses, or activities performed by their staff. LEDES helps law firms:
Maintain firm-wide billing and performance standards
Decrease inaccuracies due to DIY or reconstructive billing
Automate or semi-automate billing workflows
Maintain staff performance standards; there's no need for associates to relearn file naming conventions or formats
Accurately assess performance by person, role, office, or date range
Capture and present meaningful billing data to firm stakeholders and clients in an easy-to-digest format
Quickly move pre-bills and invoices through the eBilling system
Decrease law firm billable leakage due to improper billing
Verify and monitor contemporaneous (as-it-happens) billing
Maintain ISO (International Organization for Standardization) compliance standards
Maximize profitability (e.g., quickly identify profit and cost centers)
With LEDES, the original goal was clarity. Standardizing billing with LEDES makes payment and processing easier and more efficient. Both your firm and clients will benefit from adopting this process.
Why Your Law Firm Needs LEDES
Corporate clients (mostly large insurance companies) were driving the adoption of LEDES. They wanted invoices that they could easily understand. The LEDES Oversight Committee (LOC) created five basic principles to guide the LEDES format:
Keep it simple.
Make it unambiguous.
Diverge from existing formats as little as necessary.
Ask only for information the law firm is typically able to provide from their financial system.
Meet the needs of corporations, law firms, and legal industry software vendors to the maximum extent possible consistent with the first four criteria.
How do these five core principles serve clients and law firms using LEDES? Benjamin Lieber, the Managing Partner at Potomac Law Group, describes the billing chaos he experienced before standardizing their process.

Lawyers would send me their time every month by email and would come in all different formats and all different conventions and levels of granularity. And even the units would vary somewhat. Some would use a tenth of an hour, or some would use quarter hours, some would use a third of an hour, it was a mess. I would take all that, put it into spreadsheets, and then put it into invoices. It worked okay for the first 10 or 12 clients, but we were growing so fast, at some point it was way too much. It didn't make any sense.
Making the billing process universal with LEDES helps manage expectations and save time.
Which LEDES Formats Are the Most Commonly Used?
Corporate clients dictate which LEDES format they prefer. Although there are five LEDES formats currently in use, LEDES 1998B is the most commonly used. On the other hand, LEDES 2.1 is the most recent format. Below, we've provided sample data from the LEDES Oversight Committee to get you acquainted with LEDES.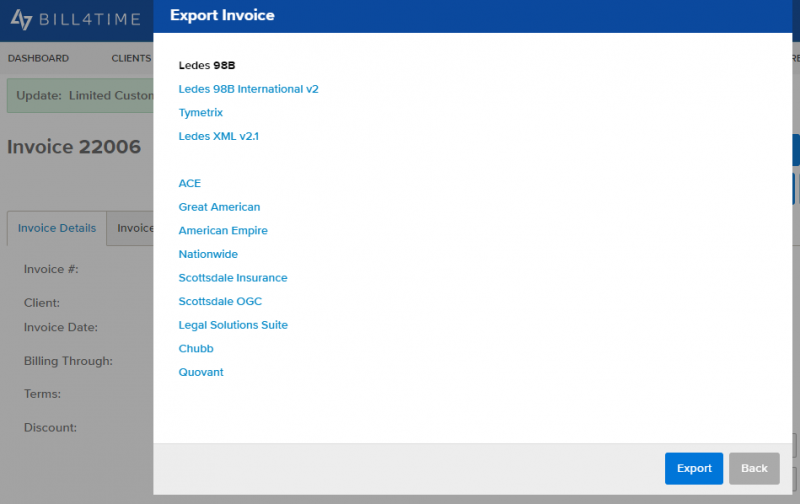 LEDES 1998B Format
Back to LEDES types
LEDES 1998B is currently the most-widely used ebilling standard in the legal industry in the US. LEDES 1998B is a pipe-delimited plain text file (i.e., this format uses the "|" character to separate fields of data instead of ","). Most law firms use this format because it's familiar and straightforward. The downside of this format is the fact that clients often require nonstandard customizations that violate the standards set, defeating the purpose of working with LEDES.
The LEDES1998B format includes 24 fields formatted in code:
<code>
LEDES1998B[]
INVOICE_DATE|INVOICE_NUMBER|CLIENT_ID|LAW_FIRM_MATTER_ID|INVOICE_TOTAL|BILLING_START_DATE|BILLING_END_DATE|INVOICE_DESCRIPTION|LINE_ITEM_NUMBER|EXP/FEE/INV_ADJ_TYPE|LINE_ITEM_NUMBER_OF_UNITS|LINE_ITEM_ADJUSTMENT_AMOUNT|LINE_ITEM_TOTAL|LINE_ITEM_DATE|LINE_ITEM_TASK_CODE|LINE_ITEM_EXPENSE_CODE|LINE_ITEM_ACTIVITY_CODE|TIMEKEEPER_ID|LINE_ITEM_DESCRIPTION|LAW_FIRM_ID|LINE_ITEM_UNIT_COST|TIMEKEEPER_NAME|TIMEKEEPER_CLASSIFICATION|CLIENT_MATTER_ID[]
20200227|22006|11111|10042|614.34|20200227|20200227|Single invoice for 101 – Frank Cole – Auto Claim (10042)|26552|F|2.00||650.00|20200227|L140||A102|1|Meeting with Cllient|12-3456789|325.00|Smith, Jane|PT|555555[]
20200227|22006|11111|10042|614.34|20200227|20200227|Single invoice for 101 – Frank Cole – Auto Claim (10042)|1038|E|1.00||25.00|20200227||E105||1|Call with Client|12-3456789|25.00|Smith, Jane|PT|555555[]
20200227|22006|11111|10042|614.34|20200227|20200227|Single invoice for 101 – Frank Cole – Auto Claim (10042)|0001|IF|1|-65.00|-65.00|20200227|||||Invoice discount|12-3456789||||555555[]
20200227|22006|11111|10042|614.34|20200227|20200227|Single invoice for 101 – Frank Cole – Auto Claim (10042)|0002|IF|1|4.34|4.34|20200227|||||Correction for rounding errors|12-3456789||||555555[]
</code>
Here's a detailed (and official) walkthrough showing you how to create an invoice file using the LEDES 1998BI format.


LEDES 1998BI Format
Back to LEDES types
LEDES 1998BI is an ASCII, pipe-delimited format that includes 51 fields.
Here's a detailed (and official) walkthrough showing you how to create an invoice file using the LEDES 1998BI format.


LEDES 2000 XML Format
Back to LEDES types
The LEDES 2000 format is in XML; this version accommodates complex fee arrangements between corporations and law firms, enabling law firms to compensate for their client's nonstandard customizations without breaking the standard LEDES format.

LEDES 2.0 Format
Back to LEDES types
This new format changes how math is calculated on an invoice. It includes the ability to itemize complicated taxes, bill alternate fee arrangements, credits, and debits on a matter. It supports multiple vendor tax identification numbers, eliminates non-mainstream ebilling data elements, and creates consistency in the use of terminology, among other changes.
This format has been updated substantially with the ratification of the LEDES XML Ebilling Ver. 2.1 format.

LEDES 2.1 Format
Back to LEDES types
This updated format compensates for time, billing, and third-party ebilling systems using different math logic. XML Ebilling 2.1 reconsidered and published the underlying math statement with the hopes that this logic could be standardized by the multiple systems involved in legal ebilling.

As of January 2020, the documentation for this format has been updated.
Using the segments and fields listed in these sample files, you should be able to create an invoice that provides clients and firm stakeholders the data they need to process your invoices quickly and efficiently.
How Bill4Time Helps Bill in LEDES Format
If you've looked at the sample data above, you might have realized something important about LEDES. It can be complicated, messy, and challenging to work with — especially if you're doing this manually for each of the invoices produced in your law firm.

If you're new to LEDES, this may look tedious. And that's why you should avoid doing LEDES manually. If you have ebilling and practice management software, it should provide you with the support you need to track and export invoices in the correct LEDES and UTBMS formats.
Here's how Bill4Time helps you with the LEDES invoicing process.
We frontload the work so it's easy to use and easy to maintain staff compliance. Once you've enabled LEDES in your system settings and have determined if your client requires ABA codes or not, you can turn it on for one of or all of your clients. There are LEDES-specific fields in Bill4Time that help you export the data into the LEDES format that's right for you.
Do they have a project ID?
Do they require specific timekeeper IDs or classifications?
Does the client require ABA codes?
Do they have a matter case ID number?
Do they have timekeeper IDs or classifications?
Pulling data from your clients and matters, Bill4Time quickly exports the data into the LEDES format that's right for you. If you create your LEDES file from an invoice and need to make changes to it, you can quickly enter the changes in Bill4Time and export again in one click. Instead of digging back through the pipes manually, you can make the changes within Bill4Time. You can read more detail on billing in LEDES from Bill4Time in our help center article called "What do I need to know when exporting to LEDES?"
The Bottom Line: Your Law Firm Needs LEDES to Grow
Billing in LEDES provides your firm with the standard naming conventions for timekeepers, tasks, and processes. As a naming convention, it gives you firm-wide naming conventions. More importantly, it provides stakeholders with the data they need to enforce these conventions.
Each line item on your invoice is a unit of revenue. Every improvement you make to the quality of your timesheets and invoices increases your acceptance and collection realization rates for your firm. It gives your firm the data needed to increase productivity, boost utilization rates, eliminate billable leakage, and more.
Most firms believe they make their money when they send out an invoice or bill for their time. The truth is, your firm makes money in pace with the timesheets they create. Billing in LEDES means you're treating your timesheets like the precious cargo they are, one line item at a time.