Tracking time in 2020 wasn't easy. The days felt longer, then they felt shorter, the minutes would blur together in a seemingly random pattern. Harnessing that time though, however upside down and backwards it may have seemed, was how we all got through this year. Keeping tabs on personal tasks and progress provided a sense of normalcy, and allowed the mind to focus on a goal rather than drift endlessly.
The Bill4Time team can't thank you, our customers, enough for the continued support of our legal practice management software throughout the year. We fully understand just how crazy it was, which makes our appreciation even greater for the trust you've instilled in us to help your businesses continue to run efficiently. As we look forward to what 2021 has to offer, we wanted to take one final moment to look back at a few of the items that made 2020 particularly memorable around here. 
Thanks for your time,
The Bill4Time Team
We Added an Integration with NetDocuments
After quickly adjusting to a remote working environment — we continued pushing forward with our efforts to provide the best time tracking and billing software on the market. In July we announced our new integration, allowing Bill4Time users to interact directly with documents stored within NetDocuments. The ability to link Clients and Matters to NetDocuments workspaces with just one click saves our customers valuable time when searching for relevant materials. This integration allows for flexibility, letting users configure the tool to work how they work!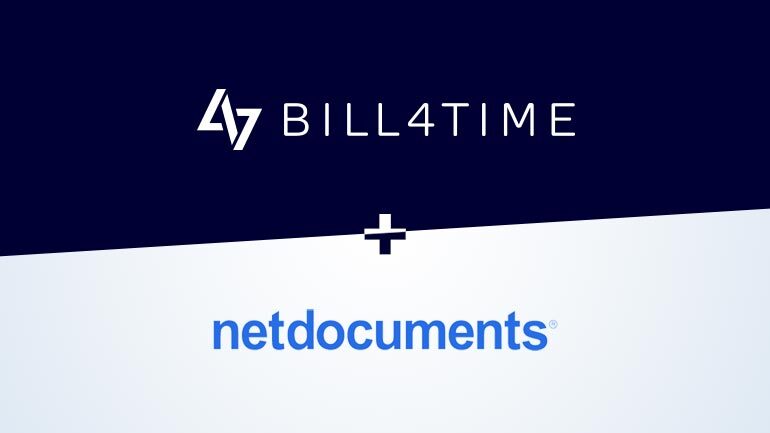 We Overhauled our Knowledge Base
The Bill4time Customer Success team was with our customers every step of the way during 2020. Because we knew you were working atypical hours due to the pandemic – we audited, updated, organized and created new material for our self-help Knowledge Base so you could obtain assistance day or night. We had discussions with you to understand both your needs and your user's needs during this challenging year – including opportunities for product improvements and new features you need most.
We Won a Few Awards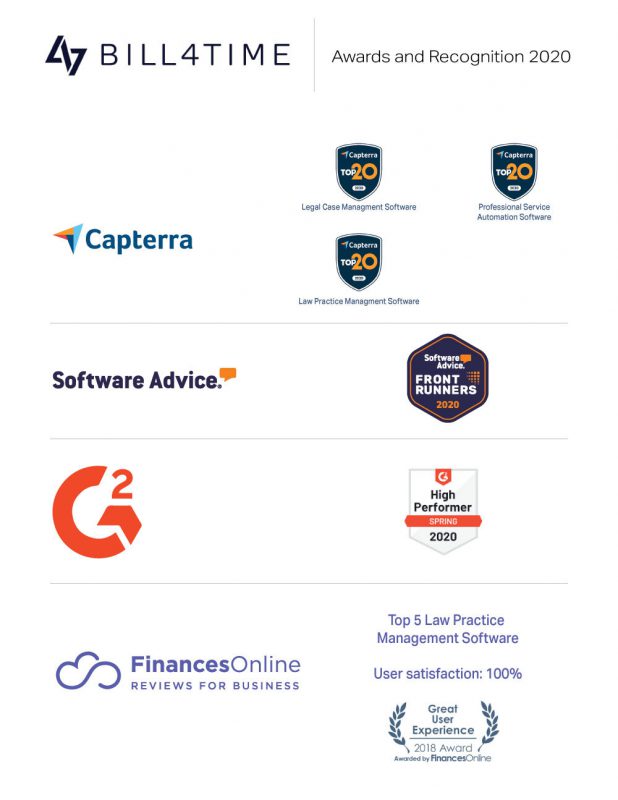 Thanks to our loyal customers, we were honored with a few awards in 2020, including a number 3 ranking in Capterra's Professional Services Automation Software category. We are humbled by your trust in our legal practice management software, and we will continue to strive for excellence in serving you in the future.
We Look Towards the Future
Just last week, a rebrand of our parent company was announced. Bill4Time is now part of Paradigm, formerly ASG LegalTech. This change comes at the perfect time, a new year means shifting possibilities, and we couldn't be more excited to be a part of the Paradigm team. If you want to stay in the loop on what Paradigm is up to, you can follow their activity on LinkedIn.
2021 is full of possibilities, and we've got some great product updates coming your way over the next few months that are sure to make your firm even more efficient in the new year. Stay tuned by following us on Twitter, Facebook and LinkedIn — you won't want to miss these announcements.