As we come close to the holiday, we have some gifts of our own to celebrate! There are two new Client Portal updates available now in Bill4Time!
Invoice Email link expiration: You can now choose a specific time frame of when your invoice email links expire. Choose between 30 days, 60 days, 90 days, 6 months, 1 year, or Never. You'll notice our recommendation for your links would be up to 60 days. The main advantage of a lower time frame for expiration is for security for both your company and your client.

To update this, top right click your name and select Settings. From there, go to your Client Portal tab and click to manage your client portal. Once you sign in, scroll down to your Settings to choose your expiration timeline.
Project Email: By default, when emailing your invoices the system pulls the email address as entered in the client's details.  However, you can now set an email address at the project level, which will override the client's email. This comes in handy if your invoices have a different recipient on a per-project basis.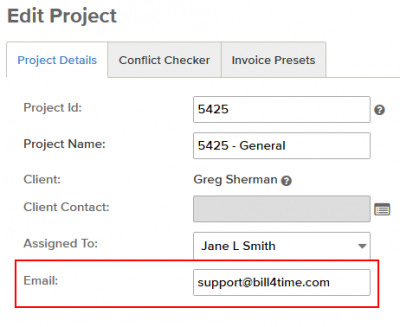 To update this, click Projects in your blue menu bar and click on a specific project. From there, click Edit and you will see the "Email" field to the left. Fill this in and click Save. Now when you go to email your invoice it will pull this address by default instead.
Keep a look out for our next New Years article which will outline all 2016 features and give you a brief look at what's to come in 2017!