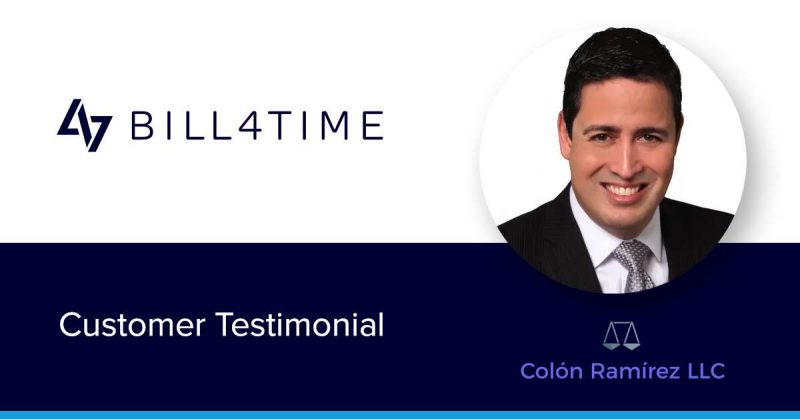 With no capital or cushion, Francisco Colón founded his own insurance defense firm in 2017. Bill4Time helped Colón Ramirez LLC get up and running quickly, even as Hurricane Irma and Hurricane Maria struck Puerto Rico, where the firm is based. In the years since, Francisco's firm has grown with the help of Bill4Time's intuitive interface, easy invoicing, and insightful analytics. 
Surviving Two Hurricanes and a Pandemic
As if starting Colón Ramirez LLC weren't already difficult enough, two natural disasters happened immediately after he opened his practice.
Category 5 hurricanes Irma and Maria struck Puerto Rico in quick succession, leaving approximately 3.4 million residents without electricity. For law firms relying on server-based technology to manage their practice, this severely impacted their business. But Francisco didn't need to rely on a server in his office. He only needed WiFi. Francisco says, "The fact that I could access Bill4Time when disaster hit allowed me to mitigate the economic fallout. I don't even want to think about the bind I would've been in if I weren't able to bill."
Three years later, disaster struck again. This time, Puerto Rico wasn't the only one affected. In 2020, COVID-19 reached every corner of the globe, fundamentally changing the way we socialize and work.
Did COVID-19 have any impact on your practice?
Colón Ramirez LLC: Yes, the courts closed down. It took about 4-6 weeks for them to pivot to Zoom conferences. Beyond that, we did see a reduction in billable hours because overall business went down. Fortunately, my overhead is so low with Bill4Time. Even with the reduction of billable hours, I can survive and still pay my people.
Was there any adjustment period to remote work?
Colón Ramirez LLC: I would say that I don't work remotely. My office exists wherever my laptop is. I wouldn't be where I am today without the ability to remain completely operational, no matter what or where. That's a testament to cloud-based software: wherever you are becomes your office. Some people view this as being chained to work, but I see it as not being chained to the physical office. It's all about perspective.
Leaving Server-Based Time and Billing Behind
Francisco used TimeSlips for more than two decades when he worked at his father's law firm. He knows about making the move from on-premises time and billing to a cloud-based system better than anyone.
What were some of the challenges using a server-based billing solution?
Colón Ramirez LLC: It takes a lot of time and overhead to run an on-premise time and billing platform.
First, there's the investment of capital to set up an in-house billing program. Compare this to the subscription model offered by modern time and billing solutions: it's more convenient paying a monthly subscription fee, versus dropping thousands of dollars every five years or so to upgrade servers and the program itself. There's also the cost of implementing and adjusting to that big change.
Getting started is only half the battle. Actually using the program involved a lot of clicks and steps. This ended up affecting overhead. We actually had two out of the five full-time employees whose sole purpose was billing.
Saving Time and Making the Most of It
Moving from TimeSlips to Bill4Time was initially disorienting. Francisco recalls "When I first fired up Bill4Time, it's very deceptive because it looked simple. It's hard to believe that there's so much information and possibilities at your fingertips."
What are your favorite things about Bill4Time?
Colón Ramirez LLC: I love the Batch Entry feature and the ability to clone prior entries. That's what really sold me on your product. All it takes is a click of a toggle and I'm saving so much time not doing manual data entry. It's also very easy to correct invoices that need to be updated.
Are you leveraging any reports in Bill4Time?
Colón Ramirez LLC: My favorite is the User Efficiency Report. These were a big headache in TimeSlips, and they weren't intuitive to find. In Bill4Time, I just go to "Reports", "Entry and User", "User Efficiency", and click "Generate". 1, 2, 3, and I have my report. It's just so easy I want to cry. I can see what the attorneys at the firm billed last month, if attorneys at the firm met their individual targets, and if they earned their bonus. With Bill4Time, I am collecting over 97% on my bills.
Building a Practice from the Cloud Up
Reflecting on how far he's come since moving time and billing to the cloud, Francisco says, "I can do everything in Bill4Time that my old law firm used to do with TimeSlips, and then some. But it's about 90% more straightforward. Think about it for a second — there are people who make a living as a TimeSlips advisor. I can't imagine there'd ever be a Bill4Time advisor — you wouldn't ever need one! You can figure it out. It's super easy."
Starting your own law firm isn't easy, but finding the tools that make the most of your time can help make that journey easier. "I want to help people who are on the journey I was on," says Francisco. "Bill4Time delivered in a time of need for me and allowed me to become what I am today."