Earning interviews is the only way to survive.
That's according to the 2019 Report on the State of the Legal Market. Before looking at the data, there's only one way for law firms (of all sizes) to grow. That's through fierce, zero-sum competition.
If you want to win, your competitor has to lose. For your competitor to lose, you need to earn interviews.

It's the sobering yet unpleasant reality law firms face today. Law firms are unable to protect their two most valuable assets – their talent and their clients. Both can be lost to a well-prepared or overzealous competitor.

Is stable law firm growth possible in today's market?

If you're like many other attorneys, the previous paragraph was borderline repulsive. It's as if I'm suggesting firms have to destroy each other to survive. It's not that extreme yet but it is a difficult situation.

The data confirms this.

A recent survey by LexisNexis found 60 percent of attorneys see retaining clients as a challenge. The majority of attorneys/law firms are struggling to hold onto their clients.

How did we get here?

How did we get to the place where there isn't enough business to go around? The explanation provided in the 2019 report is chilling.

"Competition Is More Fierce than Ever. In a market characterized by sluggish demand growth, the only way for one firm to improve its market position viz-a-viz another is by taking existing market share. That in turn drives increased competition.

It also highlights one of the unique vulnerabilities of law firms: the fact that, unlike other businesses, law firms cannot protect their two most critical assets – their people and their clients. In contrast to other business organizations, law firms are not permitted to impose non-compete agreements on their lawyers or to impede in any other way the freedom of lawyers to leave one firm and join another.

Similarly, law firms cannot bind their clients into continuing engagements or impose any financial penalty on a client that, for any reason or for no reason, decides to switch its business to another firm. These unique restrictions make law firms particularly vulnerable to shifts in market conditions and contribute to the overall fragility of law firms as organizations."

This is a byproduct, it's not the cause.

The cause is stagnant growth. The great recession hammered firms, reducing the demand for legal services, inducing layoffs and reductions at firms large and small. Since then the pattern has been the same. The demand for legal services is slightly up in some years and down in others.

Here, see for yourself.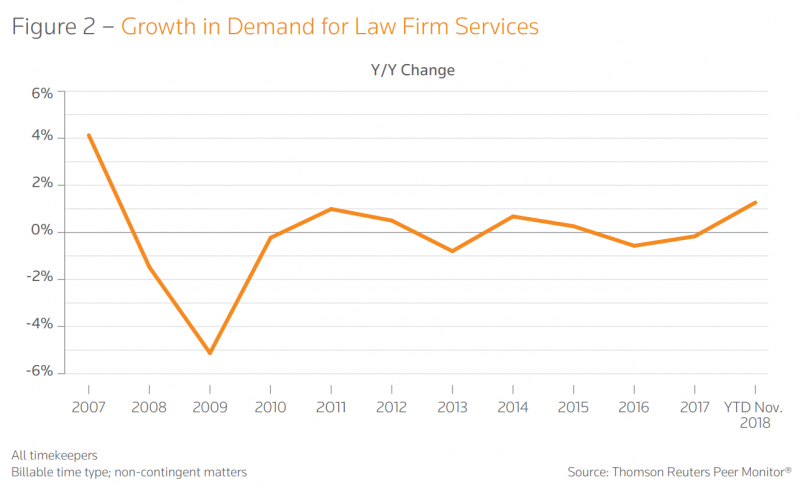 Stagnant growth + restrictions re: talent and clients = increased competition

2018 was a (modest) growth year but we have no idea whether the up and down growth pattern we've seen is primed to continue.

Earning interviews: The secret to stable law firm growth

When you earn an interview your firm has a chance to win over new clients. There's a very good chance these clients are already working with a competing firm.

It's unavoidable, it's also the cost of doing business.

When most firms earn an interview, they focus on the wrong target. Many of them focus on winning over new clients immediately and closing the sale. Most of the time, this approach is premature.

There are three reasons why: (1.) Your clients already have a firm – they can choose to stay with them. (2.) There's a very good chance these prospective clients are dissatisfied with their current firm, otherwise why are they looking? (3.) Most likely, these prospective clients expect you to demonstrate a significant improvement (in value) over their current firm.

To win them over, you'll need a few simple ingredients:

An understanding of the problem. Clients want to see that you understand their problem, can recite their problems back to them (typically in their own words) and that you have a solution to their problems.
An irresistible offer is a low risk, introductory offer that overcomes a prospective client's distrust, fear and resistance. The right offer gets your foot in the door and provides you with an opportunity to grow.
An urgency trigger is a compelling reason, motivator or trigger that gets prospective clients to take action quickly. A genuine urgency trigger motivates, while dishonest triggers repel.
A strong value proposition is a promise. Law firms have a strong value proposition when their value proposition is appealing, exclusive, credible and clear. Meet all four criteria and your law firm is truly unique.
Risk reversals reduce the inherent risk clients face. How it works is simple. Law firms assume the risk that would normally be placed on a client's shoulders.
Compelling objection counters. Your clients will have questions (objections) to your service. They're not looking for you to parry, evade or counter these questions. They're looking for compelling, satisfactory and complete answers to their probing questions.
Outstanding presentation. It's human nature. Your clients are going to judge you. The things your clients can see (design quality, skill, reviews) tells them about what they can't see (values, character, trustworthiness). If both of these elements align, clients believe your message. If there's a mismatch, you create distrust and resistance.
These ingredients help you convert the unconverted. Do they also help you earn an interview with your prospective clients?

Absolutely.

Here's the thing. You'll want to obey the model rules of professional conduct. This means you need to avoid misleading claims and promises that cannot be kept (duh).

You already know the rules.

As it turns out, the seven ingredients used to convert clients are the very same ingredients you use to attract these clients. These details all boil down to one thing, communication. The bad news? The data shows most firms aren't doing a great job of communicating.

Here's the proof.

Client rank = the importance of this issue to clients
Client % = how clients rate their attorney/firm
Lawyer % = how attorneys rate themselves
Well, this is awkward.

Attorneys feel they're doing a fantastic job but clients disagree. This is why firms are struggling to hold onto their clients. These attorneys/firms aren't paying attention. They're not getting actionable feedback from their clients.

That's your "in."

Your "in" begins with an interview

First, go through your client roster. Make a list of the clients you'd like to keep/earn more business from. Don't add every client you have to the list simply because they have money. Money shouldn't be the exclusive deciding factor.

Use value instead.

Which of your clients have produced significant value (whatever that means to you) for your firm? Which clients trust your recommendations, value your expertise and treasure your role as a trusted advisor?

You'll want to trim the fat.

You can keep the clients that produce the greatest amount of quantifiable value for your firm.

Next, trim the list.

Which clients do you enjoy working with the most?
Which clients spend the most with your firm per mo/yr?
Looking at your clients, which practice areas are the most/least profitable?
Which practice areas have the greatest amount of expenses?
Which practice areas have the greatest amount of employee turnover?
Which practice areas have the lowest morale?
Which clients produce the greatest amount of referrals?
See where I'm going with this?

You can use a variety of metrics to identify the list of clients (across multiple areas) that you'd like to keep. Once you have the list of clients you want to keep, request an interview. Reach out to the remaining clients in your list and ask about your performance.

The bad news: It's going to be painful.
The good news: You want it to be painful

You'll want to ask clients how well you deliver on each of the following services:

Provides a clear indication of likely costs/works to fixed fee
Provides you with regular updates on progress
Explains charging system clearly at outset
Fully appreciate your needs and expectations when taking the case on
Personally responds to emails/calls within 24 hours
Is good at listening
Keeps to a timetable/avoids case dragging on
Demystifies the loss/makes it understandable
Explains range of possible outcomes based on previous experience
Empathizes with your situation
Treats you as a partner in the relationship
Provides a tailored service versus package solution
Proactively alerts ongoing clients to relevant legal changes
Retains a professional distance
Here's why you want this interview to be painful.

Even if it's bad news it's good news to know
Bad news means your clients are willing to be open and honest with you
Some good news shows you where progress is being made
This interview is the key.

This interview, when combined with the seven ingredients I mentioned earlier, means it's extraordinarily difficult for competitors to poach your clients. If your clients leave you, it's actually a step down.

This stops/prevents additional bleeding.

This gives your firm the stability it needs to retain a high percentage of your clients. What about attracting new clients? As I mentioned in the beginning, any new clients you gain, your competitors lose.

So what's the secret to attracting interviews?

There's a simple formula.

Education attracts, information converts.

The content I've shared with you so far is essentially information. Your understanding of your client's problem, an irresistible offer or strong value proposition – it's all information. This is great if you're looking to convert new clients.

Here's the problem.

Information doesn't attract new clients, it converts them. This is precisely why so many attorneys struggle with business development. They're sharing information when their clients are searching for education. How do you change things for the better?

Always be teaching.

In my previous post, [37+ Places For Lawyers to Get Published That Bring Value to Your Firm], I list 37 sources you can use to teach prospective clients. This draws clients in automatically. Here's a brief recap of the sources and channels you can use to educate (attract) new clients.

Publishing sources

Guest posts (e.g. writing for other publications)
Radio + podcasts (e.g. appearing as a guest on popular shows)
Ebooks published and shared on other well-known sites/publications
Guest video content (e.g. appearing as a guest on popular YouTube and Vimeo channels and third-party video publications
Public Speaking at popular conventions, meetups, workshops, seminars and events
These channels are incredibly profitable when used on their own but the results compound quickly when two or more are combined. What about channels?

Channel types

Traffic. These are high traffic publishers, sites, radio shows or platforms that receive a gigantic amount of traffic. The more thought leadership you share with their audience, the more prospective clients see your amazing work and the more they're drawn to your firm.
Authority. These are authoritative channels that boost your authority/prestige among other influential attorneys. Authority platforms produce greater levels of trust, acceptance and fee resilience among clients. They're willing to pay the high(er) fees you request as a result of the authority you convey and the trust you've earned.
Prestige. A social hierarchy platform that establishes your position in relation to other attorneys/firms. Thought leadership on these channels confer prestige, exclusivity and appeal inherent to the publisher and transfers it to you. Write for the Wall Street Journal and you receive the authority and trust that comes with that accomplishment.
Partnership channels may not be high traffic but they're growing and hungry for more. They value high-quality partners like yourself and they're willing to partner up to produce more revenue and profit. With the right partnerships, you're able to win new clients before they begin shopping. Command a large degree of trust which leads to greater cooperation from clients, partners, contractors and referral sources.
How do you get them to send you the prospective clients you need to grow? You use Peter Thiel's value formula, which I've covered previously.

Create X dollars of value for publishers and platforms (with clients).
Capture Y percent of X.
How do you do that?

With education! You share outstanding educational content with publishers, platforms and partners, then you capture a percentage of that value (as traffic, leads and sales).

Makes sense, right?

These are the strategies elite firms use to attract, win and retain top-shelf, highly profitable clients. The same strategy you can use to build a stable, growing and successful firm.

Is stable law firm growth possible in today's market?

Not only is it possible, it's also a requirement.

The fierce, zero-sum competition we're told is necessary actually isn't. Your competitor shouldn't be your focus. Serving your current and future clients is the focus.

With the right strategy and tactics, you can protect your most valuable assets (talent + clients). The plan I've shared today is deceptively simple. Competition, while intense, doesn't have to be cutthroat.

Educate to attract, inform to convert.

This strategy bypasses your competitors entirely. Place the focus where it belongs. With the right ingredients, you can create an innovate strategy and new lines of business for your firm. With this stable approach, you'll find the fierce, zero-sum competition we're told is necessary is now obsolete.