With client intake, case paperwork, court proceeding filings and other documents that pass a law firm's desk frequently, legal document management is commonly top-of-mind for successful law firms looking to boost productivity and ensure information security. With recent lawsuits due to data breaches, legal document management has taken front stage in recent years after the pandemic pushed most practices to establish a work-from-home environment for safety.
Bill4Time actively works on legal document management features to improve — or help implement — your law firm's retention policy. From organized workflows to document security, Bill4Time can help boost productivity and increase your law firm's security, giving your clients the confidence they need to trust your firm.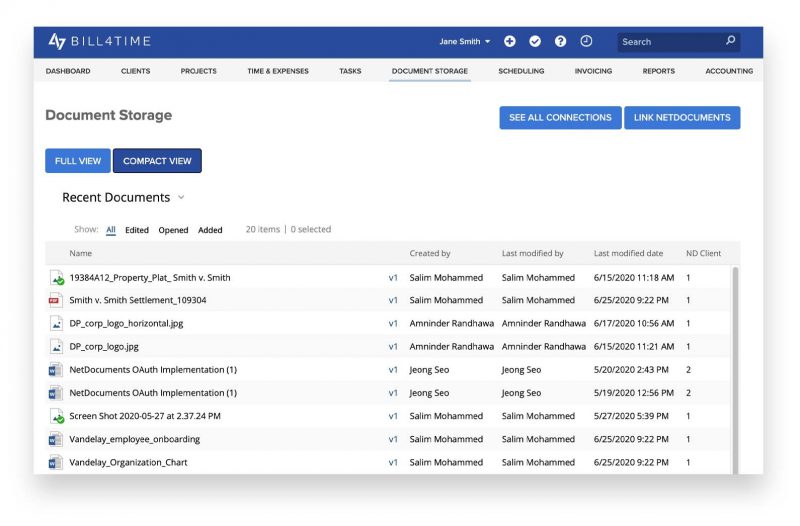 Legal Document Management for Organized Workflows
Many law firms find managing the intake of legal documents burdensome, but necessary. Without the proper software and systems in place, important and confidential documents and information can be lost, stolen, or damaged. With software like Bill4Time, your law firm can easily manage legal documents without the hassle of paper and filing cabinets. Implementing digital legal document management software like Bill4Time can make your firm more efficient, secure, and productive.
What is legal document management?
Legal document management is the process of managing the documents that come in and out of your law firm. How these documents are stored, what security measures are in place to protect those documents, and a solid retention policy are all procedures that every successful law firm has in place. Legal document management software like Bill4Time makes the process of managing confidential documents easy and secure, so law firm managers can focus on the big picture.
Once your digital legal document management procedure/process is in place, it allows firms to more easily store and manage documents, reducing the time finding information, properly saving files, and eliminates the worry of stolen, damaged or lost documents. Creating a streamlined system for legal document management gives legal practice managers more time to focus on their cases instead of tracking down runaway documents and information.
What's the best way for firms to organize legal documents?
Traditionally, especially before online storage options like cloud storage were available, firms would store hard copies of documents in their office. You could find important and potentially confidential documents in open filing cabinets, unorganized storage closets, unlocked desk drawers, and more. Today, firms have access to more secure methods of document storage and management. Digital software has entered the chat, creating a more cohesive and collaborative work environment that allows law firm teams and clients to manage client intake, form submittals, and paperwork online.
Enhance Internal Operations with Bill4Time Document Management Features
Remove Law Firm Boundaries with Mobile Practice Management
Modern law firms are constantly on the go. Creating an environment that nurtures mobile, constantly moving working conditions is key to staying in-the-know when it comes to newly offered digital solutions for law practices. Implementing digital software with a cutting-edge mobile app like Bill4Time, law firms can manage their practice on the go. Firms can access documents and information for their practice from the courtroom, the office, or on a plane. Legal document management can be done on any mobile device with Bill4Time.
Safeguard your Documents with Unlimited Document Storage
Many problems firms face when choosing a digital law practice management software is the lack of storage. Using a software that offers unlimited storage not only allows firms to focus on information gathering, but also removes the worry of losing important documents while maintaining a strict retention policy. Bill4Time offers unlimited storage and uploads to the software, allowing mid and large firms alike the ability to organize extensive inventory of client and matter files across the entire firm.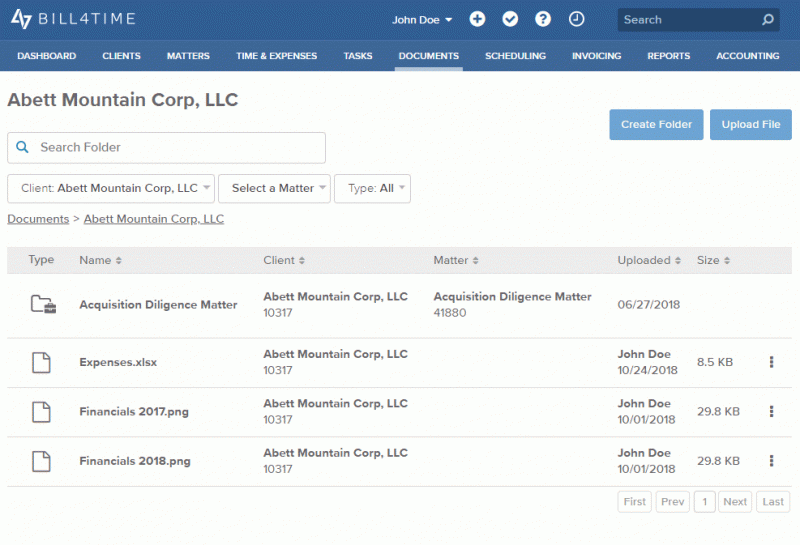 Elevate your Practice's Performance with Firm-Level Document Organization
While legal document management mostly focuses on the organization and security of clients' files, law firms still need a structure for their own documents. Keeping all firm-level documents in an organized and specific area, attorneys, marketing professionals, and administrative and operational staff can access key documents needed for the management and operation of the law firm.
Client and Matter File Management Made Easy
Successful law firms know the importance of details. Having a software that allows firms to bring a certain level of detail to their practice can only help, especially in the long run. With Bill4Time, firms can take control of file management with the ability to upload and download client files to specific folders at various levels of the file tree. Rename individual files to fit the firm's naming conventions. Duplicate files for easy re-use before moving the file into the correct folder context. This level of organization brings a sense of calm to a potentially chaotic filing system, allowing firms to quickly retrieve information without sorting through hundreds or thousands of digital files and hard copies.
Effortlessly Customize and Seamlessly Move Folders to Fit your Practice
Whether a firm is new to file organization and just starting out, or has a developed structure for saving and organizing files, Bill4Time has customizable folder creation that allows firms to organize files in a way that firms and their staff can search and understand. Digital legal document management can be easy when the right software can nearly read your mind when it comes to file structure, making the migration process easy and intuitive. Use Bill4Time's pre-made file structures or create custom ones from scratch — either way, firms are setting themselves up for success.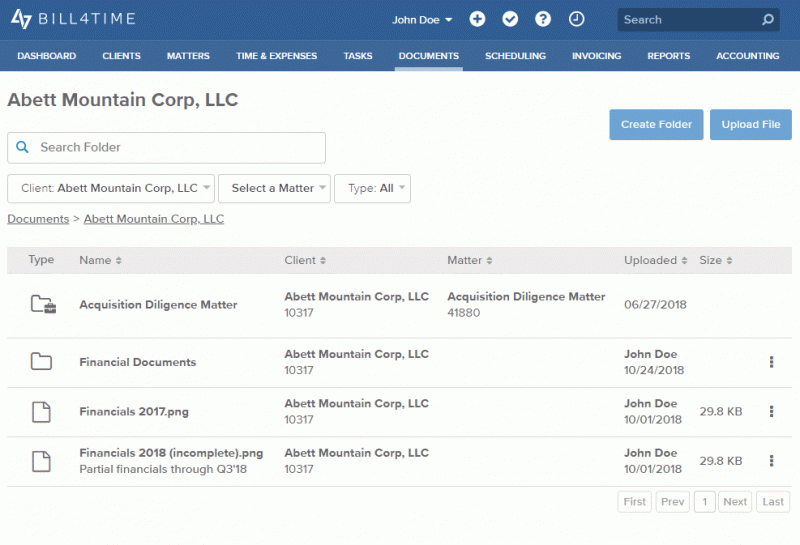 Powerful Search Functions for Fast Discovery
Instead of sorting through and scanning hard copies of documents to find the one needed, a document search function can eliminate hours of searching by allowing users to enter a word or phrase in the search bar to find files. This heightened level of navigation in Bill4Time saves attorneys, paralegals, and administrators invaluable time.
Cloud Storage Integrations
One of the easiest ways to make your firm's legal document management process a breeze is by using a cloud-based storage integration. When these files and documents can be seamlessly synced, it reduces the chance of error. Your law firm can integrate your Box or NetDocuments account directly to your Bill4Time account, syncing the file structures to create a more cohesive document management system.
Get a Demo
Bill4Time understands the importance of legal document management. With integrations and cutting-edge features, Bill4Time allows you to manage your firm from anywhere. You can download the Bill4Time app on Apple Store or Google Play today. If you want to learn more about Bill4Time and how it can help your firm's legal document management procedures to reach your firm's goals, schedule a demo today.