This year's big business question: is switching to cloud-based software right for your firm? Do you have to be on your office computer to work? Do you spend a significant amount on software licenses, support contracts, servers, billing and HR staff?  How often do you have to buy the latest version of the software you use?
As the benefits of cloud based services become more evident, more small businesses are moving to the cloud. Software as a Service (SaaS) can be defined as "software deployed as a hosted service and accessed over the Internet." SaaS is an attractive model because it is globally accessible, flexible, and affordable. It also removes all the complexities of installation, deployment, maintenance and new version upgrades. By its nature, SaaS resides in the "cloud". SaaS sales in 2010 reached an estimated $10 billion, and they're projected to reach $21.3 billion by 2015. Still, as with any technology, you want to do your research first.
SaaS is typically web-based which means that unlike traditional software, you have access to SaaS anywhere you are connected to the internet. If you are currently still using traditional software, you may wonder what the differences are between traditional software and SaaS.  Here is a point-by-point comparison: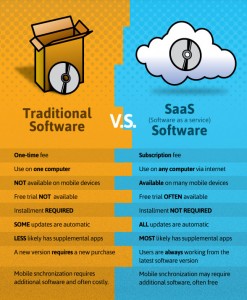 There are many fundamental benefits of today's SaaS solutions including:
Low risk factors – Most SaaS solution providers offer a 30 day trial of the software's full version with no credit card required. Firms then have a month to decide if the software meets the firm's requirements.
Low commitment factors – Most SaaS solution providers allow customers to cancel at any time. Customers are not forced into contracts and only pay for the months that they use the software.
Competitive cost – SaaS is typically "pay as you go" and when compared to the cost of software licenses, computer hardware, support contracts and version updates, SaaS is often the more cost effective solution.
Rapid deployment and Integration – SaaS vendors can roll out their applications whenever the firm is ready. No need to wait for servers to be deployed or staff to be hired and trained to get a new app up and running.
Increased utilization – Because SaaS solutions are designed with the end-user in mind and are continually improving with upgrades, the user learning curve is shorter. They are typically more user-friendly and generate greater utilization rates than traditional software.
Heightened security – Despite prevalent concerns about the reliability and security of SaaS solutions, the truth is that there have been far fewer service disruptions and security breaches among SaaS vendors than in traditional, on-premise software environments.
SaaS solution providers tend to be more responsive to customer requests for feature enhancements and bug fixes.
Increased productivity – SaaS solutions are accessible from anywhere on any device which means firms are able to use them in downtime hours. When you can work from anywhere at anytime productivity tends to increase.
Constant access to the latest and greatest software version. – SaaS means no more waiting or upgrading to the latest software version. Customers are always working with the latest version and can expect continual improvements along the way.
Whatever your software needs may be, the cloud's customizable and flexible solutions are the perfect option for expanding small firms, and even for firms just looking to consolidate and cut costs. Legal and small business industries can certainly take advantage of SaaS to reduce overall cost and enhance services.
Written by Jeremy Diviney – Co-Founder of Bill4Time.
Download the full report here.