Accepting payments online hasn't just become a standard business practice – it already is one. And many business owners seek a simple method for accepting online payments without giving much thought into how their online payment portal can help their firm grow. Simply processing credit cards is one basic method to taking payment – but both the needs of you and your customers are much more complex. As your business develops and grows over time, you'll need a more comprehensive tool than a simple credit card payment form. With Bill4Time, you can build upon the basics – and expand your online payments gateway in keeping with the progressive needs of your current and future clients – leaving you with more time to grow your business.
1. Payment Method Options
When it comes to accepting payments online, if your site can match the preferred payment method of your customer – the more likely it is that they will complete the transaction. Integrating with the online payment methods your customers are most familiar with will demonstrate the convenience of using your online portal and help your clients feel more comfortable and secure during checkout. While it's impractical to offer every conceivable method of online payment, you can informally survey your clients to see which methods they'd most like to use and implement those options. Allowing your customers to complete the transaction using their PayPal account or via ACH transfer, in additional to a traditional card payment, can streamline their process and mitigate delays in timely payment.
2. Allow Guest Access and Payments
No one wants to create yet another set of login credentials when completing an online transaction, unless there's a clear benefit to doing so. The goal here is to make it as easy as possible for you to get paid, and quickly. With Bill4Time, you have the option to enable Guest Access in your Client Portal, which allows your clients can view and pay their bills online – without ever signing up! Instead of forcing an account on a customer, allow them to complete their transaction without interrupting the payment process.
3. Make Errors Clear and Easily Fixable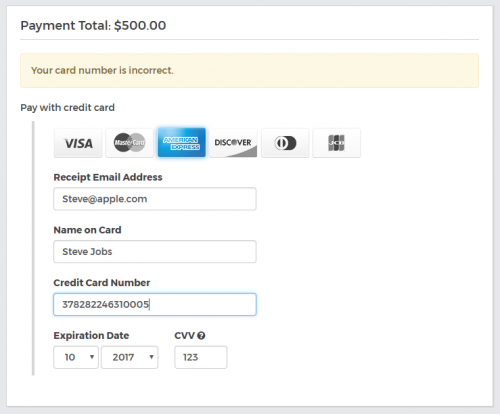 Typos happen. Assume your clients will make a mistake when entering their payment details – maybe the expiration date of their card is formatted incorrectly or maybe the card number is invalid. In any event, your online payments gateway needs to clearly convey the error in a way that allows folks to resolve the issue and complete their transaction. The Bill4Time Client Portal is setup so that if a typo is made, the page will alert the customer to the specific fields that need to be updated – without clearing out the form and forcing your customer to completely re-enter all their payment details again. To go a step further, the Bill4Time Client Portal can store the payment details your clients submit so that when they go to pay their next invoice – they don't have to reenter these details or even reach for their wallets!
4. Straightforward and Secured Payment Entry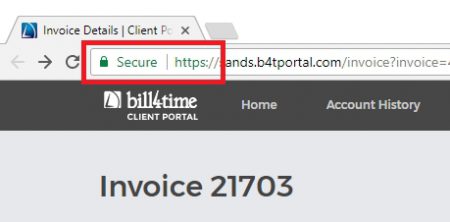 Your customer doesn't want to fill out lots of information within the online payment portal, and the last thing you want is for them to feel overwhelmed or frustrated – and abandon the transaction altogether. The key here is to keep it simple and only present those data fields which are required in order to complete the transaction. In addition to a bare-essentials payment entry form, you want to reassure your customers that you take their privacy and security seriously as they complete this transaction. Sensitive payment details like credit card numbers should always be encrypted when passed to the server. In the Bill4Time Client Portal we  use SSL/TLS (https) so that the customer's details are secured; assume customers will be on the lookout for a lock symbol in the address bar to know the page is secure.
5. Familiarize and Performance Test
After completing the setup of your online payment portal, you will want to familiarize yourself with the client-side user experience. Armed with this familiarity, you won't be caught flat-footed when answering a client's question about how to make a payment online. In addition to familiarizing yourself with the process, you'll want to test the entire portal setup to simulate an end-to-end transaction. Primarily, you'll want to complete a couple test payments to verify that transactions are being processed and tracked successfully, both on-screen for the client to see – and on your end in your accounting system or bank account.
The Bottom Line
In this day and age, your customers are expecting nearly-instant everything – from the professional services your firm offers to the secure portal they use to make payments. Accepting online payments isn't difficult at all and the Bill4Time Client Portal was designed to support your current and future needs – so you can stay focused on building your business. Our goal is to make paying bills as easy as possible for your customers, so getting paid becomes faster than ever before. Have questions or comments about how your business can accept payments online? Drop a comment in the comments section below or contact Support and we'll get you squared away in no time.