SMBs can Now Easily Manage Critical Time Billing Activities On-the-Go
Octo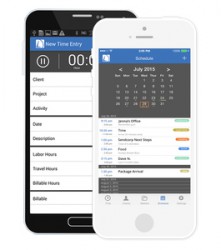 ber 13, 2015 — Bill4Time (www.bill4time.com), a leader in time billing software for legal, accounting, consulting and service businesses, announced today the release of Bill4Time mobile v2.3 "At-a-Glance" features for Apple® iPhone and Android® smartphones. These new features provide mobile users the ability to better navigate the ever-changing landscape of managing a small business. Bill4Time "At-a-Glance" features offer maximum flexibility and unparalleled control of any legal practice, accounting firm or service business through a mobile device. Staying in touch with clients while accurately tracking and invoicing billable time has never been easier. V2.3 of the Bill4Time app for iPhone is available now at the iTunes store or at the Google Play Store for Android.
As mobile usage continues to rise, running a business via a mobile device has not only become commonplace, it has become a necessity. A PeoplePerHour poll found that a staggering 73 percent of business owners use apps to run their business on a daily basis.  Further, a recent report conducted by AT&T and the Small Business & Entrepreneurship (SBE) Council, small business owners have netted $67.5 billion a year from implementing smart phones and tablets in their day to day business activities. The study found that smartphones are saving business owners time (124 billion hours) and money ($32.3 billion) annually. Bill4Time recognized this trend and created "At-a-Glance" features to enable service businesses of all sizes to conduct business and service clients while in the office or on the go.
"These new 'At-a-Glance' features make it so much easier to run my construction business, especially when traveling from one job site to the next," said Barin Yoder, general contractor of Yoder Construction. "With just a click of my Android phone, I can stay on top of time, materials and other expenses to ensure each project is on-schedule. Bill4Time makes it easier for me to run my business."
New Bill4Time Mobile At-a-Glance Features include:
Time & Expenses. Users can review entered time and expenses for a client or specific project with a quick touch and a swipe from any iPhone or Android device. With the new search bar at the top of the Bill4Time app, users can quickly filter by client or project, and retrieve time and expenses while on the go.
Matters/Projects. Mobile users can click on the new Matters/Projects tab and enter the project description as an entry field. Businesses can stay abreast of client activity on-demand and respond to client inquiries quickly.
Client Management. Businesses expect to use technology anywhere, anytime to interact with clients. This release provides first glance access to client telephone and email information. Through the Client tab, users can quickly search for a client and place a call directly from their smartphone screen by simply clicking the telephone number. Users can also create and send an email by simply clicking the client's email address. Staying connected with clients has never been so easy.
Balance.  Bill4Time legal and business users can better manage business while on the go. Easily search and review account history, outstanding balances and more. Click to view invoices and quickly email invoices directly from your smartphone. When a client pays the invoice through the BIll4Time client portal, users can view the update to the account on their mobile device. With the new Balance tab feature, insight to a business' financial health is available 24/7.
Scheduling. The Bill4Time Scheduler has been redesigned to provide "At-a-Glance" viewing. The monthly scheduler or weekly tasks display is larger and easier to read, allowing users to immediately view time commitments. Bill4Time offers users easily customizable event types and a color coded display for instantaneous information.
"Bill4Time is a fast, secure, cloud-based business management software that helps lawyers, accountants and service providers of all types better manage their business while staying connected to clients," said Jeremy Diviney, president of Bill4Time. "The new Bill4Time mobile 'At-a-Glance' features offer on-demand search and review functionality, providing the information business owners need, when they need it to efficiently run their business from anywhere, anytime."
For more on Bill4Time Mobile 'At-a-Glance' features, visit https://www.bill4time.com/mobile-time-tracking. For more information on Bill4Time for Legal go to: https://www.bill4time.com/legal-billing-software. For Consultants, go to https://www.bill4time.com/time-and-billing-software-for-consultants.
###
Contact:
Cherie Wentz Blehm
425.559.9790
cwblehm(at)bill4time.com