Published by Jurispage | May 2014 by Andrew Cabasso
First up in our attorney-tested law firm timekeeping and billing software comparison series is Bill4Time. Bill4Time helps attorneys keep time on their matters and bill clients. Bill4Time is cloud-based, allowing you to easily take a free trial, try out their software, create your matters, log time, and bill your clients – from any computer, tablet, or phone.


About Cloud Based Timekeeping Software
As I've mentioned before, I generally prefer cloud-based software for timekeeping and billing (software you access via the Internet rather than software installed on a server in your office). It's secure, easy to use, easy to scale if I ever have more users, and the support is fantastic. Some attorneys have irrational fears of cloud-based software, worried about the security or potential ethical issues. While I am not your attorney and am not offering you legal advice, law firms are generally in compliance with the ABA model rules when they take "reasonable" precautions to protect their information (a good password helps). Realistically, it's more likely that the server you installed in your office with out-of-date software and security updates is more vulnerable to attack than cloud-based software.
There's also a very small learning curve with this and other cloud-based timekeeping / billing software. It was fairly easy for me to get started. I didn't need a "consultant" to train me how to use Bill4Time. Though, when I had a question about a particular feature, their support team was incredibly responsive.
Features
Bill4Time was created with attorneys in mind, offering features that many attorneys would find helpful, and possibly essential. Bill4Time is definitely the most feature-rich software for timekeeping and billing clients.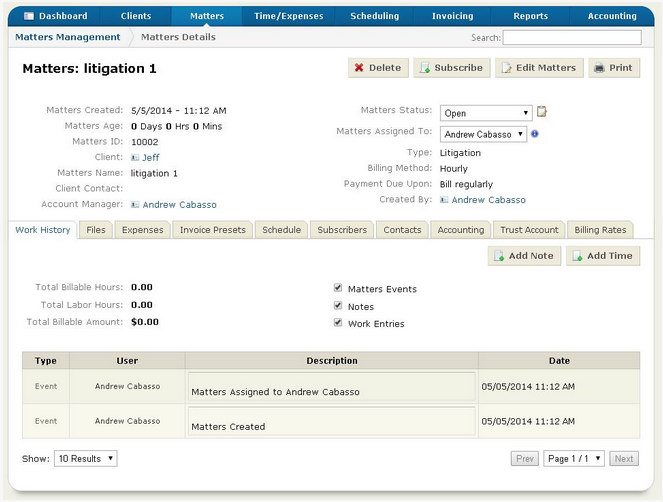 Bill4Time operates a lot like more full-featured case management software. Each individual matter has a dashboard screen where you can see not only related time entries, but schedules, documents, accounting and trust accounting, attorneys assigned to the matter, and their associated billing rates for the matter. While you may not need all of these features, they are at your disposal.
Regarding timekeeping, you can batch your time entries (this is something not many of the others seem to have). From one screen you can create multiple time entries. This is particularly useful if you are the type of user who creates entries all at once at the end of the day rather than keeping time as you go. In the competitors' applications, you have to create each time entry one by one.
Bill4Time can integrate with the QuickBooks desktop and online versions. How this works is that you can export Bill4Time entries as a file type that QuickBooks can read, and then import it into your QuickBooks software. One issue though is that Bill4Time cannot transpose trust account information. Your trust account tab in Bill4Time stays where it is. If you want to keep tabs of your trust accounts, you need to do it manually in QuickBooks. Also, Bil4Time works one-way with QuickBooks – you can export Bill4Time info to QuickBooks, but not send QuickBooks information to Bill4Time. The two-way sync is something Ebillity has that Bill4Time doesn't.
One interesting feature of Bill4Time is the scheduling ability. Attorney users can schedule calls with clients and have the related information become a time entry.
Bill4Time can be used offline. Bill4Time has an offline-enabled desktop widget. From your computer desktop, you can track your time (even when offline), start and stop your timer, and even add expenses.
Bill4Time is very attorney-friendly. Some other attorney-related Bill4Time features include:
·ABA Activity, Expense, and Task Codes
·LEDES and Litigation Advisor Exports
·Trust Accounting with Summaries and Reports
·Easily Check for Conflicts of Interest
Bill4Time touts its document storage ability that effectively turns Bill4Time into a Dropbox-like service, allowing users to store documents in the cloud and sync documents to particular matters. This may not be necessary for your needs.
Batch billing and invoicing with Bill4Time lets you create multiple time entries for different clients all on one screen, saving you time from clicking "New time entry" several times over.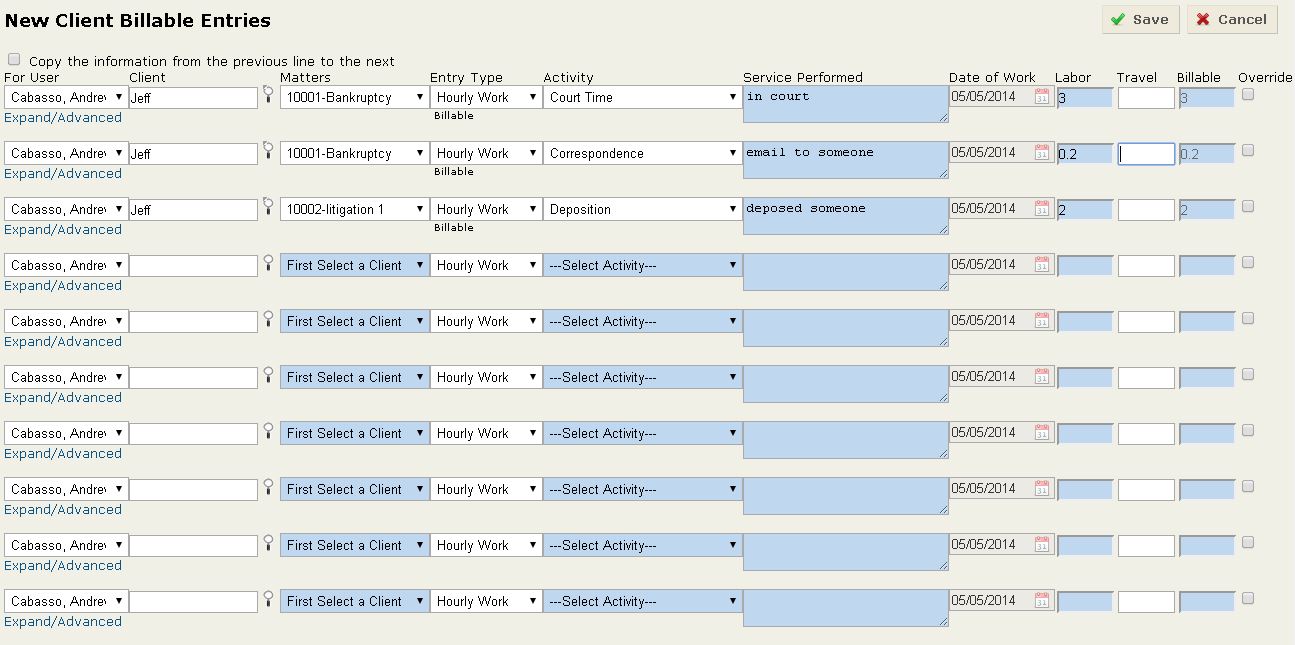 For invoicing, you can customize the layout, add your own logo, batch invoice multiple clients at once, create PDF bills to send via snail mail, or send bills via email to your client so they can pay online if you choose.
Down the road, Bill4Time is working on creating a "pay with credit card" without having the user go through PayPal.
User Permissions

Bill4Time has more features than competitors when it comes to user permissions and reports. Admin users can see all users' login history with extensive, custom reporting features so you can see how productive particular users are (e.g. is a user billing as he/she goes or just logging in once a week to come up with hours?). These reporting features are by far the most comprehensive of any of the timekeeping applications out there. It goes beyond the standard reporting features of the other software providers.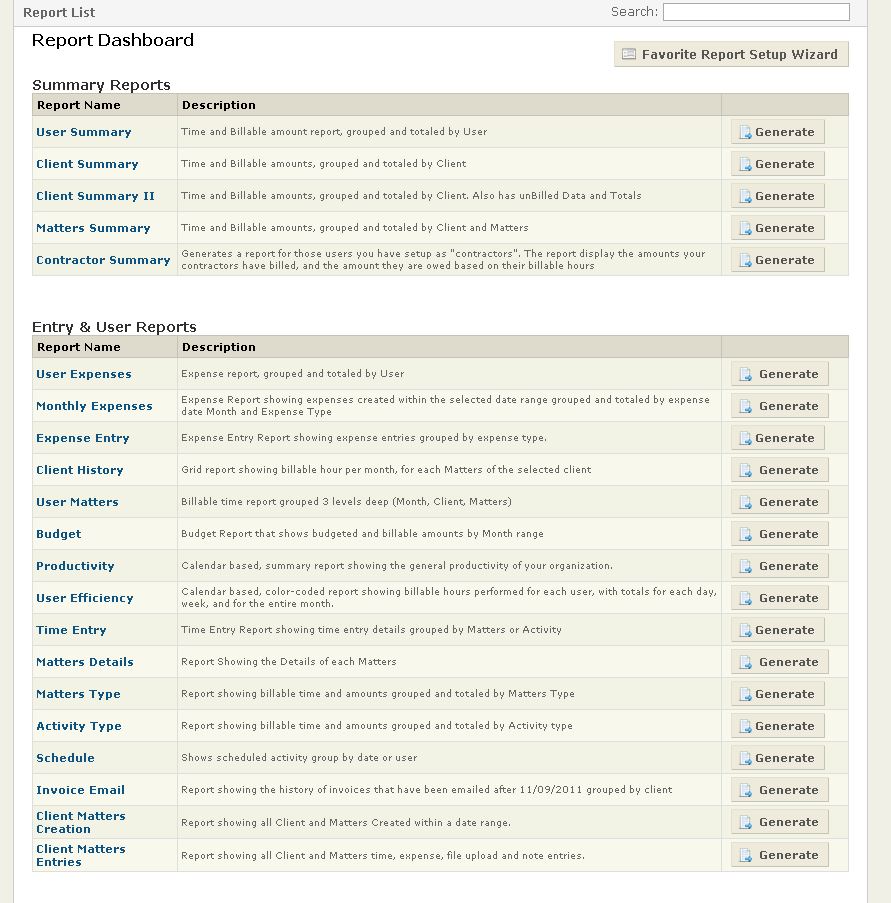 Bill4Time also lets you set whether users can see their billing rate or any invoices. You can set billing rates per attorney or override to create new billing rates on specific matters.
Drawbacks
One potential drawback with Bill4Time is that if you are looking to receive invoice payments using this platform, you're limited to using PayPal only (as of May 5, 2014 – it should be noted that Bill4Time's staff is working on accepting credit cards without PayPal, but that's not a released feature yet). I dislike this for two reasons – the first is that I've had PayPal freeze funds received, preventing them from getting into my account. I've also heard of similar stories others have had. PayPal claims it's trying to crack down on fraud, but I've heard of no issues like this with any other payment gateway. The second issue with PayPal: when the user is billed and pays their bill, the payment screen has PayPal's branding on it. Personally, I don't like having PayPal branding on user payments because I think it's unprofessional – I think there is an amateurish mental association with PayPal from the client perspective, as PayPal is primarily used for collecting donations, paying for eBay items, or paying for crafts from small online stores; PayPal doesn't really have a "professional" association. However, to be fair, this may just be me and many clients may not see an issue with paying for legal services via PayPal. In fact, they may be impressed that they can pay for legal services online to begin with and not make much of the fact that it's via PayPal.
Note: Following this publication, Bill4TIme launched a client payment portal with the option to pay online via credit card or PayPal. This integration offers clients to brand the portal and create a gateway for customers to pay for services easily online.
Another drawback, as mentioned above is that QuickBooks is one-way integration, requiring that you export your data to QuickBooks when needed, but if you're doing accounting at the end of each month it may not be so burdensome.
Pricing & Support
Bill4Time has a straightforward per user cost:
$39.99 per month for your first user;
$9.99 per month for any additional user.
Regarding support, Bill4Time does a decent job. There are many user help videos and a large knowledge base. There's also a live chat program so you can ask questions of a support staffer while in your client dashboard. Bill4Time does have a support line that had a bit of a wait when I did call, but they answered all of my questions fairly quickly. If you're interested in trying it out, you can get a 30-day free trial with no credit card required.
About the Author: Andrew Cabasso
Andrew Cabasso is a practicing attorney and co-founder of JurisPage, an Internet Marketing firm specializing in online presence solutions for law firms including website design, SEO, and search marketing. He has given many lectures and CLEs on website design and Internet marketing to legal professionals. He is the author of Search Engine Optimization for Lawyers and The Complete Guide to Attorney PPC. Follow Andrew on Google+ or Twitter.