Twitter has a wealth of information that can give you the insight to keep you up-to-date in your field and give you the edge to improve your business. But there's also a lot of noise too: lots of food enthusiasts tweeting what they ate, tweeters venting out in the feed—well, you get my drift. So how do you figure out the gold from the noise?
Your time is valuable. Time management is all about focus.
Bill4Time has your interests in mind. Follow us on Twitter and see what we've recommended for you! Missed some tweets? Not a problem. Search the Bill4Time hashtags for the articles that would interest you:
Articles for Lawyers = #B4Tlaw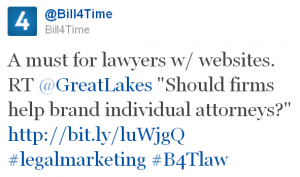 Robert Algeri from The Great Jakes Blog, advises that although the objective of every law firm is to promote the firm, it's also important to promote the individual lawyers. The sum of all the lawyers' reputation helps the brand of the firm.
Articles for Creative Professionals = #B4TCreate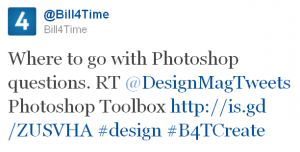 Steven Snell from Designm.ag, offers a long list of websites that offer Photoshop tutorials for the beginner and advanced.
Articles for Entrepreneurs = #B4TEntr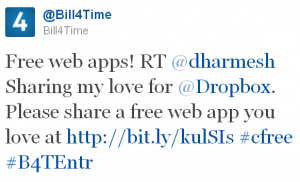 Dharmesh Shah, founder of Hubspot, recommends not only Dropbox, but also CatchFree that collects a lot of free apps recommended by entrepreneurs.
Articles for Consultants = #B4TConsult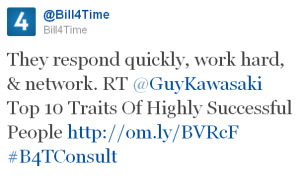 Yorick Reintjens observes that successful people respond instantly to opportunities, work hard, feed their curiosity, never quit, and more.
Articles for Freelancers = #B4TFreelance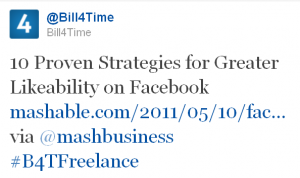 Dave Kerpen from Mashable recommends that businesses be more engaged on Facebook by responding quickly to negative feedback, create conversations with followers, share stories, and more.
Articles for Accountants = #B4TAcc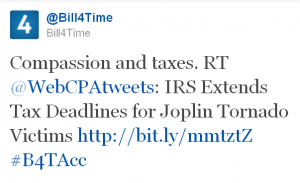 Michael Cohn from Accounting Today reports that the IRS has extended the tax deadline to August 1, 2001.
Bill4Time wants you to succeed in your business. Follow us on twitter for other helpful articles.