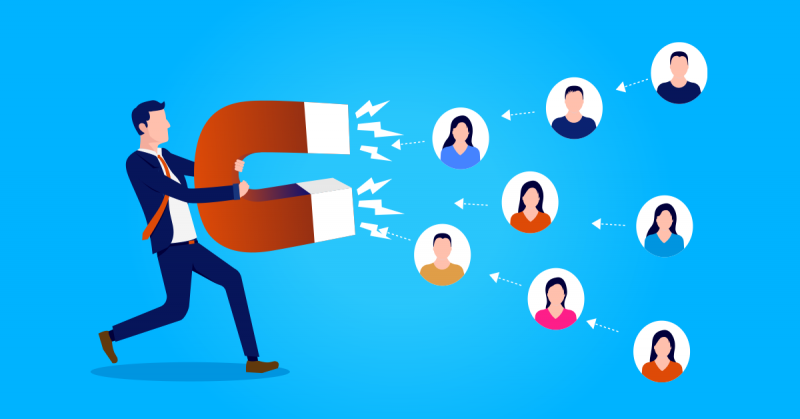 According to a legal trends report, 71 percent of lawyers say they consider revenue their most important indicator for law firm growth. The same report found that, for 40 percent of law firms, growth is either stagnant or in decline.

These are challenging times.

Here's the surprising part about high-growth law firms. They grew 20 to 30 percent year-over-year, increasing their revenues by 120 percent from 2013 to 2017.

What's their secret?

It's simple; these firms keep their lead flow, the number of prospects coming to their business high. Once they win these clients, they work hard to keep them. It's all about lead flow.

How to grow during stagnant demand

According to the 2020 Report on the State of the Legal Market, growth in the legal industry has been stagnant. "Since 2012, demand growth has been slightly up in some years and slightly down in others, creating a growth pattern that is essentially stagnant. That stagnation continued in 2019, with demand growth virtually flat from the preceding year."

How do you grow your law firm when demand is stagnant?

There are several business development strategies you can use to grow your law firm. Today we're going to focus on one strategy in particular.

Dead leads.

According to SugarCRM, dead lead refers to a prospective client who has abandoned the buying or evaluation process. These prospects have low to zero potential while active in your funnel. This requires some discretion.

Clients abandon the evaluation process for a variety of reasons. You must segment these dead leads as quickly as possible. Here are the various types of dead leads you'll need to identify:

Delayed buyers. These are clients who, for whatever reason, decided that it wasn't a good time for them to hire a law firm. They didn't tell you that during the negotiation process and promptly ghosted you.
Wrong target audience. These prospects were never a proper fit for your law firm. You focus on medium-sized businesses, but these leads are startups or entrepreneurs-in-waiting.
Buyers trapped by gatekeepers. These prospects contact you then hide behind their gatekeepers. They refuse to engage with you, but their gatekeepers lack the authority to make decisions.
Non-communicators. They reach out to you. Then they ghost you permanently.
No budget. These prospects are eager and attentive. Everything about these prospects screams "amazing client." You get your hopes up, and you realize you'd like to win this client — until you find out they don't have any money.
Indecisive or fickle. For these prospects, their yes means no, and their no means yes. You find yourself asking for the same information over and over again. Extracting a decision from them is miserable and tedious.
They've given you a firm No. This prospect wants nothing to do with your firm, and they've made that abundantly clear. They haven't been removed from your list for whatever reason, though.
Here's why this is important.

If you use this method, you're going to see a lot of dead leads. You must use the right heuristics to evaluate and sort through dead leads with "potential" and those without potential. What does this mean?

In this scenario, we're only looking for delayed buyers.

The right partners have dead leads with potential

In my [previous post], I mentioned partnering up with local sources to create what I called a local SEO traffic pump. It's a referral system that drives a consistent stream of prospective clients to your website via online and offline sources.

If you've followed the instructions in that post, you should be able to attract channel partners who are willing to send you referrals. Here's how you attract 50 percent more clients to your business.

You ask your channel partners for their dead leads.

Here's a template you can use to pitch clients on your irresistible offer and generate more business seemingly overnight.

[Hi Partner Name],

I wanted to thank you for everything you've done to help me. I'm incredibly grateful for the support and trust you've given me.

I wanted to get your thoughts on something.

If I could produce ## percent more cash flow for you each month via your dead leads, would you be interested? I've done this for others, and I can share the details with you if you're interested.

Let me know,

[Signature]

If you've used the traffic pump to build a relationship with your partners, there's a relationship there. You're essentially trading on that relationship to provide their dead leads with more value.

How do you create value?

Peter Thiel, PayPal founder and former attorney, created a model that firms can follow. This model provides firms with the clarity they need to: (a.) Increase revenues consistently year-over-year (b.) attract and retain profitable, top tier clients.
Here's how it works.
Create X dollars of value for partners.
Capture Y percent of X.
You create something of value for your partners. Let's say you're a real estate attorney. You've used the local SEO traffic pump to partner up with investor clubs, real estate brokers, and lenders. If you're following Thiel's model, you can:

Provide investors with due diligence checklists and worksheets
Teach investors about the deals that will erode their returns
Give them a list of legal deal breakers
Provide them with a blacklist, vendors with a poor track record
You're looking to create an irresistible offer, a strong motivator that gets their dead leads to pay attention. What if you're not sure about the offer? Reach out to your partners' current customers and get their feedback. Ask them about their desires, goals, fears, and frustrations.

Then create a solution that helps to solve one or two of those.

You'll want this deal to be win/win for your clients, so you'll need to structure the deal so it makes sense. This could be bundling their product with your service (via a subsidiary), referring them back to your partner afterward, or paying your partner for the lead.

Here's an important requirement.

Your partner's audience needs to come to you or your site, a property under your control, to redeem your irresistible offer, this is non-negotiable—no control over redemption, no deal.

The first partner is the hardest.

Once you've produced value for your first partner, you can do it for any subsequent partners that follow. Use the first partner as a case study to attract new partners in the future. Lead with the traffic pump, then once you've earned their trust, ask for their dead leads.

It's an easy win.

It costs your partners nothing. It gives you a significant amount of data you can work with, and you can monetize that data (appropriately and respectfully) in a variety of ways. It's a win for everyone involved, including their audience.

This keeps your law firm growing during stagnant demand

This strategy is effective on its own, but it's even more effective because it's something average law firms aren't doing. Seventy-one percent of lawyers say they consider revenue their most important indicator for law firm growth. This is also why 40 percent of these law firms say their firm's growth is either stagnant or in decline.

It doesn't have to be your story.

With channel partners, you can attract 50 percent more clients to your law firm. You can create a traffic source that bypasses Google, paid advertising, or traditional business development channels.

It begins with your traffic pump and continues with dead leads.