Within Bill4Time, you are able to include a flat fee or percentage amount discount on your invoices. This feature has recently been enhanced to allow for a default discount setting within the Invoice Presets for each client and matter. Establishing a default discount setting allows you to automatically apply this discount to each invoice for a specific client or matter – eliminating the extra step remembering to add the discount amount after the invoice has been created.
Once you choose your discount option, either Flat Fee or Percentage, you can also default it to only apply to Labor or Expenses.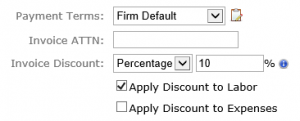 Once an invoice is created, the settings you established in your Client or Matter will automatically take effect. You can always override this on the Invoice level if you want to change the discount per invoice.