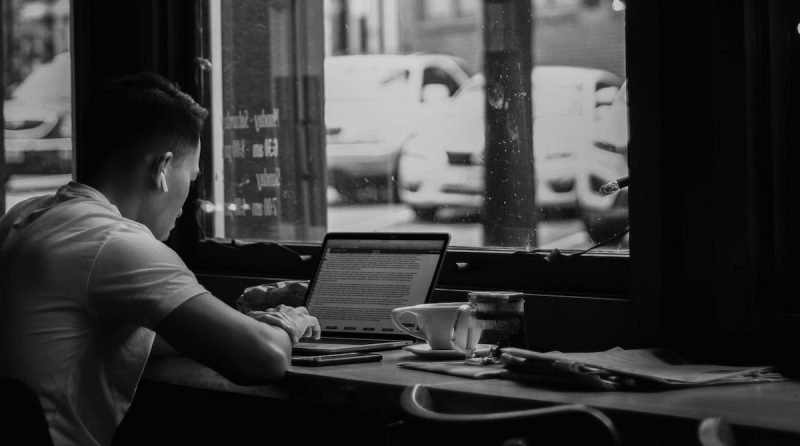 Almost all of them are in debt.
The vast majority of law students graduate with an avalanche of debt. U.S. News wanted to answer a simple question. Which law school graduates have the most debt?
The answer is sobering.
In every law school except two, more than half the student population graduated heavily in debt. In some schools like the Southern University Law Center or Florida A&M University, 100 percent of their students graduated with debt ($94,447 and $61,500 respectively).
Debit is a facilitator and Law school is a worthwhile pursuit
This isn't a tongue-in-cheek claim.
The data shows that most of the time, law school is absolutely worth it for graduates. If graduates are able to land a job with the right firm, their career is off to a fantastic and promising start.
Turns out that's a big if.
According to Law School Transparency, the resultant debt from the average amount borrowed is $120,000. New graduates at the lowest end of the spectrum make $50,000 annually, those on the highest end make $190,000.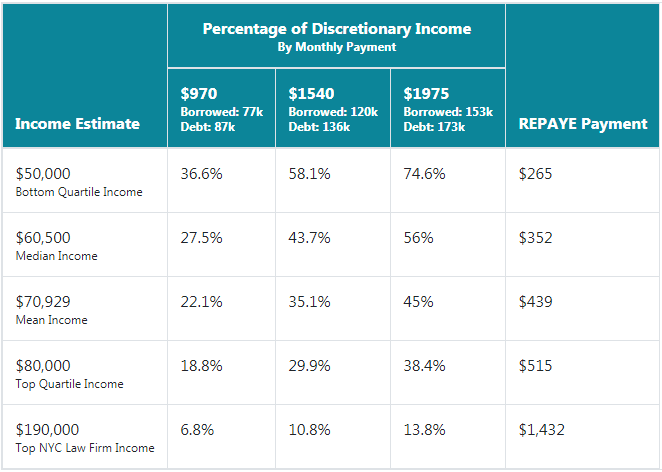 It's not ideal but a graduate making $50,000 per year can still make headway, build a successful career and pay down their loan.
Certainly not ideal, but it can work.
Here's the problem.
Law school graduates aren't winning the jobs and opportunities they need. Don't take my word for it. Let's look at the data instead to be sure.
According to Paul L. Caron, Dean Pepperdine University School of Law, demand for legal services is declining. The number of graduates has also decreased.
The ABA Journal released a report showing that less than half of graduates had jobs before graduation. The evidence shows a large segment of the law school population doesn't fare any better post-graduation.
Perhaps this is good news?
Not so much. The percentage of grads employed in (full time/long term) jobs is up, but the total number of opportunities decreased from 28,029 to 26,923. The Bureau of Labor Statistics confirms this stating:
"Competition for jobs over the next 10 years is expected to be strong because more students graduate from law school each year than there are jobs available."
There are lots of graduates and but there's not enough employment opportunities to go around. Here's what this means for you.
If you're a law student you need an edge.
You need a mix of both quantitative and qualitative skills to succeed in the highly competitive environment you're already swimming in. When I use the words quantitative and qualitative here's what I mean.
| | |
| --- | --- |
| Quantitative skills | Qualitative skills |
| Conscientiousness (high) | Agreeableness (high) |
| Good written/oral communication | Openness (high) |
| Analytical and logical reasoning (high) | Neuroticism (low) |
| Research skills (high) | Organization |
| Knowledge of substantive law and legal procedure | Teamwork |
| Time management | Attention to detail |
These skills are the basics.
Here's the problem with this list of skills. They're useful but they're also quite generic. If you're a graduate who's looking to attract a significant amount of employer attention you're going to need more help.
Dr. Bradford Smart has the answer.
Dr. Smart is the co-founder of Topgrading, a hiring and interviewing methodology that helps firms to identify A player, top-shelf employees. In his book, Smart lists 60+ core competencies an A player needs to qualify as an "A player."
Here are the behaviors or core competencies that are required for A players. Some of these competencies are easy to change if you don't have them. Others are harder change, some are virtually impossible.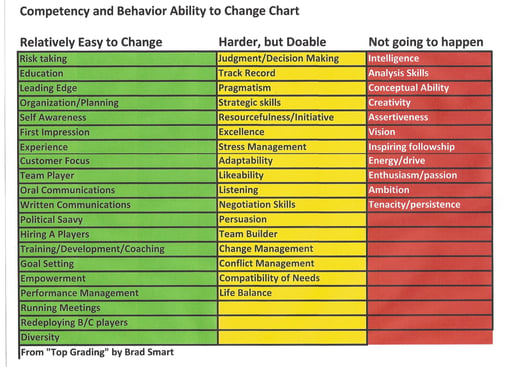 See what I mean?
If you've read this far you probably have the same questions as other readers. This post is supposed to be about digital competency. Why are we talking about job skills, hireability, and core competencies?
Competencies determine success.
These core competencies are the beginning, the foundation that your digital competency needs to be successful.
Here's why.
Sharing the strategies needed to build digital competency, win your coveted spot in the right firm and keep your position requires these core competencies.
Advice without context creates resistance.
Digital competency is a proxy for… something else
It's one of the tools law firms use to evaluate, rate and vet potential graduates/candidates. It's something most graduates won't do.
Meaning what exactly?
When it comes to digital competency, law firms are focused on very specific details. Law firms, like their clients, are under a significant amount of pressure to perform. They need new associates (recent graduates), who can hit the ground running. These are the graduates who consistently win excellent positions with well-paying firms.
What do these graduates have that others don't?
Let's take a look at the specific details you'll need to achieve the competency you want.
Step #1: Assess your digital competency
You're aware of the requirements that come with digital competency and why they're important. You're also aware of the consequences, how they impact you and your future firm. Here are a few questions you can ask yourself to assess your level of digital competency.
You…
Understand the pros and cons of online storage options (g. cloud, hard drive and portable storage)
Know/can identify the appropriate format to store data as well as when each format should be used (e. client data stored on secure hard drives, contract templates stored on cloud document management portals)
Understand how search engines like Google store, classify and retrieve information
Know how the Internet works (i.e. it's a giant network), how people, private companies and governments use it
Are aware of the various digital services (g. document assembly/management, timekeeping tools, practice management software, e-discovery software, etc.) the formats available (e.g. On-premise, SaaS, IaaS and PaaS software) and you know how to use them
Understand the consequences of communicating through various media channels (g. phone, chat, video, text, social media, etc.)
Understand the consequences of identity contribution (g. discussing a client's matter or sharing private information on social media)
Can easily distinguish between personal/public information and sensitive data
Have a professional understanding of legal frames (g. how the law governs rumors, gossip, spam, intellectual property, private data, threats, accusations, etc.)
Have a general understanding of security best practices (g. following best practices for creating, storing and retrieving passwords)
know how to encrypt sensitive data (g. two-factor authentication, encryption, password protection or digital fingerprints)
Know of/have various methods to identify fishing, malware and social engineering attacks
Have the capacity to learn and/or manage new software/technology on your own
Have a methodology or protocols in place to personally stay up-to-date with technology changes
Can perform an in-depth search of information/footprints about yourself and others
Have a habit of routinely backing up and restoring relevant digital devices and data
Can competently make a determination of illegal vs. inappropriate behavior (g. bullying vs. leaking secrets)
Consistently consider the source and location of the data you receive
Familiar with the terms and conditions of your digital services (g. Avvo's terms of use)
Communicate digitally with the appropriate voice, tone and detail
If you're feeling brave you can take the quiz.
Can you see how many of these questions communicate the core competencies we identified earlier? These details, things your future employer can see, communicates details about you they can't see.
Step #2: Become acquainted with the software
Your (future) firm needs new associates, graduates who can hit the ground running (you). This means you'll need a clear idea of the software tools and resources your firm uses to serve its clients.
Isn't this a bad idea?
Let's say you learn to use a particular piece of software. You're hired on at a fantastic law firm but you find the software they use is different. Wouldn't that mean it's all for nothing?
Absolutely not.
When it comes to software, there's a significant amount of overlap. The specific software tool you use isn't as important as you familiarizing yourself with them. If you're familiar with the details of one software vendor you'll have an easier time learning (or re-learning) the details of another tool.
Okay, which software tools do you need?
Practice management
Practice management software actually refers to a suite of tools firms can use to manage their operations. Most attorneys spend 6 to 8 hours a day on nonbillable work. They're essentially paid for one to three hours of work per day.
Not good.
Practice management software includes some or all of the specific functions listed below. Practice management software is important for a few distinct reasons.
The software and forces firm-wide standards. When attorneys track their time, the entire firm relies on a unified measurement of time. This eliminates the everyman for him/herself scenarios that are so common in firms today.
Practice management software boost revenue by 50% or more. Most firms bill for their time. Attorneys who wait one week to fill out their timesheets lose 50% of their revenue. Attorneys in many firms typically fill out their timesheets at the end of the month. Yikes.
Security and disaster recovery are built-in. Cybercriminals target law firms because they're data-rich sources with deep pockets. Law firms are prime targets for ransomware, malware and phishing schemes. Cloud-based practice management software reduces these threats dramatically, limiting the amount of data available to cybercriminals.
Productivity/project management
Productivity software enables firms to manage who's responsible for what and when. Firms are able to manage deadlines and the distribution of work automatically. These productivity and project management tools give firms the ability to measure performance at a glance.
You'll be able to identify the attorneys, paralegals and support teams caring their weight and those who are not. Law students will want to become acquainted with these standalone tools. How they work, the permissions required, who uses them, how they are used and when.
PDF conversion software
Many firms want to be paperless. PDF conversion is still important as law firm still receive physical documents on a regular basis. PDF conversion software allows you to scan and convert physical documents into digital copies. Adobe Acrobat is still the gold standard so it's important to become acquainted with these tools, including how they work, what they're used for, and when.
Document assembly/management
Document automation eliminates or reduces a firm's dependence on mail merge. Document automation enables firms to customize pre-existing legal docs, enabling attorneys to insert boilerplate clauses and non-generic content into documents that require customization.
This is important because, as we've covered previously, clients are less willing to pay for routine or generic work.
They're looking for value.
Document assembly maximizes your time (as an attorney) on high value, high-risk matters. It also simultaneously reduces the time spent on routine or mundane matters, which is exactly what your clients want.
What about document management?
70 percent of IT managers surveyed "know or believe that users (employees) have business (client) data in their own personal file-sharing accounts." This basically means attorneys and other firms are storing sensitive client data in their personal Dropbox accounts.
A serious red flag and a major liability for offending firms.
Document management software provides firms with the user rights/permissions and security they need. Office managers won't have access to sensitive client data they don't need. When documents are difficult to find, law firms recreate them. When they need mobile access but that access isn't available, they ask someone else to recreate them.
This creates unpleasant questions:
"Which document version is required for your client's matter? Who has the right version? Is it you? Are you sure this is the right version? Do you have access to the right version?"
Law students should be fully acquainted with document management and storage software. You should understand how this software handles version control, search and user rights/permissions.
Time tracking, billing and accounting
Time tracking software isn't created equal. If you're going to work with time tracking, billing and accounting software, you'll need to make sure the software you study follows a specific set of criteria:
A convenient timekeeping method. The best automated or semi-automated. They provide attorneys with a convenient way to track their time as-it-happens. This eliminates billable leaks and ensures attorneys are focused on tracking their time. Time tracking is important even firms rely on alternative fee arrangements.
Provide invoicing directly in the program. Attorneys should be able to create an invoice directly from their time tracking program. It's ideal if the software works with UTBMS and LEDES billing codes.
Allows for trust accounting reconciliation and IOLTA administration and management, ensuring compliance and proper management of client trust accounts.
Provides robust reporting covering a variety of details including firm realization, accounting activity, client details, time and expense entries, user activity projects/matters productivity over time, etc.
Law students should spend a significant amount of time working with time tracking, billing and accounting software from an industry leader.
Case management
Case management software typically includes contact management (with a global search for conflict checks), calendar management, email archives, time tracking, billing and accounting. You want to learn to use these tools with appropriate details.
Learn how to schedule events, track emails (and conflicts), manage contacts and work with archives.
Internal communication
Slack, Apple's Facetime, Microsoft Skype and Google Hangouts have been touted as helpful tools for lawyers to use in their practice. Here's the problem: Facetime and Hangouts stores your content on their servers indefinitely. Skype stores content from calls with more than two participants.
Your conversations as a firm employee aren't necessarily private.
They're easily accessible via legal (subpoenas) and illegal (hacks, phishing) methods which means this is an enormous disaster waiting to happen. There are also a few significant downsides. These options don't record meetings, chats and files. They also don't integrate with the tools and resources your firm is already using.
Your firm needs (and may already own) secure software that allows you to communicate with your future team privately and securely. You'll need to know how to use secure communication tools that provide you and your (future) clients with the privacy, control and security they need.
This is what you need to achieve digital competency
What if you're way off?
What if you missed the mark completely focusing on insignificant details from software that isn't a fit. There's an easy way to avoid the situation.
First, determine where you'd like to work. If you're interested in BigLaw, reach out to employees at other firms and ask for their help. Small to medium-sized firms? Do the same thing.
Second, ask them about the software programs they use. If they ask why tell the truth. Tell them you're looking to improve your chances of winning a BigLaw position and you're looking to become digitally competent. Let them know that you're looking for ways to learn more about the tools and resources you'll need to be great at your job.
Take notes.
Third, reach out to these companies and ask for their help. Tell them the truth as well then ask for what you want. A free copy or student license of the software so you can learn. Tell them you'd like to share their software with your classmates (only if it's true).
Rinse and repeat.
When you get a free copy or license get to work. Take the time to get to know their software, tools and resources. Create a sample project or matter you can work on.
Finally, update your resume. List the software, tools and resources you studied on your resume.
Digital competency isn't optional
It's a requirement if you want to win.
Law schools are shaking up their curriculum, prioritizing digital competency ensuring graduates are better prepared for life after the bar. Change is slow.
Law school students can improve their postgraduate prospects by focusing on their core competencies. The skills and technology needed in their practice area/firm.
As far as critical thinking goes, lawyers are exceptional.
Law firms aren't resisting technology, they're embracing it, albeit slowly. Firms all around the country are adapting to meet the high-pressure demands of today's modern client.
Adapt now and you'll win.
Use this guide to digital competency, and you'll have the tools and resources you need to show firms you're the better candidate.