For some clients, the upfront payment of legal fees makes accessing legal services challenging, if not impossible, and offering payment plans expands your client base while improving cash flow.
With 70% of clients wanting law firms to offer payment plans — it's worth understanding how payment plans work, their benefits, and best practices to determine if they're right for your firm. Continue reading to learn more about law firm payment plans and how you can implement them at your firm.
Can Lawyers Accept Payment Plans?
Law firms can accept a variety of payment methods to allow clients to access legal services they may otherwise be unable to afford. Some firms rely on specific options, such as a split payment, while others work with customized payment plans tailored to the individual client. With any type of billing or payment, law firms must adhere to ABA rules and regulations. Especially if your firm's payment plans will be processed online.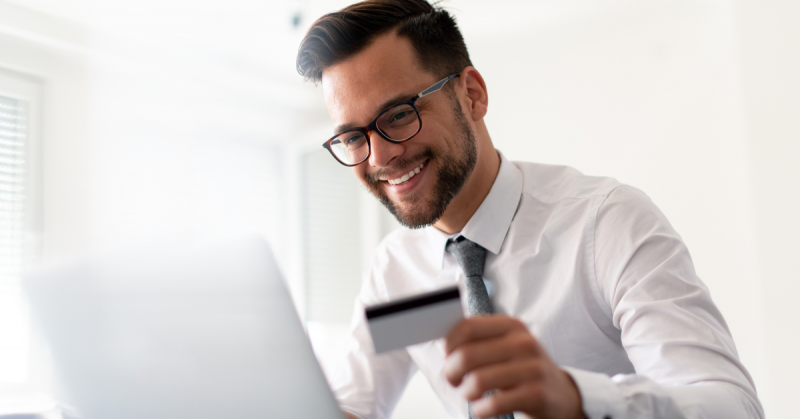 How to Set Up Payment Plans at Your Law Firm
With the right systems in place, setting up payment plans at your law firm is an effortless process. Here's how:
Consider Your Billing Policy
If you already have a billing policy, you'll need to determine how payment plans will fit into your goals. Payment plans are great for many firms and clients, but they're only as effective as how you plan and assess them.
Here are some factors to consider:
What can your client afford to pay? Even with low recurring payments, some clients may simply be unable to afford your services. It's important to discuss your client's financial situation in advance.
Does the plan work for the firm? Lower payments over time can be good for cash flow, but not always. Think about your current cash flow and see if you can handle having lower, recurring payments instead of upfront payments.
These considerations can help you determine how to structure your payment plan, who should have access to it, and what stipulations to put in place.
Form a Payment Agreement
No matter how you structure your payment plans, it's crucial to have a payment agreement that clearly communicates the intricacies of the policy to clients. They will be expected to sign this document before they will be billed with a payment plan, and it should include all the terms. Creating a template can help you streamline the process for your firm and clients.
Create a Communication Plan
Your payment agreement should be detailed and clear to set up proper expectations for your clients. Be sure to include any down payment you expect in advance, the payment collection schedule, the payment methods you accept, and an action plan for late payments.
For example, will you accept payments on a monthly or quarterly basis? Do they have to pay a down payment or a percentage of the total bill in advance? Do you accept online payment methods?
Assess Late Payment Terms
Another important aspect of deciding on payment plan agreements is determining, and communicating, how you will handle late payments. The clearer you can be upfront, the more likely you are to receive payments on time and minimize client disputes.
For example, is there a grace period for clients to pay after the due date? How far in advance will they receive invoices or reminders? If the client is late with payments, are there penalties or interest? If there are penalties, how much will that be?
Benefits of Payment Plans for Lawyers
Legal collections are a common issue for many firms. By setting up payment plans, you can enjoy the following benefits:
Better Access to Legal Services for Clients
If clients need, but can't afford, your legal services, you could be missing out on a rich client base. Payment plans give you the flexibility to help clients who may not be able to afford your services otherwise while also adding to your client list.
Better Cash Flow
As mentioned before, upfront legal fees can be intimidating to some clients. While getting a lumpsum payment has its perks for your law firm, the likelihood of a client paying in full and on time may be difficult.
By allowing clients to break up their payments into smaller amounts over time, your firm can create a steady cash flow of more affordable payments that your clients are more likely to pay you faster. This can help improve collection rates without sacrificing your firm's revenue.
Save Time Collecting Late Payments
If clients are struggling to pay their bills, you have to spend time chasing down payments. Offering payment plans makes it easier for clients to pay comfortably, and on a schedule, so you're wasting less time on collection efforts.
Improved Client Experience
Offering payment plans are part of a client-centered approach that shows your firm values modern processes and understands that clients aren't one-size fits. Clients want digital payment methods and the option to break up payments for legal services. When your firm prioritizes the client experience, you boost retention which is often more impactful to your business than a large number of one-off clients.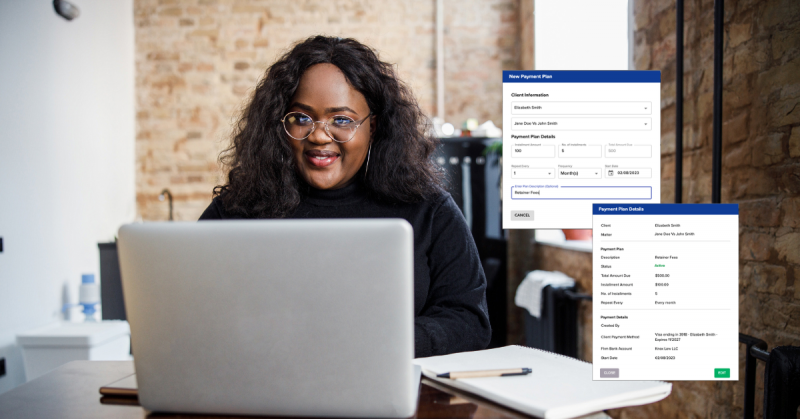 Manage Your Firm's Payment Plans with Bill4Time Payments
If you're planning to implement payment plans at your firm, Bill4Time makes the process simple with the ability to create custom, automated payment plans with the native payment processor, Bill4Time Payments.
Easily schedule recurring payments, send automatic reminders, and process online payments all in one convenient place. In addition, Bill4Time has built-in reporting to track payment status, monitor cash flow, and create custom reports to manage your firm's financial health.
Get Started with Law Firm Payment Plans
When implemented switch the right resources, you can elevate the client experience, increase the accessibility to your legal services, and improve your firm's cash flow and collections with payment plans. With any new process, it's important to communicate clearly with clients and staff about the terms of your payment plans, when they're appropriate, and how they fit into your current billing policy. Leveraging technology like Bill4Time helps you streamline your legal billing with tools to support payment plans, including a built-in payment processor for online payments.