If take a look at your Bill4Time invoice templates, you'll notice some new features at the bottom of the window. These add-ons consolidate the extra information that is usually attached to the invoice.

Attach Receipts
In the Bill4Time system, you've always been able to upload receipt images to your tracked expenses. By including an image of the receipts themselves, there's an extra element of check and balance. Now with the new feature of including it in your invoice, you reinforce your integrity as a professional with your client. In one invoice, all of your receipts are shown on one document. No extra attachments to the email – no little bits of paper stapled together.
Note: For best results, make sure you initially scan cash register receipts at 100 DPI. To adjust receipts already saved in the system, resize them to about 300 pixels in width and let the length automatically change in proportion to it.
Attach Trust Account Summary
When you include the Trust Account Summary to your invoice template, you have a current record of all of the trust accounting activity during the time span of the invoice for the client's general trust account and trust account for the matter being invoiced.
Employee Hours Breakdown Summary
At the bottom of your invoice, your client can see the tracked time of all the people who were involved in the project. The rates and total amount billed for each employee is also included. You will see a breakdown of the employee hours per project invoiced and a total number of hours overall.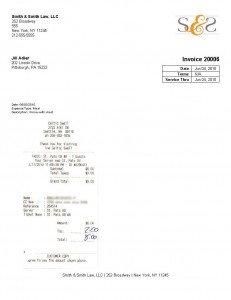 This shows receipt images attached to your invoice.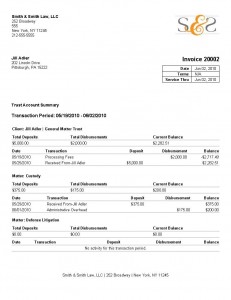 This shows the Trust Account Summary invoice -add on.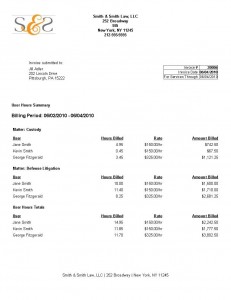 This breaks up the billable hours and amount per user, on your invoice.