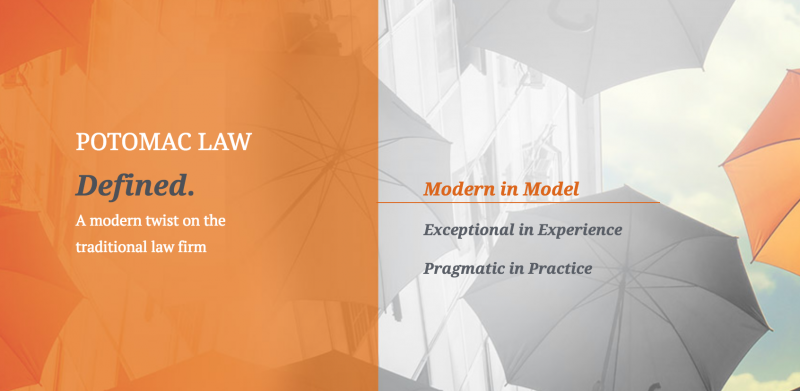 As the name suggests, the Potomac Law Group is a law firm. But they've achieved the extraordinary. Something many other firms have failed to achieve.
They've achieved an incredible

1233% growth, from 7 to 80 lawyers,

over the last

eight years

They offer an extraordinary array of

high value/low cost

legal services

They've built an

incredible roster of top-shelf attorneys

. Professionals who are already

among the best in their field
How is this possible?
Many of the firms in their field subscribe to the high value/high cost model. An unexpected minority of these firms are low value/high cost. What did the Potomac Law Group do differently? And more importantly, what were the challenges they overcame to grow their firm so quickly?
The Challenge
Lawyers would send me their time every month by email and would come in all different formats and all different conventions and levels of granularity. And even the units would vary somewhat. Some would use a tenth of an hour or some would use quarter hours, some would use a third of an hour, it was a mess…

– Benjamin Lieber, Managing Partner
Potomac was at a turning point.
They launched their virtual law firm eight years ago. On the surface, the barriers to entry seem low. There's no need to invest in costly infrastructure. No trophy offices in big cities, none of the major expenses a traditional law firm has.
It's a part of their competitive advantage.
Their overhead was significantly lower than traditional firms. They attracted some of the finest legal minds in the industry. They're a virtual firm so attorneys aren't constrained to a cubicle or office.
Naturally, their attorneys are happier.
They didn't have to commute to work. There wasn't a need to wrangle with big firm politics or bureaucracy. Compensation is merit-based. The more productive attorneys were, the better their rewards. It's a formula that, as we've seen, produced a significant amount of success for Potomac.
Their competitive advantage was part of the problem.
…I would take all that, put it into spreadsheets and then put it into invoices. That worked okay for the first 10 or 12 clients, but we were growing so fast that at some point it was way too much, it didn't make any sense.
Potomac needed a cloud-based solution.
But their low cost model meant they wouldn't have the margins needed to pay for a seat license. They needed to minimize cost and maximize the value to clients. The standard options would be cost prohibitive. They were caught between a rock and a hard place.
What to do?
Potomac had a few considerable problems. They…
Needed a software solution that

resolved their timekeeping, billing and invoicing headaches

.

Had to find a way to

unify their attorneys

, located in 17 states across the country, under the same timekeeping and practice management system.

Were looking for a way to

maintain firm-wide performance standards

– supporting, teaching and correcting attorneys simultaneously.

Didn't have an office but

needed a way to seamlessly manage their virtual practice

from the cloud.

Had to maintain healthy margins

. Many cloud software providers offer software that's inflexible, difficult to work with and cost prohibitive. Potomac needed a provider whose values matched their own. They needed a high value, low cost partner.  
These criteria are difficult to meet.
If Potomac wanted to continue growing rapidly, they needed to address these problems quickly and efficiently. They had a remote team which meant they needed a solution that worked with their team configuration, rather than against it.
The Solution
The Potomac Law Group turned to Bill4Time. They brought their client roster, remote team and unique business model with them.
Their goal was simple.
Throw all of their problems at the platform. Then see if Bill4Time could deliver the results they need.
Lieber explains.
I use it myself [to an extent] to figure out how much to pay everybody every month. Here on the back office side, it's all formulaic. Nobody is salaried, so the pay just turns very much on the hours that are recorded.
He continues to explain.
We rely on Bill4Time heavily. And then, you know, just on the back office side, we generate the invoices from Bill4Time. Then we handle all the accounts receivable and collections by looking through what the system tells us. We're pretty heavy users I would say.
The key feature?
Flexibility. Attorneys track their time but are paid based on the results they produce. It's about how productive they are. It's a true results-only work environment.  
Everyone at their firm is a Bill4Time power user.
They have to be.
There's no office to report to, no managers hovering or babysitting associates. The team has to be self-sufficient and lethally efficient. Their survival as a firm depends on their ability to outperform their traditional and virtual peers.
They need their tools to perform to their high standards.
The Results
It's a workhorse for us. It's been great. I would say starting a firm, even a virtual firm is, it's not easy. In one sense anybody can do it. I mean there are very few barriers to entry. You know, you don't need to lease a large building downtown, you don't need to invest in a lot of infrastructure. In a sense, it's just recruiting good lawyers and then going to market. But behind the scenes, it's a tremendous amount of work.
Their hard work has paid off.
The Potomac Law group has achieved an incredible growth, scaling from 7 to 80 lawyers over the last eight years. This is due primarily to the incredible team they've put together. Their software, commercial providers like Bill4Time, gave Potomac the ability to maintain exacting firm-wide standards for their firm.
Potomac's story is noteworthy. Why?
Clearspire.
Clearspire was a venture-backed competitor. They raised more than five million dollars. They opened an office just down the street from the White House. They received regular write-ups in The Wall Street Journal and the Washington Post. They were a virtual law firm flush with cash.
What did they do with all their cash?
They decided to build Coral, their very own billing, document and practice management platform. Their goals with Coral were ambitious.
They were set to take the legal industry by storm.
They planned on hiring 100 former BigLaw attorneys every year, for the next five years. Where are they now?
Out of business.
Their business failed within the first four years of opening. This is what makes Potomac's story so significant. They outlived and outperformed Clearspire. They overcame incredible odds, becoming the successful firm they are today.
By outsourcing.
They outsourced key portions of their business to trusted partners like Bill4Time. Their focus was the opposite of Clearspire's. Lieber credits their growth to trusted third providers like Bill4Time.
…The more of that you can outsource to commercial providers [the better]… We don't have to worry about maintaining software, it gets maintained automatically and you know, as those vendors develop their capabilities further, we've developed right with them.
1233% growth.
Potomac succeeded where other firms have failed. They built their business on reliable platforms and focused their attention on what they do best.
Building an extraordinary virtual law firm.