Professionalism isn't always as obvious to everyone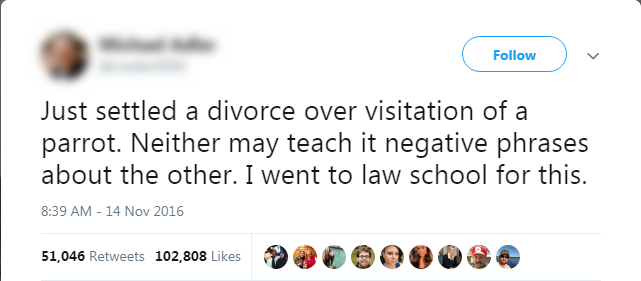 A well-known attorney with a sizable audience sends out this tweet. It seems to strike the right balance between personal and professional, dishing out appropriate levels of snark and humor. It's a tweet that generates a few chuckles.
Until you see this: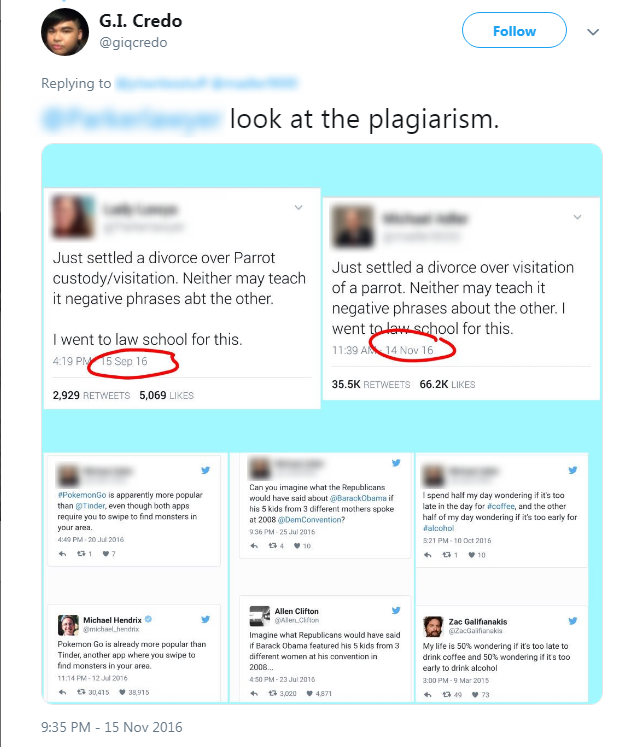 Awkward.
Many users on Twitter have accused this notable attorney of plagiarism. They've shared screenshots accusing the attorney in question of copying tweets from other (lesser known) attorneys and passing them off as his own.
Which immediately incites criticism.
The point here isn't whether this attorney is indeed guilty of plagiarism (I'm not discussing this). It's about professionalism. As a legal professional, it's a good idea to expect your audience (e.g. peers, competitors, clients, general public, etc.) to be unprofessional.
It's important to remain unfazed by your audience.
Your audience provides value and risk
When you're using social media, you want to adhere to the rules of professional conduct. You'll also want to make sure you avoid making a few easy-to-miss mistakes.
Inadvertently establishing an attorney-client relationship
Damaging your firm's reputation and/or relationships with existing clients
Practicing law outside of your jurisdiction
Running afoul of rules prohibiting direct solicitation (of prospects)
Providing legal advice to prospects (not clients) without checking for a potential conflict of interest
Breaching confidentiality (e.g. inadvertently disclosing private, sensitive or confidential client information)
Dan Pinnington is director of the legal malpractice claims prevention program for the Lawyers Professional Indemnity Company. He's outlined a list of legal pitfalls attorneys should avoid when posting or engaging with the public on social media.
Don't talk about clients or their matters. This violates model rules of professional conduct which states: "A lawyer shall not reveal information relating to the representation of a client unless the client gives informed consent, the disclosure is impliedly authorized in order to carry out the representation or the disclosure is permitted by paragraph." This is fairly clear, right? Doing this may increase risk and liability on all sides.
Don't talk to clients about their matters. Don't discuss your client's matters on social media. These channels may have limited privacy settings (e.g. Facebook makes status updates public by default unless your privacy settings state otherwise) which affect your ability to communicate with your client securely/privately. This is also a violation of the rules of professional conduct.
Choose your friends carefully. If you're a litigator it's unprofessional and possibly unethical to "befriend" judges, experts or other potential conflicts of interest. It's also questionable to establish relationships with morally questionable people (e.g. troublemakers, people who court controversy, those with bad reputations, etc.). Choose your social media "friends" carefully as these relationships may have a lasting impact on your career.
Respond and engage judiciously. You'll want to respond to everyone in a friendly, kind and professional manner. When in doubt, follow the maxim be kind, be helpful or be gone. This is especially important when you encounter ragers, trolls, abusers, and manipulators. Maintain an appropriate professional distance with those you don't know personally. Maintain a professional distance with those you know in a professional capacity. Work to keep your personal and professional lives separate.
Avoid the unauthorized practice of law. Anything you post on social media can be accessed around the world. If your law firm is based in Kansas City you want to state the jurisdictions where you can/can't practice law.  Post this in your social media profiles, website, email and other marketing materials.
Don't give legal advice online. There's a big difference between providing legal advice and offering legal information. These two are not the same thing. What's worse, the line between these two is often blurred. Be careful when you're providing responses to very specific questions. Maintain an appropriate boundary, always focusing on providing information rather than advice. Avvo Q&A is a good reference point if you're unsure about how to strike the right balance.
Here's some additional advice regarding maintaining professionalism on social media.
Protect your identity
Avoid conflicts of interest
Know and respect the marketing related rules of professional conduct
Follow people who share common interests
Monitor/be mindful of your employee's personal and professional posts on social media
It's okay to be personable on social media
Just make sure you're professional at all times. The professional rules of conduct still apply. It seems obvious but the examples I've shared above show it's anything but.
Engaging with the public provides both value and risk.
Maintain an appropriate set of standards and you'll find social media is a valuable and useful tool to build your firm and your standing in the industry.