Still not convinced that Software as a Service (SaaS) is the way for your business to go? Our team recently conducted research on why business owners prefer SaaS over traditional software. We surveyed 50 legal, consulting, accounting, creative, and tech firms to find out the greatest user benefits of SaaS. Firms were asked to list their top reasons for using SaaS. Here are the 6 most mentioned reasons: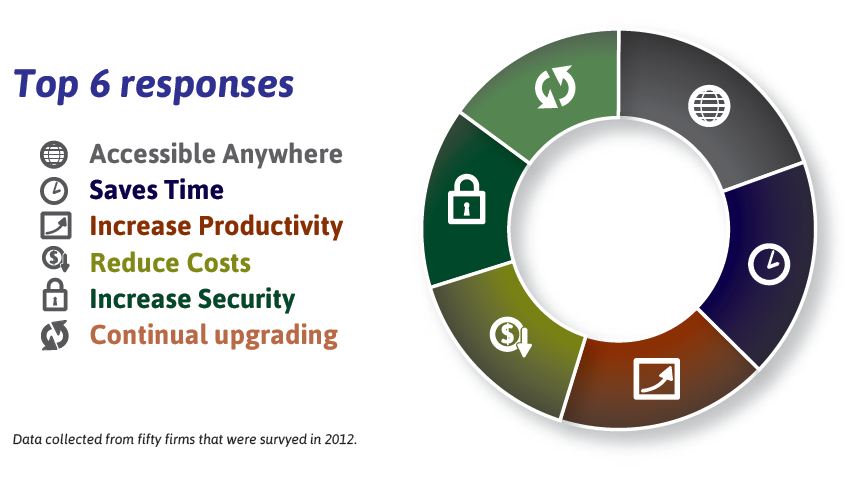 Accessible Anywhere – available on all computers via the Internet and mobile devices and even via desktop apps that do not require Internet access.
Saves Time – firms can focus more on the business and less on back office work
Increases Productivity – ability to work from anywhere at anytime and work more efficiently due to improved team collaboration
Reduces Costs – reasonable monthly fees and cuts redundant business expenses
Increases Security – if computer system failure occurs on a computer, users can be rest assured that they will never lose important documents since all data is continually backed-up on multiple servers.
Access to latest software releases – Continual access to upgrades and the latest software version with no downtime.
You've already been using SaaS if you use Gmail, Google Documents, Google Calendar, Hotmail or even Facebook. Reviewers and users will tell you why leading-edge SaaS products like Salesforce, MailChimp, Bill4Time, iContact, Xero, Zoho Books, DropBox, Highrise CRM, HubSpot, Gist and more are among the best, most popular, and affordable choices for small businesses.
Download the full report: Switching to Software as a Service – The Convenience and Benefits of Cloud Based Applications, written by Bill4Time Co-Founder Jeremy Diviney.
What are your thoughts on using SaaS versus traditional software? If your business uses (or doesn't use) SaaS products and you have something to say about it, feel free to share with us and our readers in the comments section below.