Bill4Time is proud to be part of the Kennedy & Mighell Report by Legal Talk Network. Here's a little commentary to give you some insight into one of their podcasts.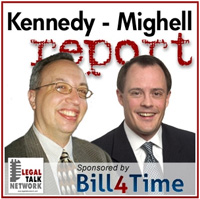 The legal technology duo is at it again! In this podcast, they respond to the reality of how most lawyers are still not using computers for note-taking. The legal pad is still prominent in the court houses and conferences. Maybe touch screen technology is a good contender.
In Defense of the Computer
The greatest benefit to using a computer when taking notes is the fact that your notes are already digitalized. And this opens a flood of benefits:
You don't have to go back and retype your notes.
You can quickly copy and paste little tidbits of the conference and Tweet them.
You can quickly extract the most important parts of your notes.
You have all your information condensed in a single place.
You can transfer your notes quickly to a spreadsheet, a flash drive, email, etc.
And if you're tracking your time, you have it right there on your screen!
iPhone, Windows 7 and the Legal Technology World
Remember those computer notepads? You used a stylus to write things on the screen? Well, it didn't fly so well with lawyers. Some embraced it but the problem was the format. Since many weren't using it, it was a hassle to convert the documents all the time.
In the podcast, Kennedy and Mighell made a good point how the iTouch and the iPhone have made it a lot easier – and a lot more fun – to embrace new technology. The number of fun apps and practical apps are tremendous. It's super easy to use and there's this "social seal of approval" of the product. With the mass use of it, chances are, the computer experts already went through the main bugs ahead of time. For a few months now, there has been much dialog over the rumored iPad: an Apple notepad that doesn't require a stylus. It's just one step further towards the touch-screen movement.
And now we have Windows 7 with touch screen capabilities.
Replacing the legal pad and embracing the kind of legal technology is almost already done:
We are used to carrying an electronic device wherever we go.
We are used to typing information about events in real time as we text.
Many of us are used to touch-screen technology with ATM machines, smart phones and PDA's.
I can't say for certain how fast touch-screen technology will be in every courtroom, but I can definitely say that this movement just might reduce the number of tendinitis cases! But seriously, it will increase efficiency in the transmission of information in the legal world.