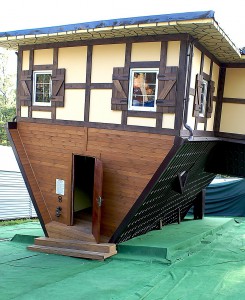 Often General Contractors use Time & Material contracts for one main reason: lack of enough information to prepare a bid. Typically, the Owner hasn't a complete set of plans or specifications for the project. And whatever  plans that are available may only be enough to get a permit approved.
What about the drywall finish? Light fixture schedule? Cabinet style and countertop material? The client believes they have paid for a design because they have a building permit so what is the cost of the project? Typically it ends with the Owner and Contractor to work out the details during the construction process, which can lead to trouble.
General Contractors will often default to Time & Material contracts because they believe these contracts will allow them to bill for all jobs costs, all overhead and also eek out a profit. But, Time & Material contracts can also generate lawsuits at a rate of 2 or 3 to 1 and arbitrations at 9 to 1 over fixed figure contracts. To mitigate the negatives, Contractors need to be aware of potential pitfalls and protect themselves.  Knowing what not to do can save you from grief later.
Rules of Thumb:
There is no universal definition of Time & Material contracts, which often leads to confusion and misunderstandings. Ensure clarity and a mutual understanding with the Owner before proceeding with a project. Make sure to detail responsibilities. These are a few questions to ask when contracting Time & Materials:

Who is responsible if a mistake is made on the plans and it needs to be redrawn?
Who pays to tear out the mistake and rebuilt it?
Who pays for down time, driving time, re-start time?
Is meeting time included or at the expense of the Contractor?
Who pays for the upfront materials before the project even commences?
Who pays for the time to prep documents for labor and invoices from subs and suppliers?

Because the Owner is required to pay for absolutely everything, many Contractors do not create change orders or work orders. Ensure the Owner understands the costs of any change and commits to a detailed change order or work order by signing an acceptance. Creating change orders can eliminate any misunderstandings later.
For your protection, keep an accurate day to day log of all time (labor), materials and other expenses. This log will help verify your actual expenses to date. If you do not, depending on your contract, you may not be able to collect for undocumented expenses, regardless of what kind or how much work has been completed. In addition, you may need to include all recorded time, invoices or any other papers related to the project with your final invoice to substantiate the amount due.
Understanding these potential pitfalls at the time of contracting and documenting every aspect of the project will help create transparency. When each party has access to all information, misunderstandings evaporate, and the relationship and the project are mutually successful.
Bill4Time helps alleviate misunderstandings in Time & Material contracts with accurate and easy to use time tracking and expense tracking, backed by detailed invoicing. Contractors can easily track and document their time or the time of a team while also documenting expenses by photographing and recording actual receipts. Bill4Time project management capabilities helps Contractors fit all the pieces into place to ensure a project is completed on time. And to top it off, we offer convenient online payment options so you get paid faster.
Whether you're a solo General Contractor or manage a team of workers, Bill4Time offers an end-to-end time tracking, invoicing, online payments, and document and project management software. See how Bill4Time can help you better manage your contracting business today with a free 30-day trial.