Bill4Time is pleased to announce that later this fall, we will be releasing the latest version of Bill4Time time tracking software to all users. This release focuses around an updated user interface designed to help you complete your time and billing as quickly and efficiently as possible.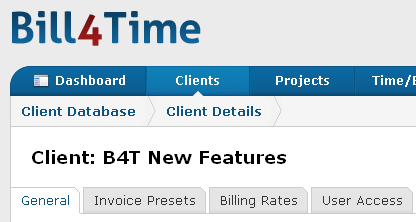 Upcoming Additions
Universal navigation
Improved performance and speed
More customization options
Even more features in the coming months
Be a Part of the Development Process
Before launching the new system to everyone, we are looking for individuals or entire firms who are willing to try out the beta version and provide us with feedback as we put on the finishing touches. You can opt-out at anytime. We just need your comments and learn of any issues you have while using the new system.
Register for the Beta Program here!
Easy Transition
To help in the transition, current users will have the option to continue using the existing Bill4Time system until they are comfortable with the new version. Although we will continue to support the existing version of our time tracking software, new features will only be available with Bill4Time 2.0. In upcoming Bill4Time blog posts, we'll give further explanations of new features, walk you through the new interface, and more!