Published by Cyber Advocate | March 8 by Brian Focht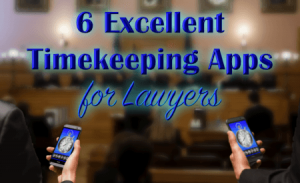 Excerpt:
Bill4Time (iOS, Android)
The Mobile App component of a comprehensive billing and invoicing system, Bill4Time is a complete timekeeping system for small business. With the ability to track everything from time and expenses to client and project information, the invoicing and reporting functions of the Bill4Time software are unmatched on this list.
Unfortunately, Bill4Time is not a completely standalone app for recording time, meaning you will not gain much usefulness from the app without purchasing the billing software that goes along with it. However, if you're willing to foot the price for the full package, you'll find, like Morgan Smith of the Cogent Legal blog, that Bill4Time is "a fantastic program for billing, creating invoices, [and] tracking time spent."
UPDATE: Bill4Time now includes a sortable and searchable list of ABA Legal Billing codes.