Bill4Time is pleased to release an enhanced client portal. This new full-featured, self-service portal will be rolled out to all Bill4Time clients over the next few weeks.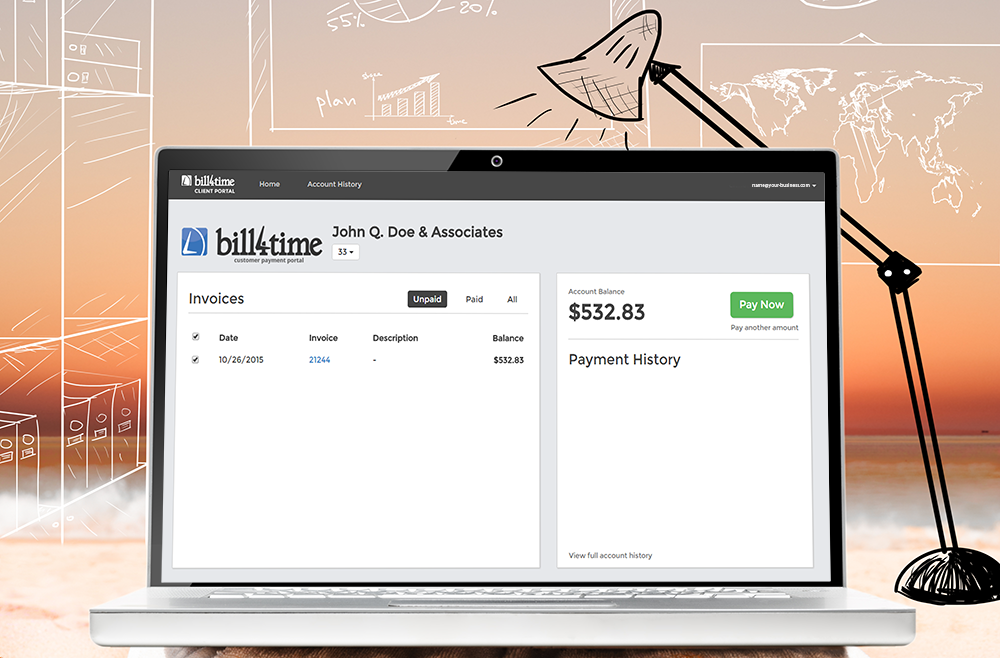 The new Bill4Time client portal lets businesses provide convenient online payment options to clients. Now, businesses can provide even more options in addition to PayPal by connecting with Stripe. Stripe lets you accept Visa, MasterCard, and other major credits cards online and deposits funds directly into any bank account. With this enhanced portal, you can provide clients with the convenience of paying with any major credit card right from their laptop or mobile device!
If you aren't leveraging the power of accepting online payments, you should! Did you know that businesses that offer payment options typically get paid up to 30% faster than businesses offering only traditional payment methods? So connect with Stripe today and get paid faster. It's easy and takes just minutes. Plus, Bill4Time makes it easy to account for every payment a PayPal and Stripe credit card payments are automatically applied to the client's ledger. With Bill4Time accounting, you always know your financial health.
Note: Businesses currently using PayPal as a payment option in the client portal will need to re-enter their credentials. This is required to connect your PayPal account with the new client portal and must be completed for PayPal to function.
T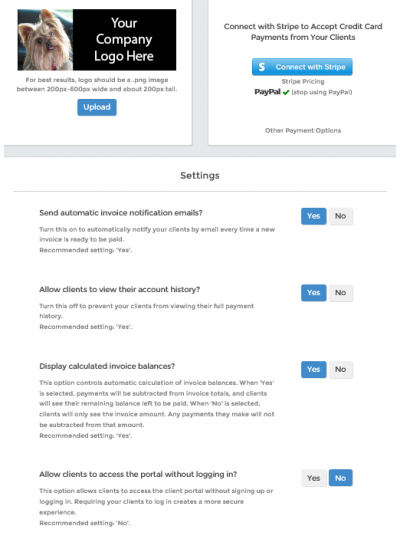 he client portal also offers a variety of settings so businesses can automate processes. Businesses can choose to send automatic email notifications to clients that a new invoice is ready for review online. Businesses can choose to provide clients online access to account history, payments and invoice balances by simply clicking "Yes" or "No." The portal can also be customized by uploading a logo to extend your company brand.
Plus, the portal offers advanced security features including optional authentication. This authentication feature requires clients to sign up or login to the portal. Clients and businesses can rest assured that their account information and online transaction is safe and secure from prying eyes. Of course, this feature is optional and can be turned off by the business so that the client can access the client portal without authentication, but this is not a best practice and Bill4Time does not recommend it.
To set up your client portal, go to Settings and click "Manage Client Portal." From this page, you can upload your company logo, connect with Stripe (and reconnect with PayPal), and choose to use any of the automated client portal features.
To learn more about the new client portal or if you need assistance re-entering your PayPal credentials, contact Bill4Time Support at 877.245.5484 or email support@bill4time.com.