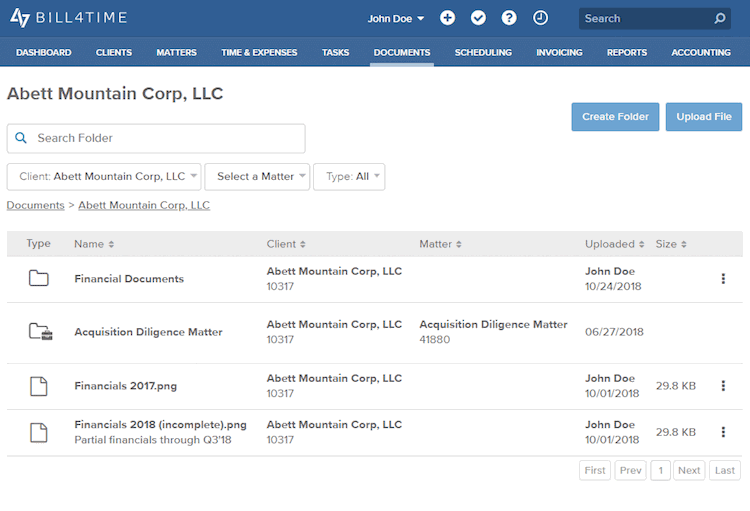 Proper document management sets the stage for outstanding (and profitable) legal work. Your document storage system provides your team with the data, access and controls needed to grow your firm. Your team needs to be able to search and find essential documents for clients in an efficient manner. Otherwise, you risk spending time recreating lost documents, due to poor retention.
We understand how your document management software requires a high level of flexibility and efficiency:
Your attorneys won't waste 11+ hours a week sorting through their document management

challenges

.

You'll

avoid

the financial

losses

that come from non-billable work due to poor document storage/management

Your firm will be better

prepared

for the legal matters you take on

Ready access to

more data

means

you'll outperform/win

a high(er) percentage of the cases, matters and projects you take on

The firm's productivity

will increase

. You'll get more client work done

This will

attract more

clients and more client work which will…

Dramatically

increase your

firm's billables (and profitability) as a result
Bill4Time's new document management feature set is designed to remove any document retention friction or challenges, keep your client files organized and easily searchable, and provide your firm with both a high level and granular level of customizable flexibility.
Unlimited uploads, unlimited document storage

We expect you to fully utilize these brand new document features without restriction. Firms will be allowed both unlimited uploads and unlimited storage. With unlimited storage, mid and large firms alike will be able to organize extensive swaths of client and matter files across the entire firm.  No longer concern your firm with managing the removal of docs, in perpetuity.
Firm-wide Document Dashboard
Create a reliable, centralized repository for all of your firm level documents.  Organize your key, operations, marketing, administrative, and resource documents for easy access across the firm. Upload standardized documents to a firm wide folder or subfolder and reduce time wasted by employees searching for firm level files.
Customize and Easily Move Folders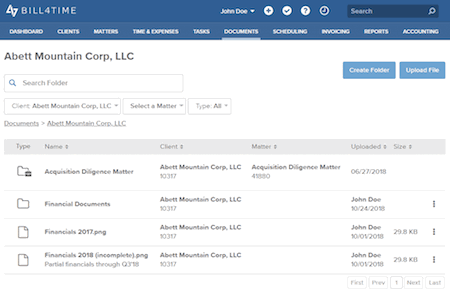 Whether you already have an established set of standards for organizing client files or are starting a new organization structure from scratch, customizable and nested folder creation allows you to organize yours and your client's files in way that makes sense to your and your colleagues. Utilize the foundational, default structure or implement a customized set of conventions.
Navigate over to the new documents tab, and by default, start with folders for each client and each project. We've created a layer of flexibility, not in place of, but in addition to the default structure.
Easily create new custom folders and sub-folders, name them, and nest them within any of the existing folders. Create sub-folders within each client folder for Correspondences, Notes, Pleadings, Retainers, Billing and Expense documents.
Granular client and matter file management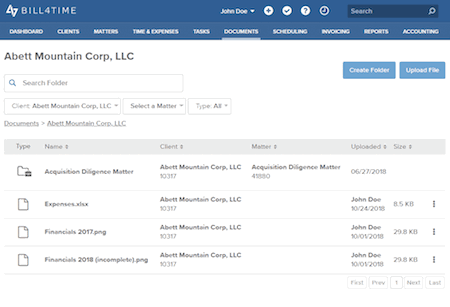 Take control of your file management with the ability to upload and download client files to specific folders at various levels of the file tree. Rename individual files to fit your firm's naming conventions. Duplicate files for easy re-use before moving the file into the correct folder context.
Powerful Search
It's difficult to remember the exact name of a file, but now searching for a file is more effective. Save your attorneys and paralegals time with this powerful search feature. They will find their files with only half a phrase, or even half a word, creating a heightened level of navigation.
Interested in learning more about our new Document Management features?
Please contact support@bill4time.com for more information.