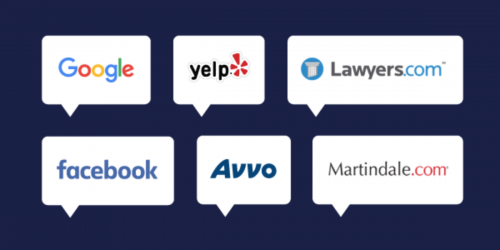 Historically, how did attorneys find new clients and build their firm?
Word of mouth.
Reviews for lawyers have become the newest form of digital currency.
That's right, and for the most part, there's still a majority of firms that depend on referrals for new clients. Your firm earns referrals from colleagues, friends and family, old law school classmates, your local bar.  In fact, origination credit has become a hot topic in the legal industry.
That said, the ways in which clients find lawyers is slowly changing. Clients are becoming more savvy in navigating the internet as a source of research. If you've invested any time in digital marketing for your firm, you understand that the point of having an online presence is two-fold:
Visibility: an online presence is like your digital office. It's like placing a print ad in a magazine, a billboard on the side of the road, a way to get your name out there.
Credibility: When people research your firm online, they are evaluating your firm based on media mentions, your website, credentials, and your reputation.
Reviews For Lawyers are Essential
Believe it or not, your digital reputation requires a bit of curation. Smart firms, young firms, innovative firms are all seeing the opportunity for building their online reputation. Bill4Time understands the value as well, and has taken the first step to provide our clients with the tools to build their online reputation with a brand new review acquisition tool.
Online reviews are essential to your firm's digital presence. Not only do they provide a form of social proof to potential clients, they are becoming a stronger ranking factor on Google for why your law firm might be served up as a search result when someone searches for a term like "attorney near me." See for yourself.
Go to Google and type in "[your practice area] + [your city]." 
What do you see in the results?
A section of Google called the 'Local Pack' that offers up 3 law firms.
Below the firm name is their reviews. Reviews are one of the top factors for why a firm appears in the local pack. Now, some of these local ranking factors are out of your control. The main factor being proximity from the searcher. But there are many factors of your digital presence that are in your control.
You don't even necessarily need a website to rank on Google. The very first thing that you need to do is claim your Google My Business listing (it's free).
In the past, we've touched on building your online presence and visibility  and how clients will evaluate your practice online.
Today, we'd like to share with you how Bill4Time can now help you begin asking your clients for reviews. Now, many attorneys do not want to ask clients for a review at the risk of receiving anything less than a 5 star review. We've taken that into consideration when we built out our tool.
What if we could remove the risk of getting a 4, 3 star review or worse? Only 5 star reviews for your firm. We realize that it's a cut throat competitive industry and anything less than a 5 star review can be a black eye on your firm's reputation. Well, we did.
Monitor Your Reviews From the Dashboard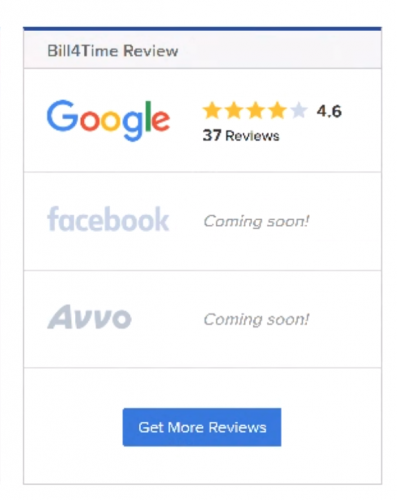 You will be now be able to keep track the quantity and aggregate rating of your law firm's review site listings right from your Bill4Time dashboard.
Proactive Segmentation
With Bill4Time reviews, you will be able to send out an email requesting a review from your clients.
The button in the email will deliver them to a website that asks them about their experience and has them rate it on a scale from 1-5. If the client clicks 5 stars, they will be redirected to your Google My Business listing to write a glowing 5 star review about your firm.  The process has a minimal amount of clicks to make sure it's as easy as possible to complete the process.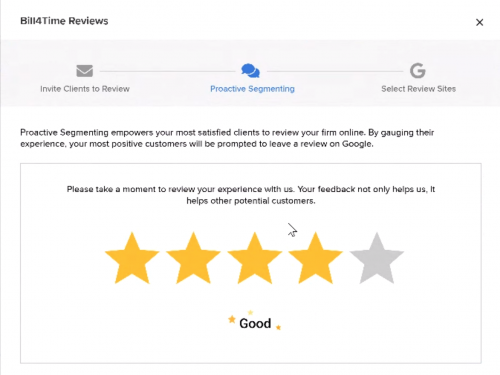 Now, if they had anything less than a 5 star experience with your firm, they will be directed internally to provide their feedback. They will NOT be sent to write a negative or less than stellar review about your firm.
Finally, you can remove the fear of tarnishing your reputation from an unexpected negative review.
Legal Industry Review Sites Beyond Google
After our initial roll out of Bill4Time Reviews, we will be also be allowing you to let your client decide whether they leave their glowing review on Google, Facebook, Avvo, or the legal review sites that you want included in the review funnel. Develop a well distributed review portfolio across all of the Law Industry review sites important to your firm.
Get the reputation you deserve.
Check Your Law Firm's Review Portfolio 
Want to see how your firm's Google Review performance stands up?
Download your Review Portfolio Report Now
For existing Bill4Time customers, you can take advantage of the new reputation management feature by reaching out to support@bill4time.com and have one of our customer support representatives set you up.
Once you start earning some 5 star reviews, let us know what you think!