As a lawyer, you're indispensable.
Your clients don't always see it that way though. What's worse, clients often do their best to avoid attorneys for as long as they can. Which makes establishing your law practice difficult.
Deep down, clients understand your value. A lawyer is a necessary savior, a protector that solves very serious and very dangerous problems.
But most lawyers don't behave that way.
They treat their law practice like a commodity. In the beginning, inexperienced lawyers focus their attention on details that are irrelevant and costly.
Your established legal practice won't survive without…
The right structures in place.
Establishing your law practice requires that you meet very specific criteria. Handled well, these criteria give you the structure you need to build a successful firm.
Neglect these details and it's unlikely that your firm will survive.
What details?
The fundamental components you need to build a successful legal practice.
Financial management.

Communications management.

Systems management.

Legal management.

Service management.
These are the building blocks of a successful business. They're non-negotiable and indispensable. If you want a successful law practice, you need each of these components.
Let's take a closer look at each of these areas.
1. Financial management
Cash flow is to a business what blood is to your body. Financial management is the foundation, the component that sustains every other part of your business. Good financial management depends on two specific criteria.
Cash flow.

More money coming into your business, less money going out. When the cash stops flowing, your legal practice begins to die.

Controls.

Rules, policies and procedures governing how money is handled in your business, who has access to what and when. Detailed reporting on what comes in, what goes out and who owes what.
In the beginning, you'll want to have tight controls over the cash flow coming in. If you'd like to make a purchase using the firm's resources, justify it. Make another sale that brings the same amount of cash or more than you need.
What happens when you get it?
Implement disciplined financial controls over your cash.
Track your time appropriately, invoice immediately

Require an upfront retainer for all new clients.

Check references if you're working with corporate clients. It's a well known fact that large corporate clients are

often

slow

to

pay

Set retainer/project minimums and stick to them

Create, outline and enforce your late payment penalties with customers

Reject customers who consistently bring financial harm to your business

Reward customers who autopay, penalize customers who pay on their terms

Factor payment processing fees into your invoices

Negotiate for extended payment terms for your bills upfront

Checks are endorsed immediately "for deposit only"

The employees who record receipts from your bank shouldn't be the ones to post to accounts receivable/general ledger

Employees authorized to sign for checks shouldn't prepare vouchers or record disbursements. They shouldn't post to accounts payable/general ledger

Minimize overhead

Invest your cash on hand

Build business credit/funding via traditional (e.g. loans, line of credit) and untraditional (crowdfunding, alternative loans, investors)
These details are important because they give you the ability to (a.) scale your business up or down rapidly (b.) train employees to manage your cash flow safely (c.) protect your practice from fraud and embezzlement.
This is especially true if you're a rainmaker.
Ignore these details and success could destroy your practice. At any given time you should know where your money comes from, where it's going and how much you have. Lose track of these details and your practice will begin to fail.
2. Communications management
Communications is a broad catch-all term that describes a wide variety of areas in your business. Want to attract traffic, leads, customers and sales for your legal practice? Communication is the only way.
Poor communication = a cash poor legal practice.
Here's the problem.
Lawyers typically have a hard time communicating their value to potential clients. Instead of communicating their uniqueness, value proposition or irresistible offer, they create content that yells "I'm a lawyer! I'm a lawyer! Hire me, please?"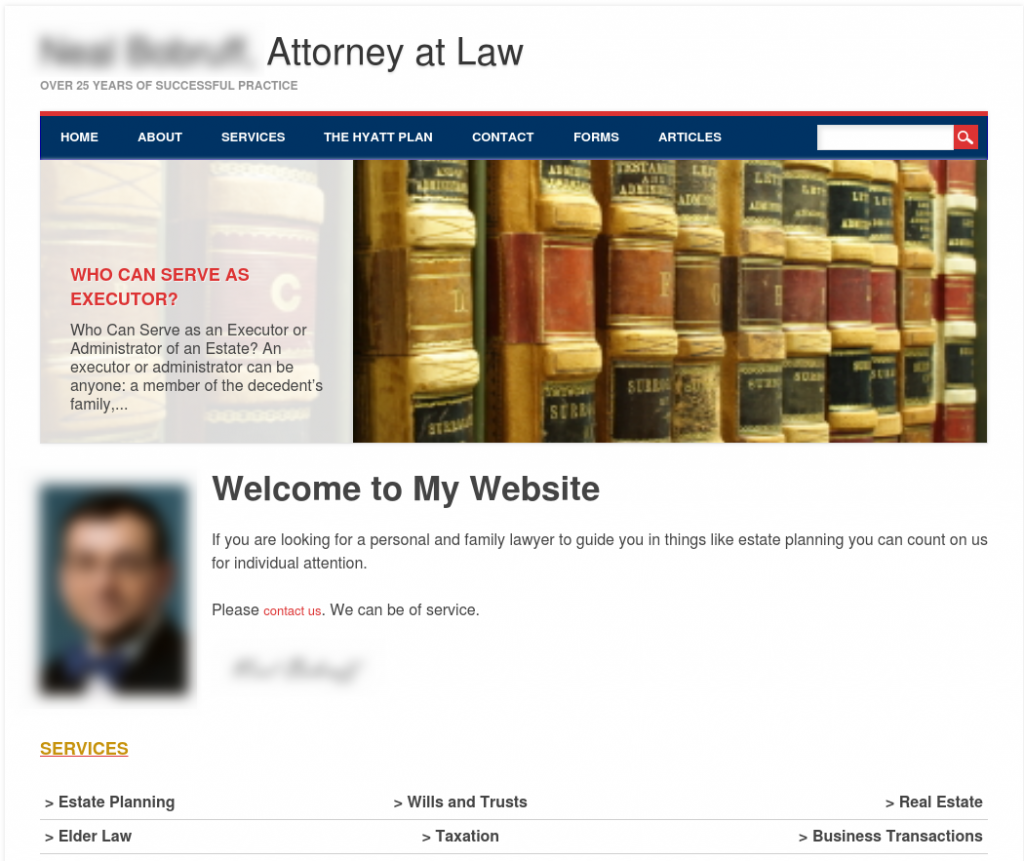 A client's natural response to their request?
Why?
The lawyer in our example used generic communication to sell customers.
This lawyer…
Speaks in a foreign language. Who can serve as executor? Intellectually, clients are probably aware of what that means, but do they understand it fully? Probably not.

This jargon steals meaning from the conversation.

Relies on his "

25 years of successful practice

" as a selling point. What does that mean? Successful how? When? For who? How many times? This statement lacks context so it's unpersuasive.

Mentions he's a personal and family lawyer that will provide individual attention. Okay. We know what his practice areas are now. Why should we choose him? What makes him special?

Lists his service areas and not much else.
My goal here isn't to beat up on him. That said, his marketing failed to answer the three fundamental questions clients have.
Where am I?

What can I do here?

Why should I do it?
Communication covers internal and external communication. It covers topics such as:
Sales

Marketing and advertising

Public relations

Strategic planning and events

Negotiation

Internal meetings and training

HR policies

Communicating with mentors and advisors
These topics aren't all upfront requirements, so where should we start? Let's focus on the sales and marketing ingredients you'll need to establish your law practice.
Your ideal client.

The client that's willing and able to pay what you ask. You'll need to know the demographics, psychographics and motivations of your ideal client. The words they use, their desires, goals, fears and frustrations. By carefully studying your ideal client you have the tools you need to attract and persuade new prospects.

Problems.

No client has a desire to hire an attorney, remember? Clients are motivated by specific problems (i.e. protect my assets, avoid a DUI) and specific psychological triggers like fear, loss, safety and greed.

Objections.

Which objections would keep clients from hiring you? What are their red flags? Their dealbreakers and non-negotiable anchor points? You'll need a compelling answer to each objection.  

Risk reversals.

Your clients are walled in by fear, skepticism and distrust. These emotions are barriers that keep clients isolated, ensuring they're unwilling to take a risk. Risk reversals give clients the safety and momentum they need to move forward.

Uniqueness.

What's the one thing that makes your law firm unique? True uniqueness

(1.)

it's appealing to your clients

(2.)

It's exclusive, something only you offer

(3.)

It's clear, easy-to-understand and

(4.)

It's trustworthy, credible and believable.

Social proof

answers a fundamental question.

Can I trust you?

You'll need credible third party sources to vouch for your trustworthiness. With the right mix of trustworthy sources, you can borrow trust from those around you.
What does this look like exactly?
Daniel Muessig graduated as a new attorney. He needed a way to quickly establish his law practice.
But how?
He was relatively unknown and had very little connections in the legal community. He knew he didn't have the budget or the time to take the traditional route.
So he used communication (marketing) to attract the attention he needed. He created a short ad and posted it on several platforms on line.
Take a look.
His ad went viral instantly.
It generated a firestorm of controversy and debate. Dan woke up to a flood of prospects in his inbox. The leads kept coming. His phone kept ringing. He attracted a massive amount of media attention.
Slate, Vice, Above the Law, Complex, Esquire, and even his old law school shared the news.
Ethics aside, there are a few things that stand out about Daniel Muessig's ad. He covered each of the six ingredients I covered earlier.
He…
Knows exactly who his ideal client is.

His client is a working class/underclass individual who has been accused of a crime in Pennsylvania.

Understands his client.

They're low to moderate income people who are heavily influenced by the hip hop/ heavy metal communities.

Knows their problems.

He's able to work with them on the specific problems they encounter on a daily basis. He knows  their circumstances and their environment well because he's part of that environment.

Defuses their objections

ahead of time. He's aware of what other attorneys will do (i.e. take your money and ignore you). He knows the average attorney looks down on his clients but he shows he's different (

"I'm one of you I grew up here"

)

Offers uniqueness and social proof

simultaneously. He knows his ideal customer values a specific type of music; he shows them

his battle rap record

, establishing his bona fides with prospective clients.
He used these details to instantly attract attention to his new law firm. His ad won't be appealing to people who come from a different socio-economic class. His ad will attract disdain and contempt from the wrong people, those who aren't Daniel's ideal client.
And that's the point.
Compare that with the generic attorney I mentioned earlier at the start of this section. Do you even remember him?
I didn't.
You don't have to take the same approach, but you can attract the same kind of results.
It's simple.
Start by studying your ideal client. Learn as much about them as you can – their desires, goals, fears and frustrations. Then you go from there. Simple isn't easy, but it can be done.
Establishing your law practice takes work but, as we've seen, it's completely doable.

3. Systems management
Your legal practice won't achieve consistent results…
At least, not without systems management. You're an experienced professional. You understand the ins and outs of your business. What about recent grads?
Not so much.
A system gives those who aren't as knowledgeable the training they need to generate consistent results at the standards you've set.
But, what is a system?
A system is a procedure, process or method that enables you to achieve positive and repeatable results. In fact, the only way to achieve long term success in your practice is with a series of systems. These systems can be simple as a checklist associates follow or as complex as an algorithm.
Which systems do you need?
Office, administrative and space management systems
Designing and maintaining telephone and electrical systems

Managing 800 / local telephone numbers

Answering the telephone and relaying messages

Purchasing and managing office supplies

Corporate internet/intranet/email management and policies

Managing ongoing delivery and courier needs

Data management (e.g. backups, archives, storage, etc.)

Managing planning permits and fees

Licensing procedures and requirements

Physical security protocols
Service procedure systems
Listing procedures for providing services

Creating proprietary methods and processes

Retainer / fee / price  structures

Outlining inventory of services
Accounting systems
Cash flow management

Accounting management via daily, weekly, monthly, quarterly and annual reports

Payroll reporting and withholding

Budgeting and forecasting processes

Securing and managing growth capital
Accounts receivable / payable systems
Sending invoices and statements to clients

Receiving payments and late fees, and crediting clients for payments

Process for collecting delinquent payments  

Procedures, policies and required approvals for purchases

Payment procedures for software, technology, supplies and inventory

Petty cash policies
Customer service systems
Retainer and invoice process

Responding to client reviews and complaints

Fixing mistakes, reworks, breakdowns, inefficiencies and service variations

Required response times

Refund requirements / exceptions
Sales and marketing systems
Sales funnels and lead nurturing

Content development plan

Marketing and advertising plan

Digital media plan (e.g. website, social media, video, etc.)

Offline media plan (e.g. direct mail, magazine, billboards, etc.)

Business and web analytics tracking
Human Resources systems
Employee agreements and hiring procedures (e.g.

Topgrading

)

Recruitment and retention plans

Training associates, paralegals and support staff

Hiring contract / temporary workers (freelancers, interns, temps, etc.)

Benefits and payroll procedures
General practice systems
Obtaining and managing insurance coverage

Negotiating, drafting and executing contracts

Planning for taxes

Reporting/paying taxes (federal, state, jurisdictional)

Records and archives storage

Preserving investor/shareholder relations

Confirming legal security
Good systems management is the key to building a successful legal practice. It's the difference between building a business you're enslaved to and one that's not dependent on any specific employee (including you).
4. Legal management
At last.
We're at the area of your expertise. You understand the importance of good legal management and sound advice. You're well aware of the unnecessary risks your clients take so we won't cover that in detail here.
Instead I'll briefly list the areas you should cover.
Choice of business entity

Office lease or real estate purchase contracts

Terms of use and privacy policies

Vendor, contractor, wholesale and employee contracts

Intellectual property protection and agreements

Licensing agreements (business licensing)

Equipment purchase or lease agreements

Loan document, private placements and (later) IPOs

Stock issuance, board authority and corporate bylaws

Labor laws including: OSHA, workers comp, employee disputes, and human resource issues

Buy-sell agreements

Regulatory compliance requirements
If you're an experienced professional, you're aware of the details you'll need to cover in this section. If you're not aware, you're able to get in touch with the people who do know.
5. Service management
Your service is what your customers pay for. It seems important, and it is. But it's the least important part of your business.
The details we've covered so far; these are more important.
Establishing your law practice isn't easy. The steps we've covered so far, they're indispensable. You don't have to be the best attorney in your field. You don't have to be a famous super lawyer.
The four steps we've covered, they matter more.
More than having the best service, the most knowledgeable team or the most intelligent associates. These details are helpful for sure, but they're not a requirement for building a successful business.
That said your service should be excellent
Brilliant marketing can't save a terrible law firm. If you're looking to build an incredible firm you already know what you need to do to provide exceptional service.
Solve your clients' problems

Keep your promises

Under promise, over deliver

Be excellent to your clients

Hire A player staff, deliver A player results

Create a service that's innovative, amazing and fresh

Offer amazing client service

Go above and beyond for your clients
These requirements aren't really all that new, are they?
Come to think of it, these suggestions are cliché and a little boring. They're also straightforward, intuitive and easy-to-understand.
As a lawyer, you're indispensable 
Your clients need you.
They need the value, the results your firm is able to deliver. But your firm needs to survive long enough to deliver it. Established law firms focus on the five practice steps they need to build an exceptional business.
It's a key detail most lawyers miss.
You need the right structures in place. The five fundamental components you need to build a successful practice. As it turns out these aren't unique to law firms. The recipe for building a successful business is the same, regardless of your industry.
These are the building blocks of a successful business. They're non-negotiable and indispensable. If you want a successful law practice, you need each of these components.
The framework is simple.