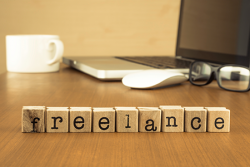 A "job" consisted of working every day from 8am to 5pm and getting a full range of benefits, including medical, dental, vision and if you were really lucky, a 401K and a matching contribution. But since the Great Recession, the word "job" has been redefined to include work done on a short-term basis. Hence, freelancing was reborn. Freelancing refers to work done on a job-by-job basis and there is typically no obligation to a client once a job has been completed. Essentially, you are your own boss, working from home, determining your wages and your work schedule. How to Get Work
Freelancer.com launched in 2009, boasts nearly 17 million registered users and offers a variety of free to fee plans. Freelancer charges the employer an introduction fee when an employer awards a contract to a freelancer.  Freelancers are charged each time they are paid even when a single employer makes payments to the freelancer for the same project. This site has a membership fee which ranges from $4.95 to $49.95 monthly so perform your due diligence before registering.
Elance is one of the top sites and was started in 1999. Known for its reliability, Elance connects freelancers with clients who offer a wide variety of work. Elance does offer free membership packages, but most users find that it is worth paying the monthly fees as this allows you to bid on more jobs and create a more detailed and attractive profile.  Note that Elance charges a commission fee of 8.75% of the hourly fee when jobs are completed.
Upwork (formerly Odesk) offers no memberships or strange pricing structures. It is easy to navigate  and provides one of the most simplified payment policies by charging 10% of the freelancer's pay to the client. Additional fees are charged when the freelancer withdraws funds, but the fees are nominal. Freelancer payments are made through PayPal or a credit card.
Guru is another site that offers a broad range of freelancing opportunities. As with Elance, the site is free to use; however, users have the option of paying for upgraded memberships. Headquartered in Pittsburgh, PA, Guru.com launched in 2001 and boasts more than 1.5 million gurus that are willing to tackle any project. Guru charges a commission; however, it was not published on their site.
Scriptlance is geared mostly toward freelancing programmers and web designers, but also offers writing and marketing related jobs. This site does not charge membership fees, but Scriptlance takes a 5% cut of the bid price. Payments are made through PayPal, bank wire, FedEx check or you can have Scriptlance send you a Mastercard debit card.
How to Get Organized
Dropbox and Box are great organizational tools for storing documents, projects, images and other files in the cloud. What also makes them so useful is that you can share the contents of your folders with clients, which eliminates emailing large, bulky files. You can easily sync your files with your Dropbox or Box, ensuring accessibility anywhere you go.
How to Get Paid
Ineffective time tracking can be costly—upwards of 30% of revenue can be lost due to inefficient time tracking. Bill4Time provides easy to use time tracking, contact management and invoicing so you can easily manage clients and projects.  Bill4Time helps freelancers accurately capture every minute even when on-the-go. For flat rate projects, Bill4Time helps freelancers better manage time and learn their true hourly rate and the cost of the project. Plus once a client is invoiced, Bill4Time offers a secure client payment portal so client's can make convenient online payments by credit card or PayPal. Sign up for a free 30-day trial.