Happy Holidays from your partners at Bill4time!
During the holiday season, we remember the gifts we've been given and wish you all the joy of the season.
Everywhere, Bill4timers are burning the midnight oil through this month before carving out a few days to spend with family and friends.
Speaking of the season of giving, do you know what you're getting your clients?
Did you know Bill4Time allows you to set discounts on your invoices? Spread some good will this year with a "Deck-the-Halls Discount" on your December invoices.
HOW TO DISCOUNT TO BUILD YOUR BRAND
Smart marketers know that discounts draws attention to the price of your products (in this case, your services.) Sterling-quality services such as yours – whether you're designing logos or litigating designs – shouldn't be discounted the way big-box retailers discount Christmas toys.
You may know this intuitively. That may be why you're avoiding discounts altogether.
Top-tier brands – think of luxury hotels, cars and even Starbucks – work to evoke a sense of hospitality. They do more than expected, whether it's a complimentary massage on check-in or a cheerful performance while they make your drink. The services themselves are expected to be excellent. And the "extra something special" appears as a free bonus.
So what's your hospitality angle? What extra bonus can you give your clients? The hour you spend developing this is worth the years of continued business loyalty it buys.
Then include it on your invoice (with what you'd charge for it) and cover the entire amount with your holiday discount.
HOW TO SET A DISCOUNT ON YOUR INVOICE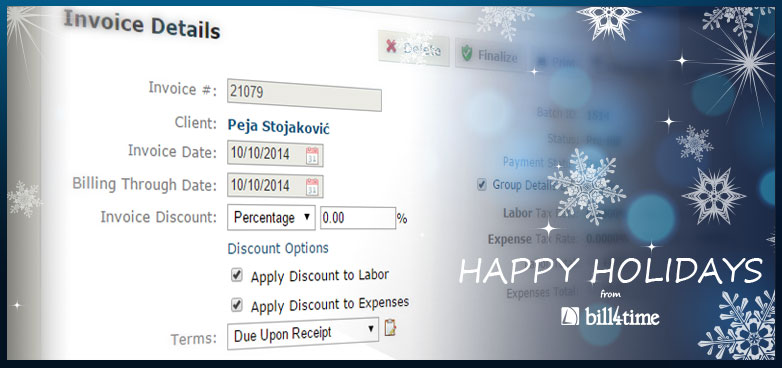 Discounts on an invoice are set either to a percentage or flat fee. First, select the invoice you would like to add a discount to.
Just under the invoice and billing dates, you will see the Invoice Discount Option.
Pull down the dropdown to choose between Percentage or Flat Fee and enter in your amount.
Then choose whether to apply the discount to either Labor, Expenses or both.
After you Save the invoice, the invoice amount will update to reflect the discount.
Then, in the Invoice Details, include a brief explanation and your holiday wishes.
That's it, you have made a lasting impression on your clients.
Happy Holidays!