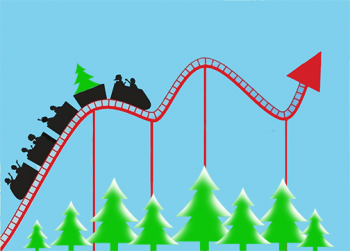 The Holidays can be a financial roller coaster for small businesses. This is usually due to significant upfront investments in inventory, marketing, additional staff, peaking revenues as the season hits full on, followed by the inevitable drop off in the New Year.
Tie up Financial Loose Ends
The Holidays are not the time to neglect your books. Make sure you are preparing up-to-date financials. Take a look at your cash flow projections (what's coming in and what's going out) and options for improving receivables. Also look at your overhead expenses and discover any possible trends. For example are expenses growing faster than sales and if they are, take some time to reassess those expenses and see where you can start trimming.
Offer Discounts & Other Incentives
Send a holiday card to promote your business and build upon your client relationship. Offer loyal clients discounts throughout the holidays to generate business. A ten percent discount can boost sales while making clients feel appreciated. And, make sure to back that service with excellent client support.
Expedite Your Invoicing to Accelerate Cash Flow
Even if you aren't busy over the Holidays, invoice for any services in advance so that payments aren't delayed or debts pass onto the next year. Remember to do your invoicing often, not just once a month. When invoices are constantly going out, incoming cash is constantly coming in. One way to streamline invoicing is to leverage invoice templates. This saves considerable time while branding your company.
Focus on Collections
Outstanding customer debt can be the Achilles Heel of a small business. It's up to the small business owner to follow up on any unpaid invoices. Review any outstanding payments from customers and start following up. Your clients are busy and possibly just need a simple reminder. Sending an invoice or a statement may be all it takes to remind them to remit payment. Alternatively, sometimes it takes a phone call for payments that have been languishing for some time.
Make it Easy to Remit Payment
Your clients buy goods and services every day online. Why? Because it's easy. Make it easy for them to transact business with you by offering online credit card options and/or PayPal. Through Stripe, you can offer credit card payment options and have the funds directed to the account of your choosing.
Imagine your client viewing your invoice on a mobile phone and while utterly embarrassed at being late in paying, tries to remit payment through the mobile phone and can't? You just missed an opportunity to get paid. Emailing invoices with a link to a client portal that offers online payments can accelerate the payment process for slow of forgetful clients. In fact, businesses that offer online payment options can get paid up to 30% faster than by traditional methods. But some clients aren't tech savvy. This is when taking payments over the phone via credit card can pay off as well. Either way you look at it, credit card options are a plus for any business.
Bill4Time offers a complete time billing and online payments system that helps you during the Holidays, and every day of the year. Bill4Time provides an easy way to track time and expenses, from any desktop or mobile device. Then simply email the invoice to clients who in turn, can pay immediately through a convenient client portal using any credit card or PayPal. It's just that easy. Then easily analyze your business with Bill4Time reporting. Stay on top of your finances from anywhere, on any device.
Ensure your business is ready for the Holidays and every day with Bill4Time. Get a free 30-day trial and see for yourself.