As a time project management software, the Bill4Time team has been working on updating and improving the software to your needs. With the release of the new Bill4Time time billing version, we've been getting a lot of positive feedback from you with the dashboard. But it was missing something: customization. In response to your requests, this is now possible! Users can choose what information they want to display by selecting which "widgets' they would like to add to their dashboard, and can reposition the widgets to best suit their needs. This new feature is only available on the new Bill4Time version.
How to Edit Your Dashboard
To enter "edit" mode, click the gear icon in the top right corner of the dashboard.

Once in edit mode, you can select additional widgets by selecting them in the dropdown box at the bottom of each column. Click and drag the widgets higher and lower to reposition them in their column, or click the white X to remove the widget.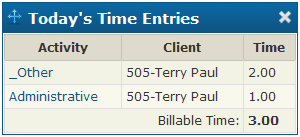 When you are finished customizing your dashboard, click the "Click here to finish editing" link. Now you will see this layout every time you visit the dashboard.
Left Column (Large) Widgets:
Assigned/Subscribed Projects: A list of all assigned or subscribed projects. This list will be familiar to long-time users of Bill4Time.
Recent Projects: Your 20 most active projects.

Right Column (Small) Widgets:
Weekly Billable Amount: A graph of the amount you billed each week for the past 7 weeks.
Weekly Billable Hours: A graph of the number of hours you billed each week for the past 7 weeks.
Today's Time Entries: A list of all time entries you created today.
Today's Schedule: A list of all events scheduled for today.
Recent Time Entries: A list of your most recent time entries.
We will be including additional widgets over the coming weeks. If you have ideas or suggestions on widgets you would like to see, send us an email at support@bill4time.com.