It's finally here: billable rates per activity! Now you can assign a specific rate per activity and make your time tracking software experience even faster. This will override your default rate so the rate per activity will automatically be applied.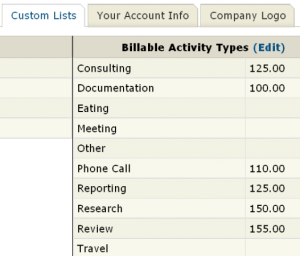 To get started with your billable rates per activity, just do the following:
Click on "Settings."
Click the "Custom Lists" tab.
Click on "(edit)" next to "Billable Activity Types."
Put a check next to "Rate."
Put in the desired rate for the appropriate activity type.
Click on the "Save" button.
Close the window.
Refresh the main screen.