Legal services can be expensive, leaving some clients unable to afford the legal help they need. Unbundled services are a popular option that helps clients pay for legal services "a la carte" at a lower overall cost.
Continue reading to understand what unbundled legal services are, how they benefit law firms and clients, and how you can get started with the help of legal practice management software.
What Are Unbundled Legal Services?
Unbundled legal services, also known as limited-scope representation, are a method of legal representation that specifies which aspects of the case the attorney assists with. Essentially, the client is hiring a lawyer to handle only parts of the case to reduce the costs.
These services may include preparing legal documents, filing court documents, or appearing in court on the client's behalf. Clients are responsible for other aspects of their own cases.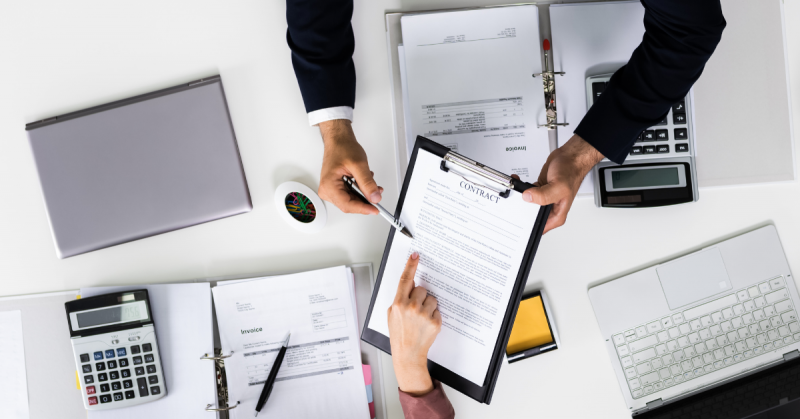 Unbundled vs. Bundled Legal Services
Unbundled legal services allow clients to pay only for certain services they want a lawyer to complete, but the client handles various aspects of their case on their own. The specifics of how the legal tasks are allocated are outlined in a limited-scope representation agreement between the lawyer and client.
Bundled legal services, or limited retainer agreements, are arrangements that allow a client to retain a lawyer for a predetermined level of legal services. This may include legal documents, consultations, or other legal services that have a fixed price, such as financial statements, applications, contracts, or affidavits.
Both unbundled and bundled legal services offer a way for clients to take on some of their casework on their own, retaining a lawyer for tasks that are out of the scope of the average person.
Benefits of Unbundled Legal Services
Here are some advantages to offering unbundled legal services at your firm:
Access to Legal Services
Legal fees are often expensive in the best of circumstances and some clients may need legal services that are out of their reach, whether due to affordability, geographic location, or other factors. Offering unbundled legal services helps clients get legal help on an as-needed basis, taking on some of the work themselves and paying only for the services that require a lawyer. With unbundled legal service agreements, clients always have the option to retain more legal help as their case moves forward.
A Wider Client Base
Law firms can miss out on a big client base because of access and affordability. If your firm offers unbundled legal services, you can provide full-service representation for clients who choose – and can afford it – as well as clients who only seek limited-scope representation.
Beyond having a larger book of business, having a broader client base can impact overall retention and cash flow for your firm.
How to Implement Unbundled Legal Services
Adding unbundled legal services to your law firm requires the following steps:
Understand the Ethics
The ABA Formal Ethics Opinion 472 (2015) regarding unbundled legal services states that lawyers are authorized to provide limited-scope representation under Model Rule 1.2(c). This recommends that lawyers that provide unbundled services detail the scope of representation to the client in writing. ABA Opinion 472 further states that lawyers can limit the scope of representation provided it's reasonable and the client provides informed consent.
The rules regarding unbundled services vary by jurisdiction, however, so it's important to check your local jurisdiction's rules and laws, particularly for small firms and solo law firms. If necessary, seek state bar or court permission.
Check Market Gaps
The demand for unbundled services varies by the market and your practice area. When you're planning to offer unbundled services, consider which clients may struggle with access to justice and areas of law that are rules-based or routine.
Depending on your practice area, offering limited-scope representation may not be an option for all of your legal services. For example, family law and criminal law can be challenging with unbundled legal services.
Prepare a Limited-Scope Representation Agreement
You need a clearly defined limited-scope representation agreement that defines what's included in unbundled legal services and the allocation of legal tasks. Informed consent is also required under the ABA Formal Opinion to ensure that clients understand the limitations and risks of limited-scope representation.
Set Prices
Unbundled services are more affordable for clients, so it's essential that you're offering reasonable prices for your defined legal services. Consider the competition's pricing to establish a range for your area.
If possible, use flat-fee pricing to help clients understand exactly what they're paying for and what they can expect to pay for the entire case. Clear and transparent prices will make your unbundled services more appealing to your clients.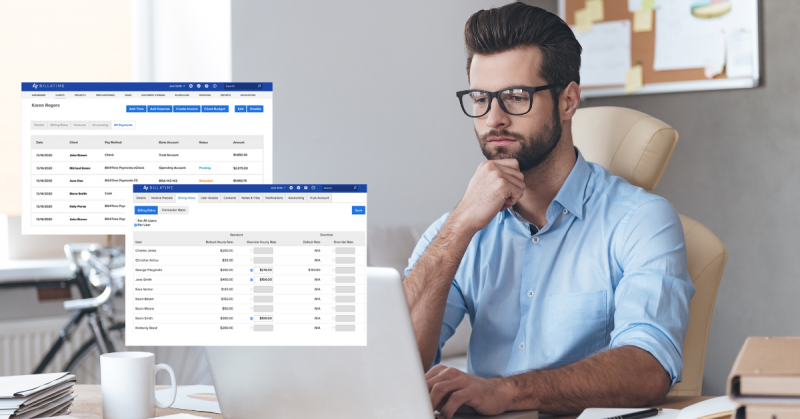 Streamline Your Client Intake Process
Expanding your offering to include unbundled services means you'll likely bring in more clients, so having a streamlined and efficient client intake process is necessary to keep your practice running smoothly.
Asking the right questions ensures you're attracting the right clients and establishes trust from the first interaction with your law firm.
You also need a streamlined billing process that helps clients pay easily and securely. With Bill4Time Payments billing software, you can implement and manage a variety of billing models, including flat fees for unbundled services.
Native to the Bill4Time platform, Bill4TimePayments, offers firms a secure payment processor that allows their clients to pay invoices online via payment plans, the client portal, and custom payment links, all using the payment method of their choice.
Examples of Unbundled Legal Services
There are plenty of examples of unbundled legal services, including:
Case evaluation
Limited litigation
Transactional guidance
Document preparation
Document drafting
Negotiation advice
Settlement evaluation
Agreement review
Court coaching
Limited court appearances
For example, a divorce lawyer can help a client draft the initial filing for dissolution of marriage. From there, the client takes over.
Deliver a Better Client Experience
There are many benefits to offering limited-scope legal services for both your clients and your firm. You can provide better services to your clients and help people who may otherwise be unable to access legal help. It's important to set yourself up for success, however, with a clear limited-scope agreement, a streamlined intake process, and smooth, simple billing with law practice management software.