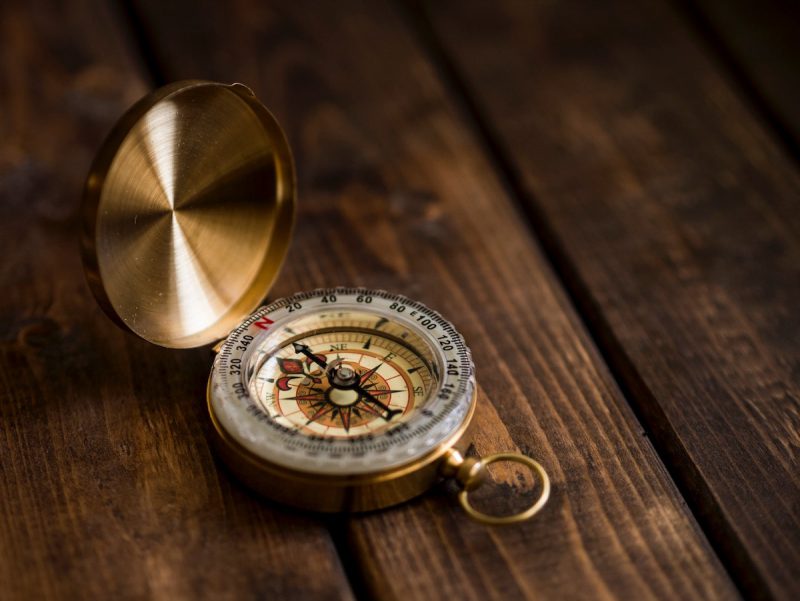 "It's too vague."
"I'm not sure what I'm getting for my money." These days it seems clients have a wide range of claims against the billable hour. It seems clients aren't fond of the billable hour.
Are they right?
Is the billable hour an antiquated and obsolete billing method? If we take the above complaints at face value it certainly seems that way, doesn't it?
Here's the problem.
These quotes aren't describing hourly billings
It's actually the opposite.
They're actually talking about fee schedules. In the late 1930s and early 40s State Bar associations began publishing minimum fee schedules. Set pricing for a variety of legal services. $500 for a contested divorce, $75 for drafting a will, etc.
Here's the interesting part.
These fee schedules were voluntary in name only. In reality, they were enforced by the threat of disciplinary action. For example, if an attorney's fees were too low the Virginia State Bar stated these attorneys would be presumed guilty of misconduct.
Strange yet true.
In fact, the ABA's model ethical code stated it was unethical for an attorney to "undervalue" their services.
Whatever that means.
This would remain in effect until 1969.
Here's the thing about all of this. Law firm clients were unhappy about the billing state of affairs a century ago. They were unhappy about it during the 1930s. And they're unhappy about the state of affairs today.
How did they do things back then?
The hourly rate was rare back then
Attorneys used a variety of methods to bill their clients. Contingency, retainers, fixed fees and estimated value. Which is why clients became dissatisfied. Clients weren't entirely sure what they were paying for. They claimed their bills were "too vague."
In the 1960s this began to change.
The demand and complexity of legal work grew. Hourly billing was already being used by a few firms but it wasn't the ubiquitous standard we see today.
Far from it.
In fact, it took 40 years for the timesheet and hourly billings to catch on in the legal profession. Research shows hourly billing isn't something clients asked for.
It seems firms can't win!
Clients were unhappy then and they're unhappy now.
So this means you should bill value rather than time?
Here's the interesting part.
Clients were unhappy with retainers, fixed fees and value pricing. Attorneys were unhappy with fee caps/schedules and these were the standard fee arrangements. Both clients and attorneys aren't happy with hourly billings today.
Can you see it?
The source of your collective stress, anxiety and fear?
No?
Let's look at two examples then.
A fixed fee example:
Here's a hypothetical scenario shared by Bill Josten, Legal Analyst at Thompson Reuters.
A law firm and client agree to work for a flat $1 million. The client is happy. They feel this price is fair. The law firm is happy because the margins are reasonable. The work is rewarding.
Along comes Mr. all-star attorney.
Mr. all-star attorney is ambitious and eager to provide value to the firm. He comes up with a new way to complete the same amount of work, with superior results for a meager $50,000. The quality is top shelf.
The client is pleased.
Until they see the shadow bill. Suddenly they're furious. How could their firm bill them $1 million dollars for work that only cost $50,000 to produce?
See the problem?
If the law firm spent $950,000 producing the work and billed $1 million, the client wouldn't have batted an eye. The law firm didn't cheat their client. They found an innovative way to get the work done.
Okay then.
Let's look at an hourly example.
An hourly example:
Here's an example from the ABA Journal.
"Michael Cooke, a Bluefield lawyer, had apparently billed the West Virginia Public Defender Service more than 15 hours a day on 37 different occasions over an eight-month period beginning on Jan. 21, 2014, according to the April 20 opinion (PDF) by the Supreme Court of Appeals. On five of those days, he billed more than 20 hours, and on two days more than 24 hours…
Dana Eddy, executive director of the public defender service, testified that Cooke's alleged overbilling wasn't as frequent as that of other lawyers flagged in a billing review. One lawyer "rubber-stamped" the same time for each day, Eddy said, while another billed for 900 hours of travel in a three-month period."
See it yet?
The fee arrangement isn't the problem. While many argue for or against the merits of a particular method this isn't the consistent theme here.
There are actually four of them.
1. Alignment
Your interests should be aligned with your clients. Attorney Matthew Schmidt writes:
"Litigation is still, and will always be, a zero-sum game. And in nearly any zero-sum game, if you take two evenly matched sides, the one that puts in more work is usually going to win.
Smart clients know that incentives matter, and they want their lawyer's incentives to be aligned with their own interests. And they want their lawyer to be incentivized to look for one more case, one more angle, or do a little more preparation."
The fee arrangement you choose should align with (a.) your clients socioeconomic status, (b.) their interests e.g. hourly billings for litigation and (c.) their goals and objectives.
2. Transparency
Clients are often afraid. They're afraid they'll be overcharged or underserved.
The fee arrangement is irrelevant.
Clients are often afraid they'll be billed for work that hasn't been done.
Fixed fee. Clients are afraid They'll be overcharged dramatically for inexpensive work.
Hourly billings. Clients feel they're writing a blank check and fear they'll be drastically overcharged.
See where I'm going with this?
Your fee arrangement isn't the problem. It's attorney/client transparency. When transparency is lacking billing disputes rise and collection realization rates fall.
This is avoidable. How?
Follow billing best practices
Send clients an invoice that breaks down every time entry and expense in detail
Communicate any significant variance preemptively (via email or phone)
Provide supporting documents – payments, invoices, expenses, etc. via your billing management software
3. Expectations
Your clients have expectations. Expectations, on their own, aren't entirely unreasonable. They become unreasonable when they're not managed properly.
What does this mean?
Your clients have fuzzy, implicit and unrealistic expectations. An important study outlined the differences between these client expectations.
Your clients expect a change or result but they have no idea what this looks like. Fail to flush this expectation out and clients blame you, stating your representation or service was unsatisfactory.
Your client has an expectation they believe is "obvious" or "self-evident." Implicit expectations are dangerous because they become explicit when they're ignored. Your clients blame you for this as well.
These are expectations you're either unable or unwilling to meet. Here's what makes this expectation so unpleasant. They can be fuzzy or precise, implicit or explicit.
This seems unfair, doesn't it?
It also complicates billing. How do you keep these expectations from impacting your collection realization rates?
It's simple.
You make these expectations explicit. Then, you defuse them.
That's not simple.
Where do you begin to look for these expectations?
What's the client sentiment/commentary about other firms in your practice area? Do other attorneys in your practice area have a negative reputation or poor reviews? Analyze sentiment and you'll find expectations.
Past experiences. Have your clients been burned before? How do they feel about their previous firm? About the top firms in your practice area? Is their overall experience positive or negative? Abuse, disappointment and negativity shape expectations.
What are competing firms promising in their marketing? What do clients believe about your practice area? Are those the sort of things you're willing to commit to?
Personal needs. Your clients may be aware of their problems but that doesn't mean they know how to solve them. Client expectations coalesce around personal needs. Look for desires, goals, fears and
Great.
You've identified your client's expectations. How do you shape them?
Sharing systems and procedures
Using incentives (punishment and reward)
Use honest psychological framing to change hearts and minds
It's easy to deal with client expectations you know about.
4. Value.
Clients expect value.
It's an unpleasant and unreasonable reality. But it's also the third most common reason for late payment. Clients question the value of the services you've provided.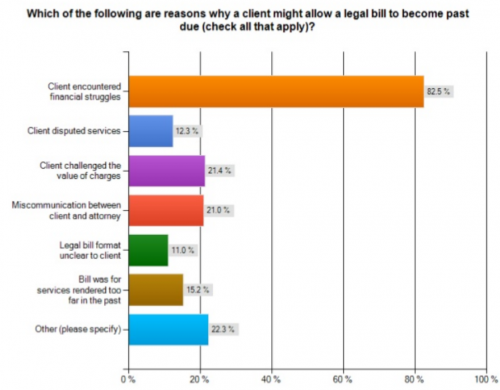 There's also the fact that a minority of clients aren't interested in paying for what they perceive to be a failure. The vast majority of clients are willing to pay for value.
Meaning what?
You'll need to provide (a.) more value than you're paid i.e. $20 a value for every two dollars you're paid (b.) consistently communicating the value you've provided per matter, per client.
Most attorneys are terrible at this.
They're fantastic producers. They create a tremendous amount of value for their clients and their firm. They're just terrible at communicating it.
Why?
Because it feels like bragging. But it's not bragging, it's all about stating facts. And is an important financial reason for it.
Reciprocity.
When clients see the disproportionate value you're producing on their behalf they feel compelled to reciprocate. This reciprocity increases the odds that your invoice, regardless of your fee arrangement, will be paid.
Billing value versus time: which one should you use?
It's a red herring.
History shows clients are willing to accept a variety of fee arrangements.
"It's too vague."
"I'm not sure what I'm getting for my money." These days it seems clients have a wide range of claims against the billable hour. As we've seen, clients have made complaints about a variety of fee arrangements. These complaints aren't the source of the problem.
They're symptoms.
Clients were unhappy with retainers, fixed fees and value pricing. Attorneys were unhappy with fee caps/schedules and these arrangements as well. Neither clients nor attorneys are happy with the billing state of affairs today.
Focus on the source.
It seems odd that these complex billing issues can be boiled down to a simplistic approach. Yet the evidence shows we're on the right track.
Choose wisely.
Select the fee arrangement that aligns your interests with your clients. Set expectations, offer transparency and deliver value consistently. Follow these truisms and your profit and realization rates will continue to climb.