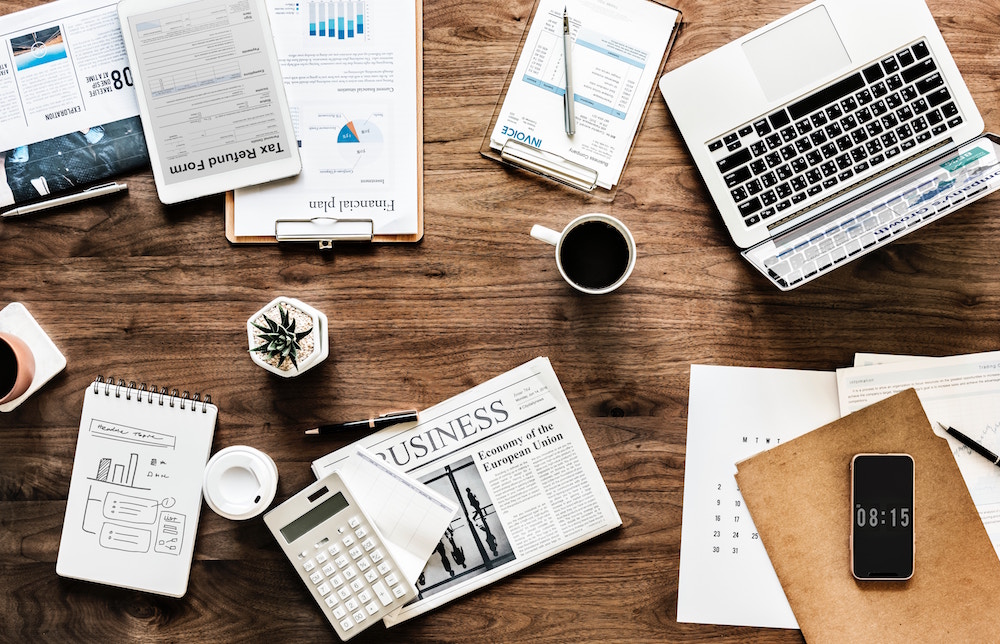 No one wants to do it.
It's not like most firms enjoy evaluating and vetting legal software solutions for their firm. So it's common for firms to simply ignore the problem.
Anything to minimize the amount of upfront work they do.
Maybe they do half the amount of research and vetting required to evaluate their legal software. Or none of it. It's just software after all.
What could go wrong?
Legal software often comes with unexpected downsides
Purchasing the wrong software increases transitional pain and user onboarding. It also magnifies the potential downsides you experience at your firm. Here's an example of legal software gone wrong.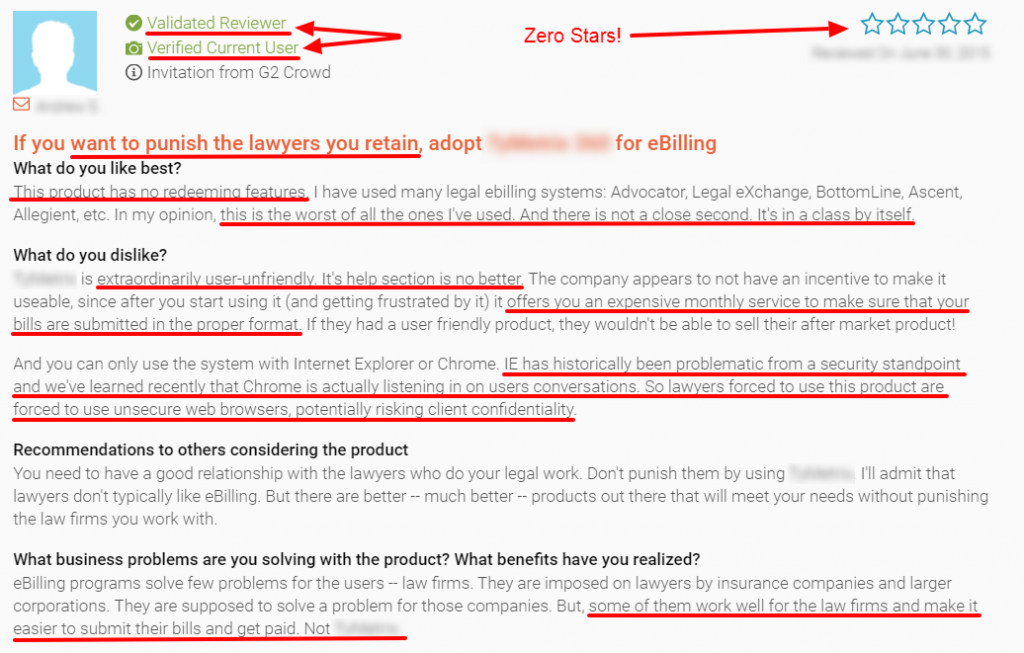 This review speaks volumes doesn't it?
It's a devastating account from an active customer. This concise review tells us a lot about the downsides that come with poorly vetted software.
This software is incredibly difficult to use. Translation? Associates spend more of their time on non-billable work than they should.  

This customer gave their software

zero stars.

He states: "

this product has no redeeming features

" stating the product is: unusable, the worst and doesn't work.

Associates are forced to use unsecure web browsers, risking client confidentiality and increasing their firm's risk of legal liability.

This reviewer's word choice suggests that  morale has declined at this firm

It's an eBilling product that struggles to handle… billing.
This looks pretty bad doesn't it?
This firm continues to use a system that (a.) costs more money and makes everyone miserable (b.) doesn't perform as expected (or at all) and (c.) leaves the firm exposed to potential lawsuits.
This isn't the worst part.
This law firm is still using this product! They're trapped in an unpleasant situation with an eBilling product that takes money from their business.
How do you avoid making their mistake?

Choosing the right software solution begins with self evaluation
You'll need to take stock of your current situation as a firm.
You should have a clear idea of (a.) who you are as a firm (b.) where you'd like to go as a firm and (c.) whether the software providers you're considering are workable, a fit, or simply wrong for you. Think about approaching this from the standpoint of "what does the firm need?"
Here's a few broad categories you can start with.
List habits (good and bad).

Do you use hourly rates, value pricing or contingency billing? Does the legal software you're considering do this natively or is this simply something they tacked on to their feature set? Do you have a specific set of policies and procedures you follow or does your firm follow a process that's more fluid?

Outline goals and outcomes.

It's a common mistake for firms to look at features first. Begin your research by focusing first on the specific goals you have. Planning on adding remote staff in the future? Your needs are very different from the large firm with lots of in-house staff. What about solo firms looking to grow quickly vs. firms that are looking to stay small? You'll need to outline the goals and outcomes you're looking for first. Features should be dictated by goals.

Determine future needs.

If you're running an estate planning firm with lots of paperwork, you'll need document management/backups in place to protect against fires or floods. What if you defend lots of high-risk, celebrity or controversial clients? You'll need software with an emphasis on data encryption and communication privacy. Think about the needs you'll have both now

and

in the future.

Assess risk and safety.

What are the group policy and security requirements for your firm (e.g. 256K-bit SSL encryption and

SSAE 16 Type II certification

)? Do you need software solutions to accommodate specific requirements  (e.g. user permissions/roles)?
Next you'll want to use the MoSCoW method (e.g. Must have, Should have, Could have, and Won't have) to identify your deal breakers and non-negotiables.
Take this legal software provider for example.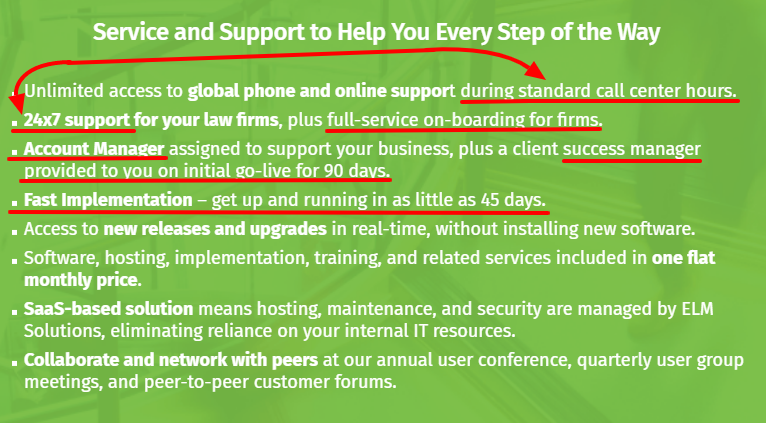 It takes 45 days to get up and running. They provide onboarding / training but a support manager is only available for the first 90 days. After that you're on your own.
Is this a deal breaker for your firm?
A self-evaluation means you know whether their offer will work for your firm or not.
Look for…
Product wants.

What are the specific product wants and needs of your firm? Are you looking for a SaaS, on-premise or hybrid software? Small, medium or enterprise class software?

Feature sets.

What features or lack of features are acceptable versus deal breakers? Are these requirements static and unchanging or will they evolve as your research gains clarity?

Warranties and agreements.

Will you need any assurances? Does your firm require an

SLA

? If you need one it's probably a good idea to determine whether your providers are willing to provide that.

Budget requirements.

Product features aren't created equal. For example, document management at the SME level isn't the same as it is at the enterprise level.
This is the upfront research that matters most.
The data you accumulate at this stage acts as a compass. The data you accumulate from your self-evaluation gives you the criteria you need to qualify and disqualify potentials.
Identified a list of potentials?
Excellent, you're ready for the next phase in your due diligence.
Step #1: Search for credibility
Credibility is a gift, an important part of the sales process.
It's an especially important component of an effective value proposition. Researchers at Stanford University's Persuasive Tech Lab, identified four types of credibility you can (and should) use to vet legal software providers.
Reputed credibility
Positive feedback and recommendations from an objective, 3rd party source. Unbiased reviewers, ideally attorneys and firms who have worked with the companies/software solutions you're considering. This could be a testimonial on your site, reviews on Trust Radius, Capterra or G2, or recommendations via Google search.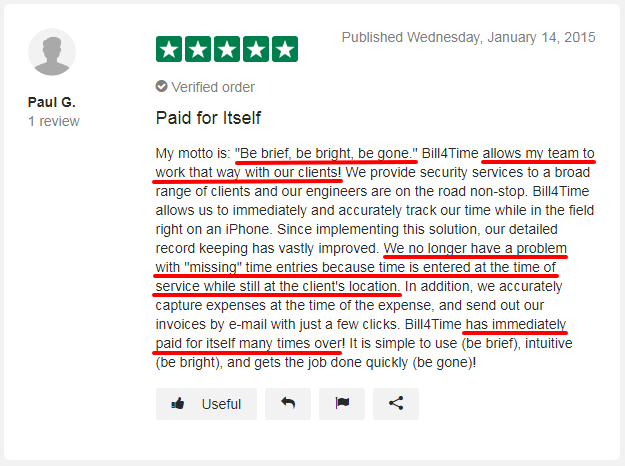 and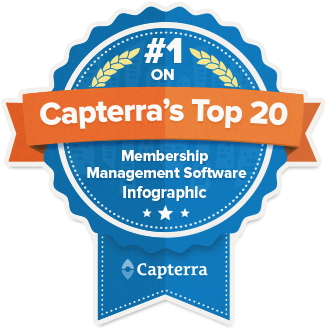 Software solutions with reputed credibility…
Rely on 3rd party reviews and testimonials

Have case studies and professional product reviews

Trust seals and badges from providers like G2, Capterra, BBB, etc.

Positive or negative press/media coverage

Client lists, connections to influencers and (to a lesser degree) awards
Use reputed credibility to flush out pain points, mistakes, objections and experiences.
Presumed credibility
Presumed credibility is all about the mere-exposure effect.  A psychological phenomenon where we develop a preference for things – simply because we're familiar with them. I saw your ads on Above the Law, I read your LexisNexis guest post, I listened to your interview on Attorney Talk, etc.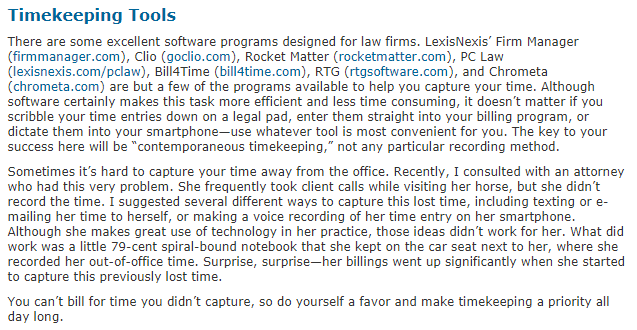 Presumed credibility uses the mere-exposure effect to…
Earned credibility
As a prospective customer, you've had a positive experience with the legal software firms you're evaluating. Their website is easy to navigate, sales calls were productive and helpful, their content was clear and concise, etc.
Legal software providers with earned credibility…
Have a consistent track record.

Don't ask for the unnecessary upfront.

Answer your objections.

Are candid and helpful.
Surface credibility
Your subjective opinion of the legal software solutions you're evaluating (e.g. This is easy to use, I like how this looks, looks trustworthy). Examples of surface credibility include:
Good product branding

Professional website design

No errors, bugs or technical problems

Demo availability

A site/product that's easy-to-use

Staff photos, bios and company contact info

High quality imagery
Legal software with good surface credibility are…
Invested in their product and service.

Have the right credentials, values and ideals

Use legal software conventions and your pre-existing expectations to build trust
Step #2: Vet providers legal software solutions
Experienced firms know it can be tough to determine whether a legal software solution is a proper fit. What looks good on paper may be a disaster in reality. It's a common practice for software providers to offer a demo or free trial of their product.
Take advantage of it.
Request demos.

You'll need time to verify that the software solutions you're considering will work with the tools and resources you're

already

using. Requesting a demo + sales call gives you the details you need to gauge your provider's familiarity with their own product.

Verify product development.

Look for continued investment/development into the product. Ask about their product road maps, implementation and future plans; you'll want to verify that the product you're buying isn't simply a cash grab to prop up a struggling company.

Make sales calls.

How are sales people trained? Are they knowledgeable and focused on serving your needs or are they pushy and aggressive closers who are only focused on the sale? Remember the saying:

How they sell is how they'll serve

.
Ask for clear upfront pricing.

Verify the total cost of ownership (e.g. initial, training and future costs). Get clear details on any incidentals or extras not listed.

Share your objections.

Share your concerns and objections with each vendor. Ask for a solution to your core objections. Look for SLAs, guarantees and warranties. Take note of vendors who are unwilling to commit fully to their own product.

Look for support.

 Your team will most likely need onboarding, training and support. Is this comprehensive? One-on-one? Self serve?  Ask software providers if they're willing to extend the support you need to get buy-in from your team.
Make a real effort to use the legal software in a day-to-day setting. Notice any red flags, run into any problems? Ask about it. Have questions or concerns? Raise them. Behave as if you were already their best, most profitable customer.
Outline your deal breakers ahead of time. Then watch how legal software providers respond.
Pay attention to their content, style, tone and approach. Are their support reps irritable and difficult? Do they give you incomplete answers? Does the software fail to perform as expected (or simply fail)?
The cost of failure is high. Too high for you to ignore
No one wants to research and vet legal software.
Which is why it's ignored so often. Partners and associates at law firms, they're already exhausted and overworked. For many, it's about finding "good enough" rather than identifying "great."
Don't let it happen to your firm.
This isn't just a case of low priority work. It's about the tools you need to grow and maintain your firm. Researching and vetting your legal software takes time, but the rewards are there. Legal software often comes with unexpected downsides.
This doesn't have to be the case for your firm.
Choosing the right legal software begins with self-evaluation, asks the right questions, and ends with complete answers. Keep downsides to a minimum. With the right amount of research and vetting you'll find the perfect legal software solution for your firm.
Because the stakes are high, too high for you to ignore.