New Features: Report Templates & Budgeting Tool
---
Bill4Time has offered just one more way to make this time billing software cater to your individual needs. With the new report templates, you can save any combination of filters and use them again at any time. There's also a new export feature to the reports. Now you can print out your reports as a PDF or an Excel file.
Budgeting Tool
Click on any client in the system and take a look at the client details page. Notice at the top right corner a new button:

Now you can establish a budget for your client and all associated projects for that client. Here's a screenshot of the what you can do with the budgeting tool: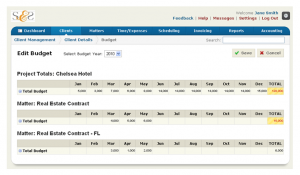 (Side note: Want to know how we got the firm's logo on this screen shot? Find out here!)
This site uses Akismet to reduce spam. Learn how your comment data is processed.