Trust Account Summary
Bill4Time now allows you to show the balance in your Trust Account Summary on your invoice even though there was no trust activity during the billing period.
LEDES Formats
Bill4Time, as a legal billing software, supports LEDES invoice formats for electronic billing. Users can either export the classic LEDES format or the various versions required by companies such as the Great American Insurance Group. We've recently added the "Chubb" format to our current group that includes American Empire, Nationwide, Scottsdale Insurance, and Scottsdale OGC.

New Reporting Features

Based upon requests submitted by customers, the Bill4Time development team has recently released a long list of added features to the time billing reports.
• "Rate" column added to reports – This keeps you on top of all of your various billing rates, giving a further explanation of the reported billing amounts. With this feature, you can see how you are going to bill the client before creating an invoice.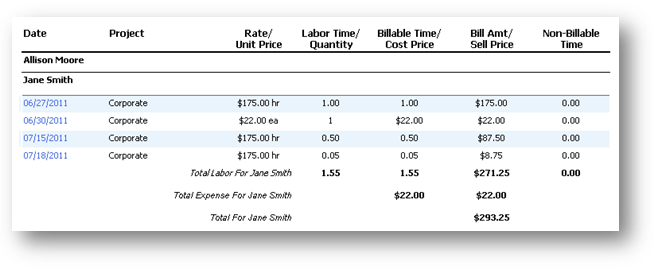 • New "Exclude from invoice" filter – When you enable the "Exclude from invoice" setting on a time entry, you can hold back on that entry to put it on a later invoice. When you are ready to bill that time entry, use the "Exclude from invoice" filter in a summary report to find them easily and disable the setting for each entry.
• "Project Type" & "Client Type" filters added to reports – These filters help you see how much time, billable time, and unbillable time were devoted to specific facets of the business. You can also see which facet has yielded the most income.
• "Labor Time" column added in reports – With this extra column, you can clearly see labor time versus billed time for a project. See how much you worked in total, and compare it to how much of that time was billed to the client.
• "Non-Billable Time" column added to reports – This makes it even easier to identify the non-billable work for lined items and total time.
• Full featured Project Summary report—The Project Summary Report has now all the filters and features found in the User Summary report and Client Summary report.

• "Start" and "End" times shown on summary reports – This is very useful for companies that need to keep track of every minute of the day.
• "Disabled Users" filter added to reports – With this filter, you can see the work of users who are no longer working in the Bill4Time system. Note: this filter is currently added to only the User Summary, Client Summary, Project Summary reports.
• Multiple currency symbols in reports – This is great for firms working internationally.
• Project Due Date report added – This project management tool enables you to easily keep track of your deadlines. The report gathers up all the projects with set due dates, and displays the created date, due date, account manager, labor time, billable time, and more.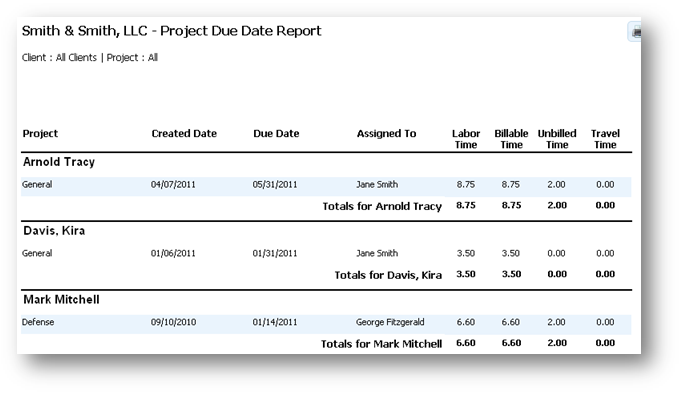 • "Account Manager" filter added in the summary reports – With this additional filter, you can group your information by account manager. This enables you to see the progress of each account manager clearly.
• "Group By" filter added to the Schedule report – With this added filter, you can see events for just one user or just a single month. This cleans up the data and makes it easier to view.
• "User" Column added to the Project Summary report – This extra column quickly shows your users' contribution to projects.
• Weekend work included in the User Efficiency report – When calculating the total work done by users per week, the totals now include work done over the weekend.