Now users can delete trust accounting transactions without contacting the Bill4Time staff. You must either be a System User or get permission from the System User.
Invoice Details: Labor or Expense Discount

When you look on your invoice details, you will see a link: Discount Options. This allows you to apply the invoice discount to either your labor, your expenses, or both.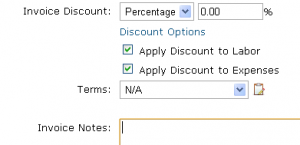 Invoice Template: Hours Per User & Project

At the bottom of the invoice templates, you will see a little addition that does a big difference to your invoice. It groups the user hours by project.

This way, your user hours will change from this:

…….to this: