We're proud to release a QuickBooks Connect Application that integrates with QuickBooks Online. It also accommodates for late fees and our newly-released second tax feature. Currently, this is only available for PC users.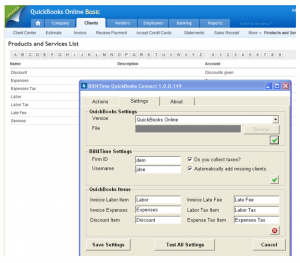 If you are already using Bill4Time's QuickBooks Connect application, you will have to uninstall this version and install the new one. Just find that application in your Start menu and rather than choose Open, choose Uninstall.
To update to the new version do the following:
Log into your Bill4Time account and scroll to the bottom of the page.
Click on the Downloads link.
Click on the Bill4Time QB Connect link on the Downloads page to download the MSI installer to your local computer.
After the download is complete, run the installer and proceed through the installation wizard.
Once the installation is complete the Bill4Time QB Connect Application will automatically start.
Click on the About tab on the application to download the step-by-step "Quick Start Guide" PDF for further instructions.