"You must breathe to stay alive. Your law firm must bill to stay alive. Ideally, both should occur without much effort. In this issue of SmallLaw, estate planning lawyer Chandra Lewnau explores the deep billing feature set of cloud app Bill4Time. Chandra covers setup, the dashboards and user experience, key features such as timekeeping, invoicing, and reporting, the mobile apps, integrations, and of course the price. Should you consider Bill4Time?" Read the review to find out.Â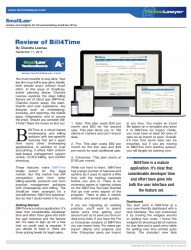 "Bill4Time is a mature application.
It's clear that considerable developer time and effort have gone
into both the user interface and the feature set."
About the ReviewerÂ
Chandra Lewnau reviewed Bill4Time Firm Manager. She is an estate planning and elder law attorney in the Seattle area. Chandra first became interested in the estate planning field as a student attorney at University of Texas' Elder Law Clinic. After being admitted to the Texas bar in 1999, Chandra worked for a small law firm where she gained experience in a wide range of transactional and litigation practice areas, including will contests, fiduciary litigation, and other matters.