We're excited to announce our integration with Box, a leading cloud-based content storage provider. Customers who use box to store their document files will now be able to easily access their content from their Bill4Time account.  Box and Bill4Time share a common goal – to streamline business productivity and increase efficiency for businesses and legal professionals – which makes the integration a natural fit.
While we continue to provide native storage for documents through Bill4Time's database,  many of our users are already using Box or would like to use a service like Box.  The integration with Box will allow Bill4Time customers to store an expanded amount of data and document files in a central location and allows them on demand access through the Bill4Time platform – this means anything from having access to case files during a legal trial, to being able to access drafts for a client project at a meeting.  We're all about making it easier for you to run your business.
First we'll be integrating Box with our core web application, then expanding it to our mobile and iPad applications, then our desktop widget. Our goal is to fully integrate Box file storage with our entire suite of applications giving you access across all platforms.
Here's how it works:
You will be able to access your Box content from your Clients or Case/Projects tab (see below).
To add your Box account, just select "Use Box Storage" under the File Storage tab in Firm/Systems Settings.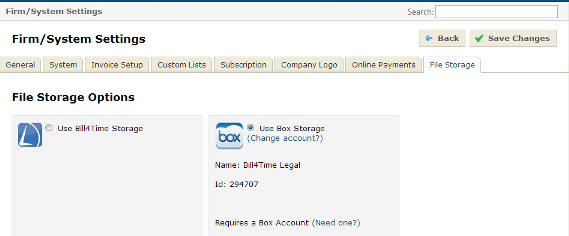 If you're a legal professional who's not a Box customer and you want to try it out, they are offering an exclusive promotion that brings 50GB of free cloud file sharing to the ABA's 400,000 members as part of the ABA Advantage program. To claim the 50GB promotion, users can simply sign up for Box here. The offer is available until June 30, 2014.