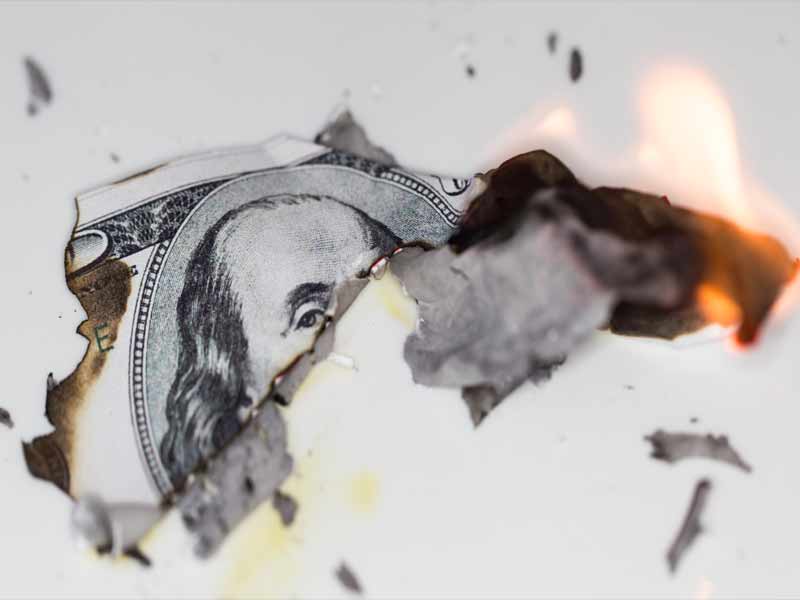 The average attorney loses half of their money.
Most aren't being paid well for their time. Research shows the average utilization rate for law firms is 31 percent — this means attorneys are only spending 2.5 hours on billable work each day. Attorneys spend an average of 5.5 hours per day on nonbillable work. There are other mistakes at play here.
These mistakes sap the profitability of your law firm
It makes long-term growth more difficult over time.
Here's the good news: These problems can be resolved.
With a little bit of awareness and consistent practice, your firm will be one of the few to overcome these mistakes. Let's take a look at three common problems that costs law firms 50 percent (or more) of their revenue.
Mistake #1: A strong resistance to change
A 2019 Altman Weil report found partners resist change in their organization. This change trickles from the top down, creating firm-wide challenges that compound over time.
"In 69% of firms, partners resistance to change is an embedded drag on progress, and recent economic successes may obscure any clouds on the horizon – at least for the shortsighted."
What does this have to do with billing?
This is the most important driver in your organization. Your partner's willingness to adapt or comply with change means all of the other mistakes covered below are either a short-term or long-term problem. If partners function as mercenaries, change will be messy, difficult, and temporary.
What does this mean?
It means law firm leadership needs to find a way to get everyone on the same page. You do that by giving everyone a chance to weigh-in so you can earn their buy-in. Patrick Lencioni, management consultant and best-selling author of The Five Dysfunctions of a Team, explains:

"If people do not weigh in on a decision, I fundamentally believe that they're not going to buy-in to that decision. People who don't weigh-in cannot buy-in. Don't mistake this for consensus though; they don't have to agree, they don't all have to arrive at a consensus."
The most important requirement here is that firm leadership give their partners a chance to weigh-in. Doing so enables the firm to earn its partners' buy-in. Your organization cannot make progress without buy-in.
Mistake #2: Poor systems and procedures
Benjamin Lieber, a Managing Partner at the Potomac Law Firm, described accepting attorney timesheets.
"Lawyers would send me their time every month by email, and it would come in all different formats and all different conventions and levels of granularity. And even the units would vary somewhat. Some would use a tenth of an hour, or some would use quarter hours. Some would use a third of an hour. It was a mess…"
Next, Lieber would "take all that, put it into spreadsheets, and then put it into invoices. That worked okay for the first 10 or 12 clients…"
This simple problem creates a tremendous amount of billable leakage.
His attorneys sent their time entries at the end of the month. His attorneys were both undercharging and overbilling clients, immediately leaking revenue and damaging client relationships. The losses are even higher if clients choose to walk away due to the firm's inconsistent or poor billing habits.
All of his attorneys were reconstructing their time entries. The research on this is detailed; you lose 10 percent of your revenue if you record time entries the same day. You lose 25 percent if you wait 24 hours, and 50 to 70 percent if you wait one week. Wait 30 days, and the losses may be as high as 200 to 280 percent of the revenue they should have.
These attorneys used a variety of unhelpful formats and billing conventions. This created more leakage as associates spent a significant amount of time on nonbillable tasks (filling out timesheets) and less time on nonbillable work. Managing partners lose more time working in the business instead of working on firm business
His attorneys relied on Excel spreadsheets, costing their firm an estimated $86,294 to $106,294 per person, per year. This figure doesn't even include the financial fallout from the billable leakage/overbilling I mentioned above.
These are expensive mistakes.
But they all boil down to one specific problem, inadequate systems and procedures. This is why your firm needs a good minder. Minders are focused on managing the firm well, optimizing its policies and procedures, and ensuring everyone — partners, attorneys, and support teams are all on the same page. It's a minder's job to work on the business, not in the business.
Your systems and procedures are crucial.
Healthy timekeeping habits come from sound systems and procedures. The better your policies and procedures, the more revenue your firm will bring in. Here's a detailed guide outlining the policies and procedures in a healthy law firm.
Mistake #3: Poor delegation and automation
This doesn't sound like a billing problem, but it is. Attorneys generally have one of four roles in their law firm.
Finders are rainmakers; they bring new clients, business, and revenue to their firm.
Binders are connectors. They're sophisticated networks that can build relationships that provide extraordinary value.
Minders are managers and executives. They manage the firm's activities and are responsible for helping the firm to grow consistently over time.
Grinders do the work. These are the workhorses of the law firm. They're the associates who complete client matters, handle cases and complete projects. The firm's revenues come from their labor.
Here's the problem.
Many law firms expect attorneys to perform well in all four roles. This is an unreasonable expectation that sets your team up for failure. Associates work best when they're assigned a specific role that meshes well with their personalities. If an attorney wants to add a role, there should be sufficient evidence to justify that.
How does this affect billing?
Whenever possible, provide attorneys with the help and assistance they need for tasks that are outside of their role.
Give grinders the tools and resources they need to focus exclusively on racking up billable hours.
Provide minders with the assistance needed to handle firm minutia so they can work on growing the firm.
Provide finders the financial incentives (i.e., origination credit) they need to focus on rainmaking.
Whenever possible, use freelancers, third party support, personal, and virtual assistants to pick up the slack. A client billing liaison can provide attorneys with the breathing room they need to excel in their role. A client billing liaison can help you:
Review attorney timekeeping throughout the day, ensuring billing is contemporaneous and consistent.
Follow up with attorneys and management if improvements in the billing cycle are required.
Verify invoices are meeting specific client billing guidelines and emailing requirements to reduce invoice rejections.
Provide research assistance and tracking to minimize potential write-offs of unbilled time.
Identify sources of billable leakage, poor utilization, and poor realization throughout the firm.
Reconcile client payment history and presenting findings to clients and management.
Assist with sending/distributing client invoices on an as-needed basis.
This seems obvious until you realize many attorneys are handling multiple roles daily. They work on client matters, act as client liaison, attempt to function as rainmakers and struggle to perform adequately in each role.
It's too much to handle.
A 50 percent loss in revenue is a symptom
The average attorney loses half of their money.
These billing mistakes cost law firms 50 percent of the revenue (or more). This loss of income and the poor habits that produce them — they're symptoms of a deeper problem: A strong resistance to change, inadequate systems and procedures, and poor delegation and automation.
These are the hidden drivers, the root causes of the problems plaguing most law firms today. These problems aren't easy to fix, but the solution is simple.
Eliminate these mistakes, and you'll find long-term growth becomes automatic over time.