The Bill4Time Client Payment Portal is your client's online gateway to your business. Your clients can view invoices, outstanding balances and payment history.  Businesses that offer clients convenient online payments options get paid up to 30% faster than when using traditional payment methods. That means, instead of sending a paper invoice via snail mail to your client and waiting at least a net 21 or 30 days, then, running to the bank and manually entering the payment into your accounting system, you can simplify your life and the life of  your client in one swoop.
PayPal has been a leading merchant for payment processing for over fifteen years and has paved the way for many other amazing applications, like Stripe. Stripe is simple and you can have an account setup within minutes. This technology partnership enables you to accept credit card payments instantly through the Bill4Time Client Payment Portal. Setting up Stripe for your online payments is intuitive and simple for any size business, and provides your clients with seamless functionality that gets you paid faster. ACH integration will also be available through Stripe in the future allowing your clients more ways to pay.
With your Bill4Time Client Payment Portal, you can send clients a notification that an invoice is ready to be viewed and paid online. The client logs in and can view the invoice, account history and PAY you in one simple process. Imagine getting a notice on your smartphone, reviewing the invoice and clicking PAY NOW without skipping a beat?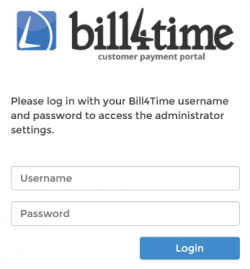 Setting up your Client Portal takes minutes, but the benefits last forever. It's easy:
From your dashboard, access the client portal by going to Settings – Client Portal then click "Manage Client Portal."
Enter your Bill4Time Username and Password. (Currently only Admins have access to login, but this user type can be changed for other users in their User Permissions.
Once signed in, you can access the Account Settings. Upload your logo. Add Stripe, PayPal and customize the payment settings.

Send automatic invoice notifications via email to clients.
Allow clients to view their account history.
Calculate invoice balances.
Customize the level of security.

Next, invite your clients!
We have a short video that will walk you through the process. It's so easy, you'll wonder why you didn't offer online payments sooner. View this video on How to Setup Your Bill4Time Client Portal. And take a peek at our other great videos so you can get the most out of Bill4Time.