When you became a lawyer, you probably didn't realize how much time you'd spend on billing and other administrative work. While billing can be time-consuming, it's your processes that determine how much of your non-billable time is allocated toward it.
Depending on the type of law you practice and the cases you take on, invoices are one piece of the billing pie that can eat up precious time.
With varying line items, discounts, or billing terms — having invoice templates for your most common cases can greatly reduce the time spent creating different versions of an invoice for clients.
A proper invoice process can save you time and even get you paid faster. Continue reading to learn the importance of a professional law firm invoice template, examples, and how to automate the process.
The Importance of a Professional Law Firm Invoice
As with any other correspondence from your law firm, your invoice speaks to how you conduct business and your professionalism.
If your law firm's invoice often brings about questions or confusion for clients, it may appear as if your law firm doesn't value transparency and can even delay payment.
Messy invoices can confuse clients and create issues with accounting and reporting. Without the right billing and invoicing process, your firm can face possible legal action against your firm due to incorrect billing. There are also important ethical considerations that you should keep in mind when evaluating your law firm's billing process.
Not only is a clear, organized invoice essential to upholding client trust and maintaining the professional reputation of your firm — it can greatly impact your cash flow and billing cycle.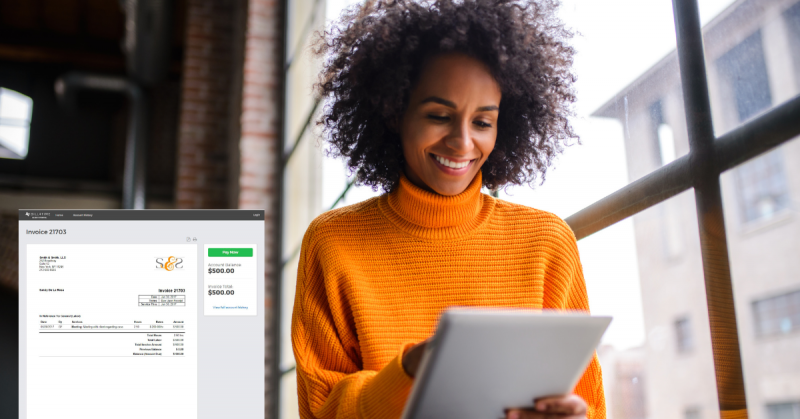 What Should Be Included in a Law Firm Invoice?
While each invoice can vary based on your law firm's area of practice and casework, here are a few basic details that should always be included in a law firm invoice:
Law firm contact information: Firm name, mailing, physical address, email address, and phone number. You can also include your firm's logo.
Client information: It's best practice to discuss with the client how the invoice should be addressed. For example, if it's a business, they may have a specific billing contact.
The date: This should be the date you send the invoice.
A complete list of services: Provided a completed itemized list of your services. They should be detailed in the same manner you discussed with the client during onboarding to limit confusion. This could include uniform task-based billing codes for litigation, introduced by the American Bar Association (ABA).
The billable rate for each service: The amount you charge for each itemized service provided.
Total of services: The sum of all charges for the services provided.
Any related tax: Percentage of applicable taxes.
Discounts: If applicable, include any concessions discussed with the client.
Billing policy: Outline the payment terms — this should include the due date and late payment policies.
Forms of payment: List all acceptable forms of payment methods.
Use Legal Billing Software to Streamline Your Law Firm Invoice Process
Traditional invoicing practices rely on manual processes that can leave law firms open to human error, hinder productivity, and even cost you money. Legal billing software is a simple way for law firms to standardize their billing and invoice process without a heavy lift.
Finding a solution that does it all is even better, Bill4Time automates all processes of a law firm's billing cycle. Time tracking, custom invoice templates, built-in payment processing, and custom payment links with Link2Pay, are just a few features that cut time spent on administrative tasks while reducing the billing cycle and getting firms paid faster.
A common scenario: You're jumping between client cases and forget how much time you spent on a specific client. Bill4Time has multiple timers that can capture your activity simultaneously as you work freely.
This provides a seamless way to increase the accuracy of your billable time and the services you provide clients. Then, when it's time to create an invoice, you can pull from your saved invoice templates within Bill4Time and create an itemized bill from your activity.
Examples of Law Firm Invoice Templates
Classic Activity Invoice Example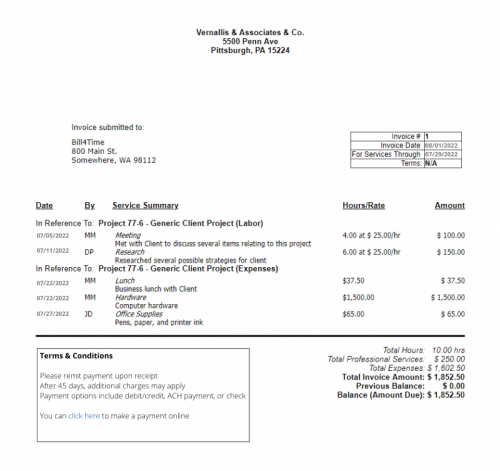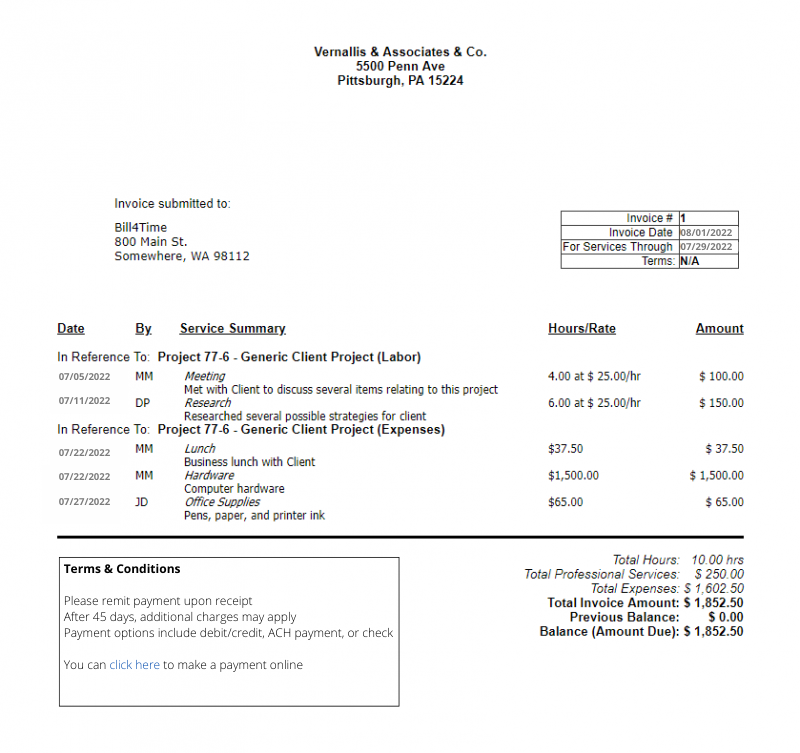 ---
Classic Invoice Example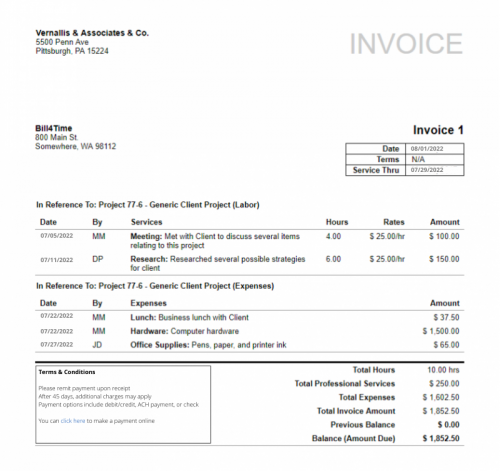 ---
Official Invoice Example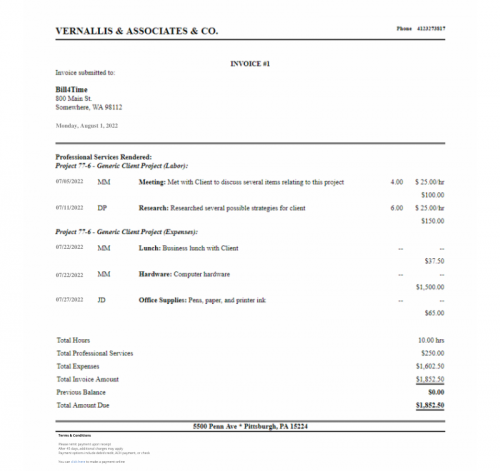 ---
Professional Invoice Example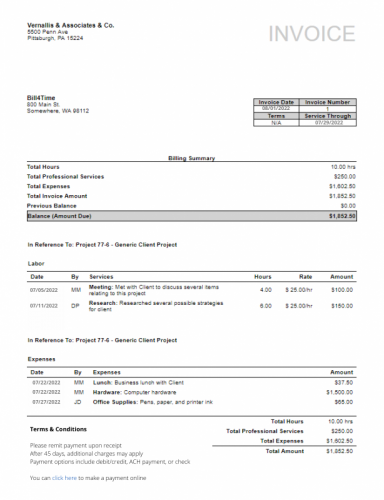 ---
Standard Invoice Template Example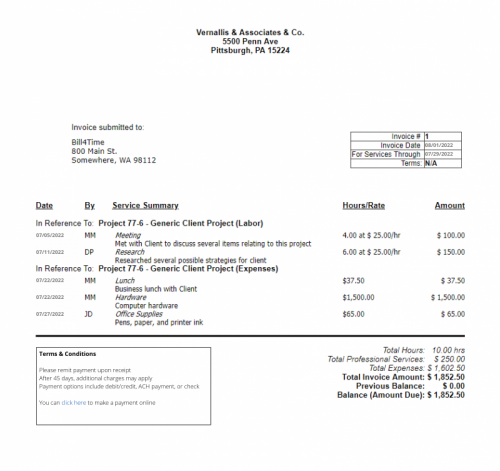 Get Paid Faster with Automated Law Firm Invoice Templates
Manual billing and invoicing practices are a thing of the past. Rid your law firm of an inefficient billing process that fosters human error, increases the risk of revenue leakage, and decreases client satisfaction.
Combined with these tips and standardized billing and invoice processes with the use of legal billing software, your law firm will be on its way to a stress-free billing process that gets you paid faster.
To see all of the features listed in action, you can schedule a demo with Bill4Time to see how it can save your firm time and money through automated processes.
Editor's Note: This blog was originally published in August 2022. Last update: September 2023.