Managing billing can be a cumbersome process and take up a large portion of a law firm's productivity on tasks that don't directly bring in money — like invoicing.
Most lawyers get into the legal profession to practice law, not to be overloaded with billing, invoicing, and other administrative tasks. One way to streamline this process is with legal billing software to automate tasks such as invoicing, payments, or retainers.
Both retainers and standard invoices have their purposes in a law firm. Regardless of which you choose, both can be standardized to make your day easier and get your firm paid faster.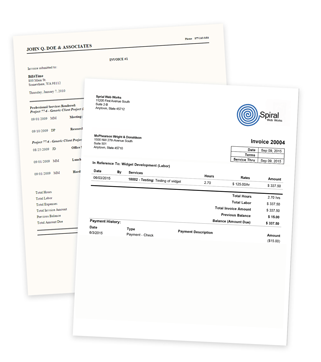 What Is a Retainer?
A retainer is a payment agreement between the law firm and the client. In this contract, the client agrees to pay the law firm a predetermined amount for a certain number of hours or specific tasks.
Retainers can be various lengths, but the retainer itself is usually open-ended. Retainer invoices are usually paid on a monthly basis with the agreement that the law firm will complete the agreed-upon work within that period.
What Is on a Retainer Invoice?
A retainer invoice is a bill that's drawn up for the services rendered by the law firm. It's sent from the law firm to the client and contains all the details about the work, fees, and transactions. The client knows exactly what they're paying for and has all the information to settle the bill, including;
Contact information for the payee (law firm) and payer (client), including the name, address, email, and phone numbers.
Contact information for the payee as well as the name, address, and contact numbers of the business, person, or department that will be handling the invoice.
Invoice number for documentation.
Relevant dates, including the date of the invoice and the due date for the payment.
Details about the specific services to be provided.
The amount owed, including past-due balanced or any applicable taxes.
Accepted forms of payment, including online payment methods.
What Is a Standard Legal Invoice?
A standard legal invoice is a document that law firms issue to customers to request payment for legal services. The billing processes may look different depending on the client and practice areas, but all standard legal invoices should have the following information:
Law firm details: Identifying details, including the firm name, phone number, email address, and physical address.
Client details: This may vary according to the client, but the invoice is usually addressed to the point of contact. Some clients may provide a billing contact, however.
Date of issue: The date you're sending the invoice.
Itemized list of services: A breakdown of the services the law firm provided to the client.
Billing rate for each service: The rate for each service line item the law firm provided.
Total due for each service: The total amount owed based on the itemized list and billing rate for the services provided.
Subtotal for all services with taxes: The total amount the client owes for each service, including the percentage of services tax.
Payment due date: The deadline for payment.
Late payment consequences: The penalties if the client pays late.
What Is the Difference Between a Retainer Invoice and a Standard Invoice?
Retainer invoices can be used by the law firm to ask for payment before the services are rendered. Essentially, it's a form of deposit or prepayment.
This is a method for the client to secure legal services as needed and for the law firm to get paid in advance for services. Law firms can also choose to bill based on billable hours or a fixed fee for a retainer, depending on the nature of the case.
Retainers also set up clear expectations for the ongoing arrangement, including the retainer amount, excess hour charges, and more. There's a sense of security and predictable recurring revenue for the firm as well.
A standard legal invoice is broader and may include any invoice for legal services rendered, including billable hours, subscription services, sliding scale fees, unbundled services, payment plans, flat fees, and contingency fees.
The key difference between a standard and retainer invoice is that the client is paying for services in advance instead of in arrears. There are benefits and drawbacks to both, depending on your law firm, client, and practice area.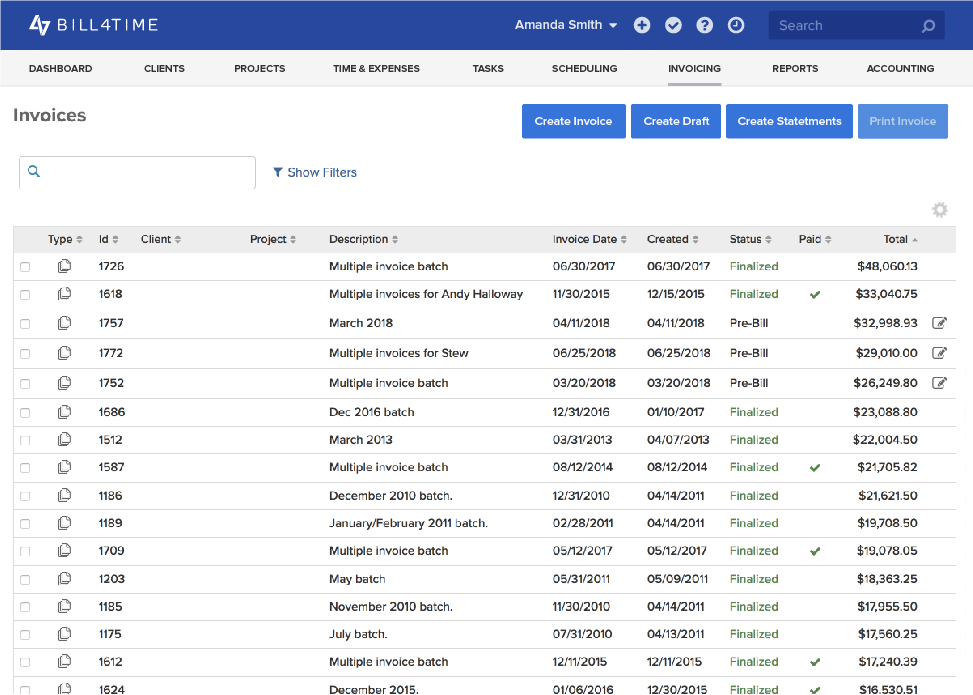 How to Manage Law Firm Invoices
Billing and invoicing take up a lot of time in your law firm. Depending on the type of law you practice and the cases you take on, it can waste a lot of non-billable time.
It's necessary for a law firm to stay profitable. A defined billing process determines how efficiently your firm gets paid which includes implementing a streamlined invoice process.
Traditional invoicing is a manual process that's vulnerable to human error and hinders productivity. When a lot of time is spent on invoicing, it can advertently also cost you money.
Law practice management software, such as Bill4Time, is a simple way to standardize your billing and invoicing process. Features like time tracking, built-in payment processing, and custom invoice templates reduce the time spent on these administrative tasks and get your firm paid faster.
With Bill4Time's legal billing software, you can create, print, or email custom invoices in a matter of minutes, complete with detailed services, payment terms, and late fees. These invoices seamlessly link to the online payment options to make paying quick and convenient for the client.
There are also tools to maximize efficiency. You can batch invoices, apply LEDES format, allocate payments to current invoices, create summaries, and track expenses to keep your firm moving toward long-term growth.
Simplify Law Firm Billing and Invoicing with Law Practice Management Software
Whether you bill on retainer or with standard invoices, manual billing and invoicing processes foster human error, decrease client satisfaction, and cost valuable time and money. By standardizing your billing, you can offer more transparency into your billing and improve bottlenecks within your billing cycle.