Customization is a crucial part of any software and with Bill4Time you can customize the system to fit your needs. Within your Settings, there are system preferences such as establishing common key words and phrases that will be used throughout the software – like your Project, Labor,  Activity, and Tax mnemonic terms. You also have the ability to customize your IDs by selecting these options in your settings. With our latest release, the ability to customize your Invoice Numbers is now available.

By default you will always have the option to customize your Client ID's when adding new clients in the system. Under your Settings you can also enable the ability to customize your Project and Invoice numbers as well. Once these fields are checked in your Settings you can go through and change your Project ID's and Invoice Numbers at any point.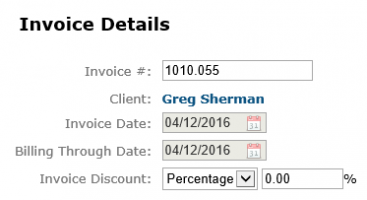 Once you go through Invoicing – Create Invoice to create a new invoice, the bill will be assigned a specific Invoice number. You can then change this to any number (or letter) and click Save to keep that new invoice number set on that specific invoice. With this option you can now set your own custom invoice numbers for each of your invoices.