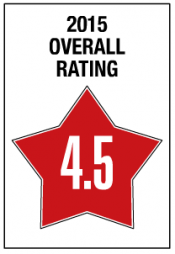 Best Fit: Professional firms that want cloud-based time and expense management for time and expense tracking and billing, along with mobile apps that simplify daily use.
Strengths
Integration with QuickBooks, Outlook and Google
Apps for Apple and Android devices
Online payment acceptance
Management at the client, project and activities level
Features for accounting and legal firms
Potential Limitations
The cloud-based Bill4Time system offers flexible web-based management of time and expenses, which can be tracked against hourly billing, flat fee billing, projects, or staff. The program also includes accounts receivables management and invoicing features, strong reporting, easy time entry tools, and mobile apps. The system's project management features give firms the ability to budget and track due dates, along with project and activity-based management tools that can track multiple engagements per client.
Basic System Functions:
The web-based Bill4Time system can be accessed via major browsers and
mobile devices, and is designed to track time, projects, activities and expenses, then includes AR management tools and invoicing functions. System interfaces are user friendly, and the program includes user-level security functions.
Mobile access tools make it easy to management time entry and expense functions, including adding markups and assigning expenses to specific clients, tasks and expense categories. Images of receipts can be uploaded into the program from either the user's desktop or the mobile apps. Scanned or photographed copies of other documents, such as contracts, can also be attached to client engagement files.
Bill4Time offers versions for accounting or law practices, with WIPs and trust accounting options. Users can easily oversee the status of projects and client billables, with the system offering easy access to scheduling, reporting, accounting and other core function areas.
Users can select projects, staff, work codes and other settings from intuitive screens, and the client selection screen provides a sortable summary of client data, account balances and staff members engaged on a client engagement.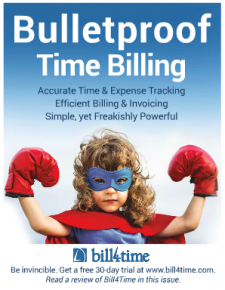 Time Management Capabilities:
Bill4Time provides several methods of time data entry, including timers, summary or detailed data sheets, widgets or the mobile apps. Billable and non-billable time can be entered and tracked, and the program can convert appointments from the calendar into time data entries that are logged against client engagements. The system also includes group calendaring functions. Professionals in areas that have sales taxes on labor can assign and track those taxes automatically.
Project management tools let users create and manage budgets at the client or project level, with showing progress against budgets and offering users the option of setting up alerts that notify them when budgets or client credit limits have been hit. Project-level billing features simplify tracking of multiple engagements per client, with each detailed separately on consolidated invoices. The program allows setting default billing rates at the client, project or staff levels. A separate contact management feature allows having multiple contacts at clients, prospects and vendors.
Bill4Time can also be used to track non-billable tasks, such as staff training and firm development, as well as vacation, sick leave or other PTO, but it does not offer true accruals management capabilities.
Invoicing Functions:
Invoices created through the system can be fully customized with firm logos, and can be electronically delivered (the preferred method, since this system is web-based). Online payment acceptance streamlines receivables management and usually speeds the time in which clients pay invoices. The program also includes client portals that can be customized, allowing clients to log in and securely access related files and documents, as well as paying invoices. The system includes multi-currency support. Expense tracking features enable flat fee or percentage-based markups, as well as tracking travel time. Users can control the level of details, account histories, billing rates and other information that is included on the invoices.
Management Features:
Client budgets and credit limits can be created, and reporting options allow comparisons of budget to actual, WIP summaries and other options. Accounting functions include AR management with WIP reporting, collections, payments and account activity.
The Bill4Time system offers dashboards that provide key business indicators, including pending time entries, projects, billable hours and other information. A broad collection of reports are available from a library that includes options for detail and summary activity, balance and payment reports, as well as WIP summaries, AR aging, collections, write-ups and write-downs, and trust and tax reports. Reporting can be focused on users, clients and projects, expenses, client histories, budgets, and user productivity and efficiency.
Integration & Data Management:
The reports and invoices generated through the program can be saved as PDF, directly emailed to clients, sent to the client portal, or exported to Excel for customization. The program integrates with QuickBooks and QuickBooks Online to transfer labor, expense, payment and adjustment transactions and entries. The system's scheduling system integrates with Outlook and Google. Client data can also be imported from CSV or Excel format.
Firms can accept online payments from clients via PayPal or credit cards, and payment links are included on digital client invoices.
Help/Support:
Bill4Time includes ample built-in support including field-level help options and links on each page of the program. The company's online support center includes a knowledgebase, video tutorials, user manuals, webinars and how-to articles. Live technical support is included in system pricing, including email support, a t
icket-response system and by phone.
Summary & Pricing
Bill4Time is a user-friendly web-based time and expense management system that provides additional project and engagement tracking functions. The system integrates with QuickBooks and Outlook, and streamlines online payment acceptance.
The system is available in three general versions, with pricing starting at $15 per month for the Solo version which supports up to two users with 100 clients, 100 projects and 2GB of cloud data storage. The Pro version is $30 per month, with unlimited clients and projects, and 10GB storage, plus additional import and coversheet options. The Enterprise version is $75 per month, with unlimited clients, projects and cloud storage, plus additional reporting, data import and custom invoice template options.
Read the review in CPA Practice Advisor.